by Rankin Jays, MBA
A quick review of the new 2012 International Building Code (IBC) is evidence enough the environmental lobby continues to grow. Broadly speaking, the new code requires more insulation, a tighter envelope, improved ducts, better windows, and more efficient lighting. As it becomes understood the planet cannot sustain the environmental impact associated with meeting a growing energy demand, energy conservation needs to improve.
However, the code is merely the minimum acceptable standard and it still leaves choices—especially the option to make a bigger individual contribution toward energy savings. The professional community recognizes the opportunity to influence these choices on an even larger scale. Architecture 2030—a non-profit, non-partisan, and independent organization—was established in response to the climate change crisis in 2002. According to the group:
Buildings are the major source of global demand for energy and materials that produce by-product greenhouse gases (GHG). Slowing the growth rate of GHG emissions and then reversing it is the key to addressing climate change.1
The U.S. Green Building Council (USGBC) launched Leadership in Energy and Environmental Design (LEED) in 1998 as a voluntary, market-driven program to recognize environmental stewardship and social responsibility in building design, construction, operations, and maintenance. The knock-on effect was to focus the building supply chain on the industry's products, how they were made, efficiency, and where and how they were brought to market.
Buildings are the problem and buildings are the solution. Inadequate insulation and air leakage are leading causes of energy waste in most projects, and coatings selection can play a big role in energy saving opportunities.2
Cool roofs
According to the U.S. Department of Energy (DOE), cool roofing is the fastest growing sector of the building industry, as owners and facility managers realize the immediate and long-term benefits of roofs that stay cool in the sun.3 The Oak Ridge National Library (ORNL) have explored the energy efficiency, cost-effectiveness, and sustainability of cool roofs and have developed a calculator that computes the reduction in energy consumption by substituting a cool roof for a conventional roof. Cool roofs can create a cooler interior space in buildings without air-conditioning, making occupants more comfortable, reducing carbon emissions by lowering the need for fossil-fuel generated electricity to run air-conditioners, and potentially slowing global warming by cooling the atmosphere.4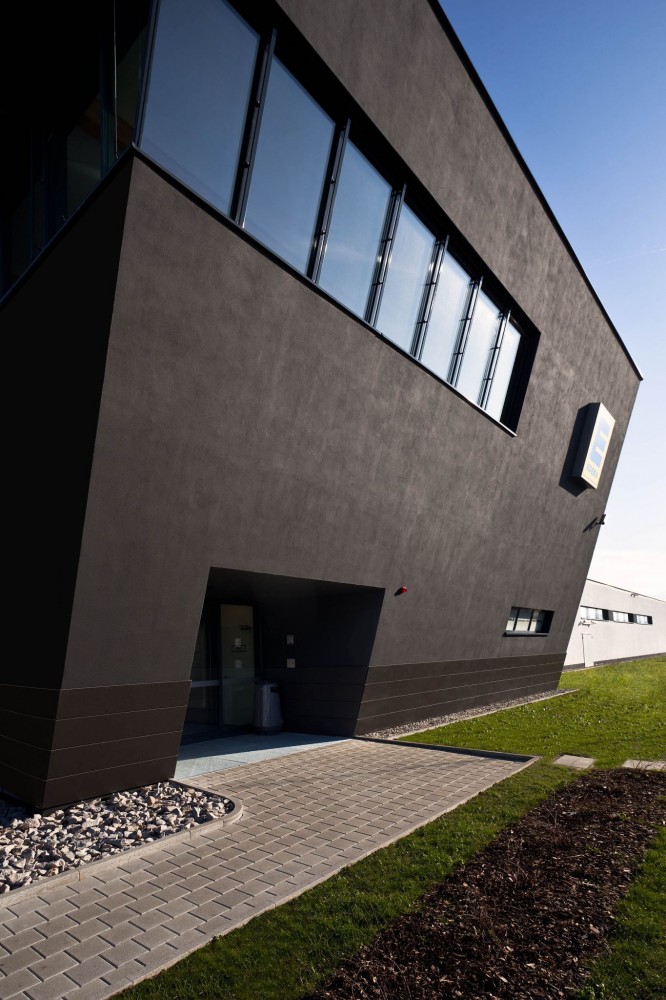 Cool (i.e. white) flat roofs have been a requirement in California since 2005, while it has been relatively easy to get building owners to adopt this it was not without incentives such as federal tax credits for approved roofing systems.5 The cool roof requirement was extended to include sloped roofs in certain Climate Zones in 2009 as part of the California's Title 24, Building Energy Efficiency Standards. Further, roofing systems meeting LEED's Solar Reflectance Index (SRI) criteria could qualify for LEED-New Construction (NC) v2.2 Sustainable Sites (SS) credit 7.2, Heat Island Effect–Roof.
If you are installing a new roof or reroofing an existing building, a systems approach to providing an energy-efficient roof should be taken with a cool roof considered.
Simply put, traditional dark-colored roofing materials strongly absorb sunlight, making them warm in the sun and heating the building. White or special 'cool color' roofs absorb less sunlight, staying cooler in the sun and transmitting less heat into the building. This reduces the need for cooling energy if the building is air-conditioned, or lowers the inside air temperature if the building is not cooled.
Steven Chu, PhD, has been talking about the benefits of white roofs since being appointed as U.S. Secretary of Energy. In 2010, he mandated all new roofs on Energy Department buildings be either white or reflective. In a statement, he noted the cooling effect white roofs have on buildings, especially air-conditioned ones, as well as their ability to drastically lower energy costs—an estimated $735 million per year, if 85 percent of all air-conditioned buildings in the country had white roofs.
"Cool roofs are one of the quickest and lowest cost ways we can reduce our global carbon emissions and begin the hard work of slowing climate change," Chu said.
White roofs can also reduce the urban heat island effect. This is a phenomenon caused by all the dark, heat-absorbing surfaces in urban areas. A study by the Lawrence Berkeley National Laboratory's (LBNL's) Heat Island Group6 showed increasing the reflectivity of road and roof surfaces in urban areas with populations of more than one million would reduce global carbon dioxide (CO2) emissions by 1.2 gigatons annually—the equivalent of taking 300 million cars off the road.7
IR-reflective pigment coatings
Infrared (IR) reflective pigment technology in coatings were first used more than 30 years ago, although full commercialization has only been quite recent.8 The technology and entry costs are relatively lower now than in the past, but the manufacturing process and quality control remains specialized within the scope of only a small number of manufacturers.
Combining the IR reflective pigmentation with the performance of current polymer coatings technology can produce a long-lasting coating offering significant energy-saving potential along with numerous other benefits. The higher solar reflectance increases the coating lifecycle by reducing thermal expansion and contraction of the substrate. The cooler surface temperature reduces polymer degradation within the paint film; reduced energy demand carries the obvious economic and environmental advantages. Additionally, they also make a positive contribution toward the reduction of the urban heat island effect.
The primary purpose of IR-reflective coatings is to keep objects cooler than they would be using standard pigments. These coatings can reduce the heat penetrating the building though the roof and exterior walls, lowering the load on the air-conditioning system and thereby increasing a building's energy efficiency. An overview of the basics behind this technology is described on the Eco Evaluator website, stating:
These thermally emissive/reflective coatings offer a range of applications such as on roofs and walls of buildings. These coatings will adhere to a variety of materials such as composite roof shingles, metal roofs, and concrete tile roofs as well as stucco, plywood, and concrete block walls. When considering thermally emissive/reflective cool coatings be sure to look for metal oxide and infra-red emissive pigments. These ingredients are necessary to block ultra violet rays and reflect infrared radiation.9

In 2005, ORNL produced a lengthy study on the efficacy of IR reflective exterior wall coatings and found they can offer up to 22 percent savings on cooling energy costs when compared to a regular architectural coating of the same color. Overall effectiveness depends on the darkness of the coating color and how exposed the surfaces are to direct sunlight.

Radiant heat barriers
Passing on the whole exterior repaint is an option—a radiant heat barrier in the attic space, primarily designed to reduce summer heat gain and decrease cooling costs, can be considered. The barrier consists of a highly reflective material that 'bounces' radiant heat and reduces the radiant heat transfer from the underside of the roof to the other surfaces in the attic, such as air-conditioning ducts.10
Air barriers
A report from the National Institute of Standards and Technology (NIST), "Investigation of the Impact of Commercial Building Envelope Airtightness on HVAC Energy Use," confirms continuous air barrier systems can reduce air leakage by up to 83 percent and energy consumption for heating and cooling by up to 40 percent.
In new construction where we may have been accustomed to seeing a building 'wrap,' air barriers are now commonly fluid-applied air and moisture barriers, providing a continuous and fully adhered membrane across the sheathing's entire surface with obvious durability advantages gained from having a chemical and mechanical bond between the air barrier and the substrate.
Liquid technology also allows for faster, easier application of the air barrier and reduces the risk of improper installation as they are spray-, brush-, or roller-applied to the surface. The exception would be where mesh, fabric, or transition products are embedded and sealed within the fluid applied products.
As building codes continue to evolve with an emphasis on energy efficiency and sustainability, the value of air barriers is becoming much more apparent. In fact, research has proven air barriers actually play a larger role in energy efficiency than exterior continuous insulation.11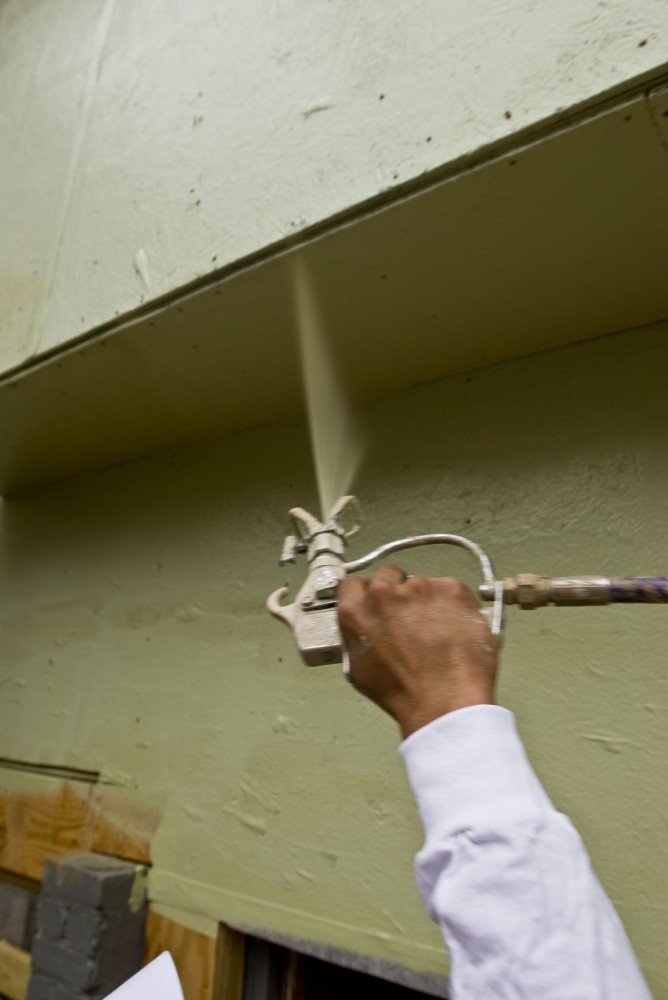 Niche or not?
With the exception of cool roof coatings, why have the rest of these technologies not amounted to much more than niche products? There is perhaps a large amount of skepticism following early entrants in the market that made outlandish claims of paint's insulating qualities that were revealed as scams.
For skeptics out there, look no further than the stripes on a zebra for a lesson on reducing radiant heat. The black and white pattern on these animals can reduce the animal's surface skin temperature by 8 C (17 F). The temperature differences over the black and white stripes result in differential air pressure, which produces minute air currents that cool the surface.
As an example of biomimicry of this natural phenomenon, the concept was commercialized by Daiwa House in Japan where the interplay of black and white on the façade reduced the summer indoor air temperature by 4.4 C (8 F).
It should be noted, cool roof and IR coatings will only have an impact where cooling costs are higher than heating costs. In higher/cooler latitudes there could be a heating cost penalty during the winter as a result of using these coatings. Following the zebra's example they are only provided with an insulating layer of fat beneath their black stripes since the tissue below the reflective white stripes does not need it.
Conclusion
Coatings are in no way meant to replace insulation, but they can make an effective contribution in reducing the downstream environmental impact by reducing energy usage. With new coatings in the market, and more coming in every day, these products are contributing to energy savings and reducing energy dependency.
Notes
1 Visit www.architecture2030.org/2030_challenge/the_2030_challenge. (back to top)
2 Visit www.ornl.gov/sci/roofs+walls/insulation/ins_01.html, Department of Energy. (back to top)
3 For more on cool roofing, see "Rethinking Cool Roofing: Evaluating Effectiveness of White Roofs in Northern Climates" by Craig A. Tyler, AIA, CSI, CDT, LEED AP, in the November 2013 issue. (back to top)
4 Visit www1.eere.energy.gov/buildings/pdfs/cool_roof_fact_sheet.pdf. (back to top)
5 Visit www.energy.ca.gov/2008publications/CEC-999-2008-031/CEC-999-2008-031.pdf. (back to top)
6 For more, see Lawrence Berkley National Laboratory 2009, Radiative forcing and temperature response to changes in urban albedos and associated CO2 offsets. (back to top)
7 Visit inhabitat.com/having-white-roofs-would-save-the-u-s-735-million-per-year/. (back to top)
8 For more on IRCCs, see our web-exclusive article, "Reflecting on the Versatility of IRCCS," by Lynn Walters at www.constructionspecifier.com. (back to top)
9 Visit www.ecoevaluator.com/building/energy-efficiency/heat-reflective-paints.html. (back to top)
10 Visit www.ornl.gov/sci/ees/etsd/btric/RadiantBarrier/. There is a great fact sheet from Oak Ridge National Laboratory with more information on radiant heat barriers. (back to top)
11 See, NISTIR 7238, "Investigation of the Impact of Commercial Building Envelope Airtightness on HVAC Energy Use." (back to top)
Rankin Jays is a product manager (coatings) for Sto Corp. He joined the company this year to oversee the coatings product line, introducing new products such as architectural coatings. Jays' experience with coatings goes back nearly 30 years, starting as a paint maker while at Victoria University in New Zealand. He received his MBA from Massey University. Jays can be contacted by e-mail at rjays@stocorp.com.