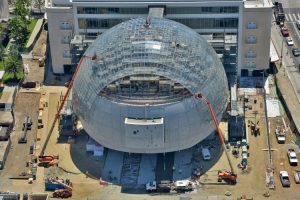 The Academy Museum of Motion Pictures in Los Angeles will be one of the world's premier institutions devoted to movies and moviemaking when it opens next year.
Designed by Pritzker Prize-winning architect Renzo Piano with Renzo Piano Building Workshop, the museum site will feature a major renovation and expansion to the 1939 Streamline Moderne May Company building, now the Saban Building in the city's Miracle Mile neighborhood.
The historic Saban Building will be paired with a new spherical addition to the north, with views of the Hollywood Hills. The 27,871-m2 (300,000-sf) museum will feature more than 4645 m2 (50,000 sf) of gallery space for both an immersive permanent exhibition and diverse temporary exhibitions, two film and performance theaters, a state-of-the-art education studio, and dynamic spaces for public and special events.
The 4181-m2 (45,000-sf) sphere will be made of precast and steel-reinforced concrete and steel. The glass dome consists of 1500 flat, low-iron, laminated, tempered, shingled glass panels cut in 146 different shapes and sizes fabricated in Austria.