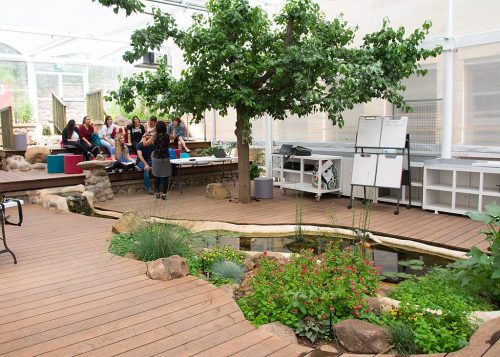 The American Institute of Architects (AIA) Upjohn Research Initiative has announced $100,000 in grants to be divided between four applied research projects, touching on biophilic spaces, biodiversity, and 3D printing. Judged by a double-blind peer review process, the initiative is designed to provide base funds for projects expected to be completed within an 18-month period.
The Impact of Biophilic Learning Spaces on Student Success
Led by principal investigators James Determan, FAIA (Hord Coplan Macht), and Mary Anne Akers, PhD (Morgan State University), this study aims to provide evidence of the link between biophilic classroom design and student success. Researchers will study the correlation between incorporating natural elements into a learning space and enhanced cognitive performance.
Biophilic Architecture: Sustainable Materialization of Microalgae Façades
Kyoung-Hee Kim, PhD (University of North Carolina at Charlotte), will study a microalgae façade, which is a sustainable building system based on the synthesis of biophilic, bioclimatic, and biomimicry design approaches. This research will further sustainable building practice by providing alternatives to existing building materials.
Biodiverse Built Environments: High-performance Passive Systems for Ecologic Resilience
Keith Van de Riet, PhD (University of Kansas), leads this project, which looks into expanding the category of high-performance passive systems to include biodiversity as design criteria in both architectural and landscape structures.
Tilt Print Lift – Concrete 3D Printing for Precast Assemblies
Principal investigators Tsz Yan Ng and Wesley McGee (both of University of Michigan) explore the development of 3D concrete printing technologies to produce prefabricated concrete panels for complex wall assemblies.
To read more, click here.
To read about last year's winners, click here.