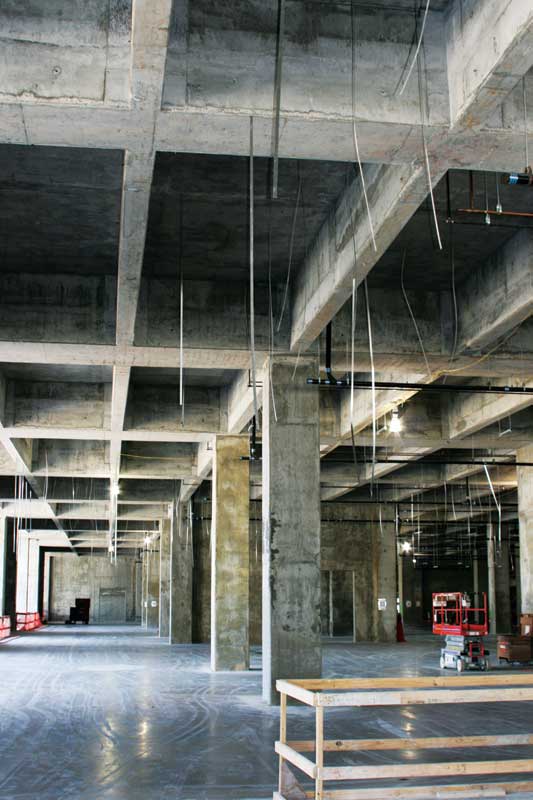 Mandatory versus optional provisions
ACI 301-16 is organized into two parts, distinguishing basic items always required for structural concrete construction from those that may be required on particular projects. When an architect or engineer cites ACI 301-16, the document is intended to be adopted in its entirety into the contract documents. However, specifiers have the latitude to change some of its provisions.
The first five sections cover general construction requirements for contractors performing cast-in-place structural concrete work and placing slabs on-ground. These include requirements relating to formwork, reinforcement, concrete materials, and means and methods for placement and transportation.
The remaining nine sections are devoted to other structural concrete applications, which may or may not pertain to specific projects:
architectural concrete;
post-tensioned concrete;
mass concrete;
lightweight concrete;
industrial floor slabs;
shrinkage-compensating concrete;
tilt-up construction; and
both architectural and structural precast concrete.
These specialty provisions have been expanded in ACI 301-10, so each is discussed in a similar level of detail. Specifiers are required to indicate where any of these applications are used in a project.
At the end of the document, specifiers will find two checklists spelling out which provisions within each section are mandatory and which are optional.
"As a designer prepares contract documents referencing ACI 301, he or she can run through the checklists to ensure the right provisions are incorporated into the project," according to Cornell.
The list of optional provisions serves as both a reference and a reminder.
"When designers review the optional checklist items, they may consider enhancements to the project that they hadn't thought of before," says Cornell. "It also lets contractors see potential avenues of accomplishing the work differently, and changes or improvements that could be made via substitution or a substitution request."
Conclusion
With clarified language and structure, ACI's newly updated standard, Specifications for Structural Concrete, provides a straightforward, contractor-accessible reference architects and engineers can apply to any project involving structural concrete. In addition to being cited in project specifications, ACI 301-16 requires contractors to keep a copy of the ACI Field Reference Manual—which includes the most recent structural concrete specifications—in the field office of any project where ACI 301 is specified. (The ACI Field Reference Manual is a compilation of documents incorporating ACI 301-16 and additional ACI documents on measuring, mixing, transporting, and placing concrete, concrete pumping methods, hot- and cold-weather concreting, consolidation, and concrete formwork.)
This year, ACI will also be publishing updated specifications designed to improve concrete testing and inspection services.
This includes:
ACI 311.6, Specification for Ready Mixed Concrete Testing Services; and
ACI 311.7, Inspection Services Specification for Cast-in-place Concrete Construction.
Shelby O. Mitchell is a freelance writer for the construction industry, and former editor of The Concrete Producer magazine. She is based in Berwyn, Illinois. Mitchell can be reached at shelbyo.mitchell@gmail.com.