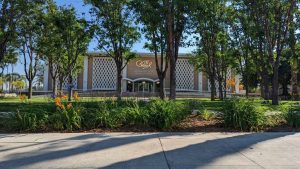 Architectural firms, Page & Turnbull and WHY, have transformed a 1964 modernist library in the Riverside Art Museum (RAM) in downtown Riverside, California, into a Chicano art and culture center.
The expansion and preservation work has added gathering areas and an artist-in-residency center on two floors, serving as the new Cheech Marin Center for Chicano Art & Culture, known as The Cheech. This public-private partnership between RAM, the city of Riverside, and comedian Cheech Marin—a renowned collector of Chicano art—is the world's premiere center of Chicano art, including paintings, sculptures, photography, and video art by artists Carlos Almaraz, Judithe Hernández, Gilbert "Magú" Luján, Frank Romero, Sandy Rodriguez, and Patssi Valdez, among others.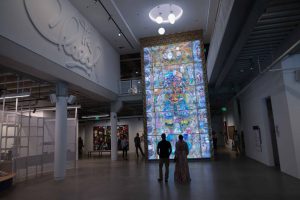 The features of the new center maintain a balance of preserving the building's traditional, new formalist style and character, while incorporating latest interiors and system upgrades, allowing it to meet the needs of a modern cultural venue.
Highlights of the 5574-m2 (60,000-sf) center include:
Preservation of the building's facade and large decorative entry screens, designed to represent doves in flight.
A community gathering space, which blends the zocalo, or large front plaza, with the interior lobby for a welcoming area.
A double-height lobby for exhibits, lectures, and events.
Updated electrical and HVAC systems and new lighting fixtures.
The elimination of dropped ceilings to further showcase the building's historic character, structure, and expansive volumes.
The exposed stainless-steel rails and handrails of the open staircase, and restored polyester panels, which were previously covered.
The existing entry and semi-circular staircase being revitalized.
Midcentury modern design elements, such as plaster dome ceilings and ball lighting.
Retaining of the existing stainless steel and wooden doors, as well as window frames.
Retrofitting the adapted library with new systems led to a 40 percent improvement in operating efficiency and reduced greenhouse gas emissions by 14,062 metric tons (14,062,000 kg) of carbon dioxide (CO2) equivalent, which amounts to recycling 4783 tons (4,783,000 kg) of waste.
In celebration of National Hispanic Heritage Month, the panel discussion on October 13th, "The Cheech: Art, Community and Rehabilitation," is cohosted by the American Institute of Architects San Francisco (AIASF) and its Latinx in Architecture (LiA) and Historic Resources committees. Elisa Hernández Skaggs, AIA, an associate principal with the architecture and preservation firm Page & Turnbull, joins colleagues Paulina Bouyer-Magaña of WHY, and María Esther Fernández, artistic director of The Cheech, along with moderator Patricia Alarcón of the firm Ratcliff, to speak about the work on the project.