Revealing contributors for 2021 Chicago Architecture Biennial
May 6, 2021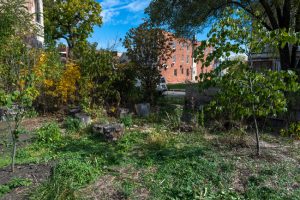 The Chicago Architecture Biennial[2] (CAB) has announced the contributors for its 2021 edition, The Available City. The initial list of 29 global innovators brings design perspectives from cities around the world.
Contributors are from cities including Cape Town (South Africa), Caracas (Venezuela), Chicago (Illinois), Copenhagen (Denmark), Dublin (Ireland), Paris (France), Basel (Switzerland), and Tokyo (Japan) The international design innovators are paired with Chicago community groups to explore forms of shared, collective space and inspire new and imaginative uses of vacant spaces in the city. The installations, activations, exhibits, projects, and programs will be shared with the public in neighborhoods across Chicago and on digital platforms when the Biennial opens on September 17.
Through the platform of The Available City, artistic director David Brown has paired teams of contributors who bring different experiences but share a focus that unites them.
"The Available City results from a long interest in the landscape of vacant spaces that are so prevalent in many cities," said Brown. "The 2021 edition asks us to imagine the transformative possibilities of collective spaces within those vacant spaces through a process of exchange and collaboration between designers and local residents."
The 2021 Biennial projects will include these new commissions.
Matri-Archi(tecture) (Cape Town and Basel)
An intersectional collective bringing African womxn of color together to empower African cities, is partnering with in care of Black women, a placemaking initiative fostering economies of care.
Studio Barnes with Shawhin Roudbari and MAS Context (Miami and Chicago)
They will apply lessons from their team's past projects, including the 'pop-up porch,' environmental design promoting community engagement and issue-focused events and installations. They will partner with Open Architecture Chicago which is exploring a proposed 15 block greenway under the Chicago Transit Authority's Pink Line to connect four stations in Lawndale in an effort to transform vacant lots underneath the elevated train tracks.
Over the coming months, the Biennial will announce key partnerships and collaborations between the contributors and community organizations for this year's edition of the Biennial.
The Available City will be presented at sites located throughout Chicago. The teams will collaborate with Chicago community groups in a hands-on, community-driven design process that will activate latent spaces including community gardens, decommissioned schools, and storefronts in addition to vacant lots.
The 2021 contributors[3] are:
Ana Miljački (Critical Broadcasting Lab at the Massachusetts Institute of Technology [MIT]), (Boston, Massachusetts);
Ania Jaworska (Chicago);
Atelier Bow-Wow (Tokyo);
Borderless Studio (Chicago);
Central Park Theater Restoration Committee (Chicago);
Christophe Hutin Architecture (Bordeaux, France);
Departamento del Distrito (Mexico City, Mexico);
Drawing Architecture Studio (Beijing, China);
El Cielo (Mexico City);
Englewood Nature Trail (Chicago);
Enlace Arquitectura + Ciudad Laboratorio (Caracas);
fala (Porto, Portugal);
Gensler (Stone Soup Group) (Los Angeles [California] and Chicago);
Hood Design Studio (Oakland, California);
in care of Black women (Chicago);
Jill Desimini (Cambridge, Massachusetts);
Matri-Archi(tecture) (Basel and Cape Town);
Open Architecture Chicago + Under the Grid (Chicago);
Outpost Office (Columbus, Ohio);
Port (Chicago and Philadelphia [Pennsylvania]);
ProjectHOOD (Chicago);
Riff Studio (New York City, New York);
Soil Lab (Copenhagen and Dublin):
studioAPT (Ann Arbor, Michigan);
Studio Barnes with Shawhin Roudbari and MAS Context (Miami, Florida);
Studio Ossidiana (Rotterdam [Netherlands] and Venice [Italy]);
The Bittertang Farm (Clearing [Chicago] and Island Center [Bainbridge Island]);
The Open Workshop (San Francisco [California] and Toronto [Ontario, Canada]); and
Urban American City (New York City).
Endnotes:
[Image]: https://www.constructionspecifier.com/wp-content/uploads/2021/05/Opener-9.jpg
The Chicago Architecture Biennial: https://chicagoarchitecturebiennial.org/
The 2021 contributors: https://chicagoarchitecturebiennial.org/current_edition/contributors
Source URL: https://www.constructionspecifier.com/revealing-contributors-for-2021-chicago-architecture-biennial/
---