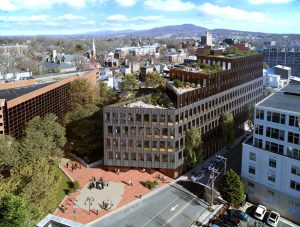 New Orleans-based EskewDumezRipple and collaborating architects Wolf Ackerman revealed designs for the Center for Developing Entrepreneurs (CODE) in Charlottesville, Virginia.
Envisioning a multiuse environment for entrepreneurs, designers, developers, and additional ground floor retail, the 19,974 m2 (215,000-sf) space will act as a connective ligature between institutional, commercial, and historic avenues of the city.
The project will feature an open-air, pedestrian gallery promoting public circulation from the nearby Downtown Mall to Water Street. This is an engaging new approach to the west end of the mall. At the center of the site, there will be an exterior courtyard with a sunken water feature and amphitheater for public and private outdoor events. As the building steps up from the mall to Water Street, one will be able to glimpse a series of planted rooftop terraces. Each of these outdoor terraces will serve as work and gathering spaces for tenants on each floor, and provide panoramic views of the Blue Ridge Mountains.
The project will also provide a variety of retail spaces on its ground floor along with the main lobby entry on the Downtown Mall. A secondary entrance to the lobby will also be provided on Water Street. The Water Street side lobby is spacious and may serve as a coworking studio when not in use as a state-of-the-art 200-plus seat auditorium. The auditorium will serve tenant specific uses and community events.
At the ground floor, the brick façade will be replaced by a glazed storefront to expose a unique public space intended to enliven the street and promote connectivity. An interior plaza will also extend the terminus of Main Street with a direct connection to adjacent Water Street. The move will facilitate access between the adjoining areas and allow further retail space to be integrated into the surrounding pedestrian mall.
The building will include one level of subgrade parking featuring electric vehicle (EV) charging stations. Parking spaces may be converted to alternate uses in anticipation of evolving transportation trends.
Midway through construction, the design team revisited floor plans and design elements for COVID-19 considerations. With research and data on COVID-19 updated daily, the solutions incorporated seemed relevant in a post-COVID world, as well. Incorporating 'hands-free' hardware, fixtures, and digital messaging, plus increasing the distance between coworking 'hotdesking' seats (along with pre-ordained air quality consideration) ensure the building can open safely regardless of an uncertain future.
CODE is on track for the Leadership in Energy and Environmental Design (LEED) Platinum certification. The design employs systems and technologies beyond LEED standards increasing fresh air exchange and providing fine-tuned environmental controls allowing for natural ventilation and daylighting.
Additionally, the building was designed to harvest and reuse rainwater for green roof irrigation. The building's envelope is designed to meet the American Institute of Architects' (AIA's) 2030 challenge for efficiency and thermal performance.
The project is estimated to be completed later this year.