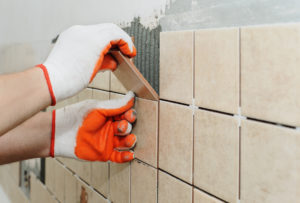 A variety of updates are slated for the latest version of the Tile Council of North America's TCNA Handbook for Ceramic, Glass, and Stone Tile Installation. Providing revisions to existing language as well as new sections, the new edition will be released next month.
"Anyone specifying, selling, designing, installing, superintending, or otherwise involved with tile should update their technical library with the new edition," says Stephanie Samulski, the resource's technical content manager and secretary of TCNA's Handbook Committee. "With the range of new content ratified, there's something relevant to essentially anyone and everyone working with tile."
Eric Astrachan, TCNA's executive director and chair of the Handbook Committee, says the handbook is not a standard, but rather a tool for providing industry consensus. This means it is not formatted like a standard, and can use non-mandatory language as needed to address conflicting recommendations or specifications. He also says substrate flatness requirements, which are "essential but too often ignored," will be among the areas addressed by the language changes.
New sections include:
"Tile Layout Considerations;"
"System Modularity;"
"Visual Inspection of Tilework;" and
"Design Considerations When Specifying Tile."
A section on newer equivalent gauge (EQ) steel studs will also be added to help readers better avoid problems with their use.
"The specific design criteria that are ultimately needed will likely get hashed out in American National Standards Institute (ANSI)," says Samulski.
The book will also address how to evade undesirable wall-wash lighting effects, revised guidelines on EJ171 movement joints, and a new method for tiling exterior decks or balconies over unoccupied space. Its release will be announced on the TCNA site late this month.