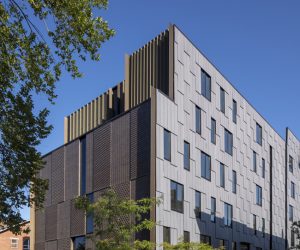 The Rhode Island School of Design (RISD) in Providence has opened North Hall, the college's newly constructed residential facility in 34 years.
The first cross-laminated timber (CLT)-steel hybrid residence hall in New England, the building uses an innovative model for reducing energy use and limiting environmental impact while providing a customized space for students.
North Hall was designed by RISD Architecture alumnus Nader Tehrani in collaboration with Katherine Faulkner and Arthur Chang and their Boston-based firm NADAAA.
NADAAA's design features common spaces tailored to meet the varied needs of today's art and design students. The 3790-m2 (40,790-sf) structure houses first-year students on six floors.
"We are excited to open a new residence hall that fully supports RISD's unique form of education, meeting the needs of today's students—a generation unlike any before them," said president Rosanne Somerson. "Our broader institutional vision—as set forth in RISD's new strategic plan—commits to contributing to a sustainable planet and to ensuring student health and wellness."
The state-of-the-art project—featuring innovative construction methods pairing the steel frame with CLT slabs along with a high-performance envelope comprising of brick and fiber cement panel rainscreen skin—engaged an integrated project delivery (IPD) method to collaboratively fuse the many teams involved.