RKTB reimagines New York's Bedford-Stuyvesant neighborhood
July 26, 2021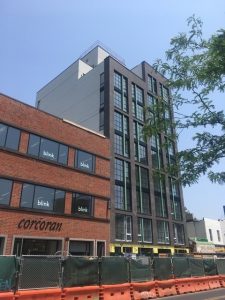 New York's Bedford-Stuyvesant neighborhood in Brooklyn experiences revival with affordable housing from RKTB Architects[1], a storied firm focusing on residential and educational projects.
The New York design firm is working to create innovative solutions for new housing while preserving and celebrating the area's character as its growth accelerates. Residents should be able to move in this fall as the project nears completion on Fulton Street in the heart of Bed-Stuy.
"1425 Fulton Street is the single most difficult zoning exercise we've ever done," says Peter Bafitis, AIA, managing principal of RKTB. "To make the project financially feasible required a complex zoning patchwork that borrowed air rights from several adjacent properties, including a church… to the rear of the site."
Eight of the nine-story building's 26 apartments are earmarked as affordable housing units, with a shared lounge and fitness room at street-level, laundry and bike storage amenities in the basement, and a roof terrace with panoramic views of Brooklyn and Manhattan.
The mid-rise's frontage is composed of brick masonry and multi-paned floor-to-ceiling windows recalling the neighborhood's diverse industrial heritage.
Project manager and associate principal Nelson Vega, AIA, is leading construction of the visually arresting profile of brick, gridded glass and high-performance exterior insulation and finishing systems (EIFS).
Endnotes:
RKTB Architects: https://rktb.com/
Source URL: https://www.constructionspecifier.com/rktb-reimagines-new-yorks-bedford-stuyvesant-neighborhood/
---