by Dave Jackson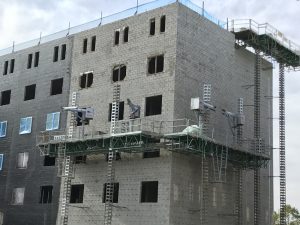 "I always knew I would go into the business," recalled Zack Zuidemas, vice-president for Jimmy'Z Masonry, located in Crystal Lake, Illinois, about 80 km (50 mi) north of Chicago. Founded by his father James in the early 1990s, the company has continued to expand into one of the area's most highly regarded masonry contractors.
While majoring in business management at University of Wisconsin Eau Claire, Zuidemas honed his skills by laboring on jobsites during summer breaks and learning the project management side of the business during winter breaks. Over the years, the father-son duo has acquired a reputation for integrity, craftsmanship, and a forward-thinking approach to the masonry industry.
In 2018, the partners faced a pivotal moment for their growing business when they decided to bid for the foundation and façade components of the Naval Station Great Lakes (NSGL) new barracks project. Located about 80 km north of Chicago, the base was in dire need of additional space to house 600 enlisted military personnel. Originally constructed in 1911, NSGL, known as "Your Navy in the Midwest," is the branch's largest training installation and home of the Navy's only boot camp.
Aware of the highly competitive nature of government contracts, Jimmy'Z Masonry carefully factored time, labor, and material costs into the complex bidding process. Zuidemas reflects back on the various factors that helped him eventually win the NSGL bid including options to increase onsite efficiencies.
Naval Station Great Lakes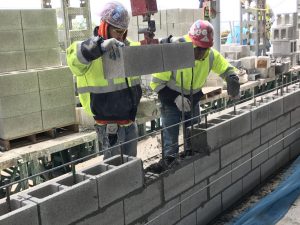 NSGL has a vast foundation area, approximately 15,422 m2 (166,000 sf). Therefore, Jimmy'Z Masonry opted to use oversized concrete masonry units (CMUs). The 200 x 200 x 813 mm (8 x 8 x 32 in.) dimensions of this new unit offered an opportunity to speed up installation by reducing the required number of blocks.
While fewer units were needed, the more than 32-kg (70-lb) CMUs would require more strength to maneuver, which could have equated to increased labor costs and extended time.
To solve this challenge, the Zuidemas took a bold leap and included in their proposal the leasing of several robotic lift-assist devices specifically designed to facilitate the manipulation of large blocks.
Robotic lift-assist devices
Electric-powered lift-assist devices are designed to reduce the strain of masonry work. These machines—essentially miniaturized 'smart' cranes—are capable of hoisting up to 61 kg (135 lb), allowing masons to lift, move, and place blocks with ease.
It is grueling to install more than 30-kg units manually, so using robotic lift-assist devices help create labor efficiencies while saving time and costs.