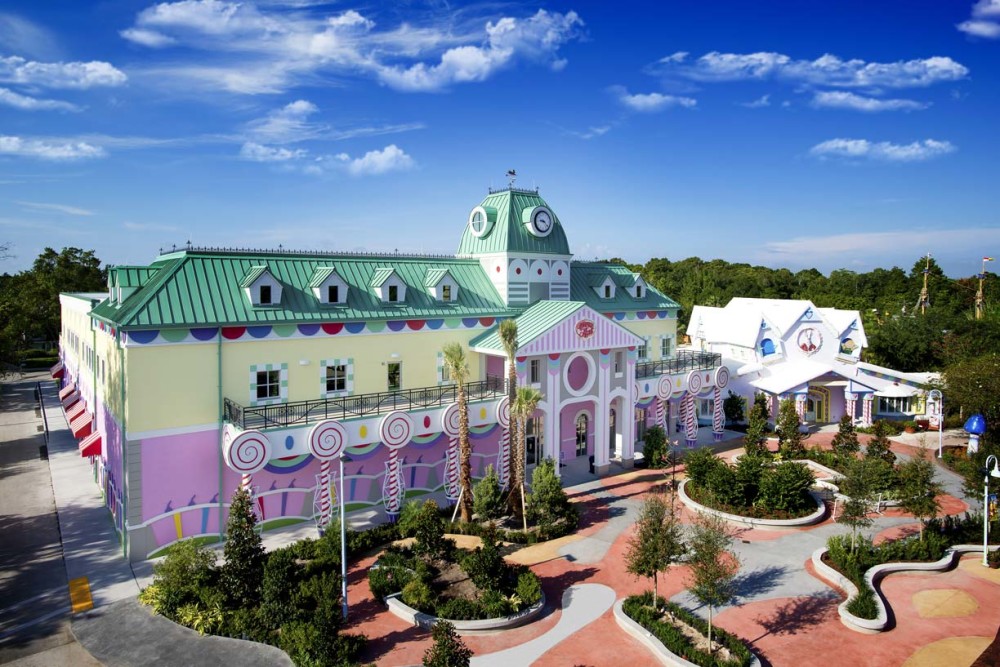 Children with life-threatening illnesses can delight in the whimsical architecture of Give Kids the World Village.
Located in Kissimmee, Florida, the 32-ha (79-acre) resort has served more than 140,000 children and families from all 50 states, and 75 countries, since its founding nearly 30 years ago. The non-profit storybook village provides cost-free, week-long vacations for ailing children and their families, at the center of which is the new Towne Hall.
Clad in vibrant, primary colors, the 4924-m2 (53,000-sf) building embodies the resort's cheerful ambiance.
Designed by C.T. Hsu & Associates in Orlando, the two-story structure houses a themed food court and spacious multi-purpose room on the main floor, while administrative offices are located on the second floor.
Topping the structure is a proprietary metal roof that creates a signature feature visible throughout the resort property. Approximately 557 m2 (6000 sf) of 24-gauge panels line the roof, while the clock tower features 111 m2 (1200 sf) of the same material.
Fabrication of all panels was done onsite, allowing exact panel sizes and cutting down on installation time.
In addition, the panels' design meant they did not have to mechanically seamed, resulting in additional time and cost savings. Further, the profile height on the panels used on the clock tower allowed crews to create the radius panels as designed by the architect.