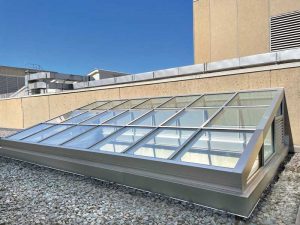 Design professionals tasked with replacing rooftop skylights on commercial or institutional buildings have the opportunity to enhance the building appearance, upgrade energy conservation performance, and improve building occupant experience while remedying water penetration, air infiltration, and condensation problems common with older systems. Achieving these objectives is viable, but the replacement design process is multifaceted. Project teams can benefit from establishing a holistic design agenda based on identifying expectations and constraints at the outset of the project.
The design development for skylight replacement should include code requirements, architectural considerations, building enclosure performance, and constraints imposed by the existing building conditions and anticipated construction logistics. Before design begins, it is prudent to first establish why the skylight is designated for replacement.
Author's note: This article uses the term "skylight" to describe, in accordance with International Building Code (IBC) definitions: glass or other transparent/translucent glazing material installed at a slope of 15 degrees or more from vertical, including unit skylights (factory-assembled glazed fenestration unit containing one glazing panel) and sloped glazing.
Motives for skylight replacement
Motives for skylight replacement often include the following examples.
Operational performance failure
The skylight is failing to meet the performance needs of the building. Some examples of failures include fogged insulating glazing units (IGUs) (Figure 1), air and/or water leakage, and unmanaged condensation on the interior side of skylight components. Often, the skylight's age contributes to operational performance failure due to failed glazing seals or other material deterioration (Figure 2, page 32). Before committing to design decisions, it is important to understand the cause of the skylight failure. For water leakage, standardized methodologies such as AAMA 511, Voluntary Guideline for Forensic Water Penetration Testing of Fenestration Products, can be utilized to diagnose the cause of water entry and to avoid the potential pitfall of replacing a skylight when leakage is originating elsewhere (such as the adjacent roof or exterior wall assembly). Additionally, perceived water leakage can be misconstrued for condensation, in which case it can be valuable to perform supplemental field investigation and to study the interior and exterior environmental conditions.