by Tasha Hughes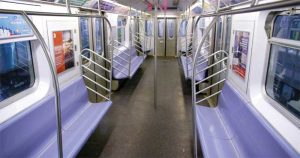 Public transportation is a very convenient and affordable means of travel in many cities. Millions of commuters across the country rely on mass transit to get them safely to their destination every day, and the number continues to increase. The American Public Transportation System said, since 1995, the use of public transportation has increased by 30 percent, a rate higher than the 22 percent increase in the United States population during the same time.
As mass transit becomes increasingly popular, riders are demanding more amenities to enhance their travel experience. City authorities continue to seek out innovative ways to design public transportation systems that are not only comfortable for commuters, but are also durable and sustainable enough to stand up to the burgeoning ridership. Flooring systems are one way specifiers can bring comfort, sustainability, and high-impact design to public transportation.
Evidence-based design
Floorcoverings are being evaluated according to a new set of design and performance criteria. In the past, specifiers largely focused on delivering aesthetic appeal while adhering to budgetary requirements, but they are now taking the long view and considering the total cost of ownership (TCO), which also includes life-cycle costs, during product selection.
Decisions pertaining to flooring and its performance characteristics in the built environment have evolved and are often guided by an evidence-based design (EBD) strategy, taking into account the link between the physical environment and operational outcomes. Specifying flooring for a project begins by determining the desired usage of the space, project drivers, and calculated return on investment (ROI). Using EBD methodology, designers can select products based on credible research.
Materials specified for new construction or renovation of mass transportation systems can have a significant impact on passengers as well as the lifespan of its cars or vehicles. Selecting resilient flooring products, such as premium rubber, can help meet the demands of mass transit while maintaining a like-new aesthetic for decades after installation. Premium rubber is differentiated by its manufacturing process and quality of ingredients that result in a superior surface density delivering a host of benefits and meeting the highest certifications.
Operational optimization
Much like the cities they serve, mass transit systems are always on the go, leaving little downtime for cleaning and maintenance. Flooring with simple cleaning protocols keeps mass transit systems moving. Resilient flooring requires little more than water and a mop for daily maintenance. Uncoated flooring has the additional benefit of never needing to be stripped and recoated.
In this author's experience, premium rubber flooring is a resilient flooring system supporting EBD and benefits operational optimization in construction. The absence of wax from the cleaning regimen also means maintenance is far less invasive. Transportation systems do not have to go 'offline' for extended periods of time while floors are stripped and recoated. This also reduces the number of labor hours required to maintain the vehicles, contributing to additional cost savings and lower TCO. For example, the process of stripping and waxing a floor on a rail car could take a day or longer to allow multiple required steps and product drying times. However, premium rubber floors eliminate multistep, time-intensive processes, as it is able to be cleaned with little more than light detergent and water.
Chemicals and special equipment make cleaning both complex and costly—impacting operational optimization and efficiency. Considering approximately 90 percent of the cost of a floor comes from ongoing care and maintenance, premium rubber can greatly reduce TCO over its lifespan. Additionally, premium rubber floors can last up to 50 years, so they may never need to be replaced during the lifespan of the transit system, as was the case for Frankfurt Airport in Germany. In case of any damages incurred, spot repairs are also simple. They blend in well and are hard to detect after completion. Additionally, any flooring produced can be reproduced again for repair—it is just a matter of following the same recipe.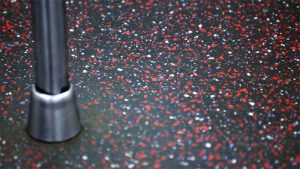 Installation considerations
Specification should also take into consideration installation requirements for both new construction and renovations. In the case of moisture in existing slabs, it should be addressed accordingly. Some premium rubber manufacturers offer installation systems that can entirely eliminate the need for moisture testing and mitigation. When it comes to resilient flooring, installers are adapting to the changing demands by addressing all the major construction challenges, including constrained capital budgets, installation time, and system complexity.
Seamless flooring can also increase product longevity in high traffic areas, such as buses, subways, and rail lines. Temperature fluctuations can push seamed floorcoverings to its limits. They can shrink, leading to cracks or fissures and resulting in the surface losing its unified appearance. This also creates a circumstance where the floors collect dirt more easily. A dimensionally stable rubber flooring system retains its shape without the appearance of unsightly joints or cracks.
Ensuring safe travels
According to the National Public Transportation Association (NPTA), mass transit is one of the safest ways to travel—citing it is 10 times safer per mile than traveling by car since it has less than a tenth of the per-mile traffic casualty (injury or death) rate as automobile travel. Flooring can play a key role in mass transit safety. Mud, snow, and rain brought into buses, subways, or trains can cause floors to become slippery. This hazard is compounded by commuters rushing to get to their destination. In fact, some of the most common injuries occur from falls due to slipping on unreliable floors.
Waterproof premium rubber is designed to withstand the harshest conditions while keeping passengers on their feet. Rubber flooring reduces the likelihood of slips and falls as it is slip resistant in both dry and wet conditions. Should a fall occur, the resilience of rubber flooring cushions the fall and possibly reduces the likelihood of serious injury.
Breathing cleaner on board
The Federal Transit Administration (FTA) says, public transportation systems help cities improve national air quality standards by reducing the level of vehicle emissions and pollutants. When floors coated with finishes release emissions, they can be harmful to passengers, potentially leading to health issues, such as headaches or breathing difficulties.