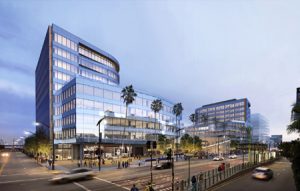 San Francisco-based Pfau Long Architecture (PLA) has now joined the global design firm Perkins+Will.
"When we first started tossing around the idea, it was clear that merging would take our practices to the next level," said Peter Pfau, founding principal of PLA. "We can continue to deliver the highest quality designs to our clients, and make our neighborhoods, towns, and cities better places to live, but with greater resources."
Founded in 1991, Pfau Long is known in the Bay Area for its collaborative design approach and commitment to the community.
Over the next several weeks, Pfau Long, comprising 26 staff members, will join Perkins+Will's 68-member team at the latter's Rincon Hill studio in San Francisco, California. The combined office will use both the Pfau Long Architecture and Perkins+Will brand names during an integration period, post which they will operate as Perkins+Will.
"Great design happens through innovative thinking rooted in common principles," said Phil Harrison, CEO of Perkins+Will. "That is why the alignment of our values is so important. Pfau Long Architecture and Perkins+Will already see eye-to-eye, so by coming together, we can make an even bigger positive difference in the communities we serve."