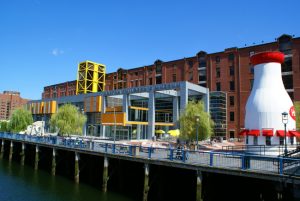 The Boston Children's Museum in Massachusetts has selected international firm Sasaki to lead the development of a design masterplan to address critical flood mitigation challenges, while also reimagining the Harborwalk in front of the museum as an engaging play and learning landscape.
Last April, the museum sought proposals from design firms with expertise and experience in managing complex urban design and coastal engineering projects, demonstrating a range of technical and creative skills to bring to the project. Sasaki was selected to lead the project, bringing together a broader multidisciplinary team of civil, structural, geotechnical, and coastal engineers, as well as landscape architects, and regulatory and permitting experts.
The City of Boston, working with a team of experts that included Sasaki, launched its Climate Ready Boston initiative in 2016, building on a decade of planning work undertaken to identify key climate vulnerabilities and actionable steps that can be taken to ensure a resilient future. The museum's master planning and design effort aligns with the city's priorities, and when implemented, will be a move toward protecting the Seaport and South Boston, while enhancing public use of the Harborwalk.
"One of Boston's greatest assets is the natural environment that includes the harbor, the Charles River, open parks and plazas, and areas like Fort Point Channel," said Zach Chrisco, Sasaki principal in charge on the project. "Our goal is to create a unified design solution that fully integrates resilient design strategies with a creative reimagining of the Harborwalk."
Work has begun on the project and is expected to conclude in the summer of 2020.