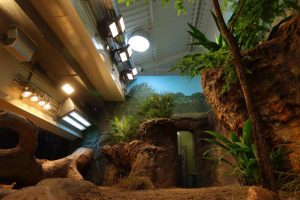 Woodland Park Zoo Seattle, Washington, has found a solution to heat and humidity loss in the Komodo Dragons enclosure with the use of special energy-efficient daylights, without having to build a new enclosure.
The zoo had built the exhibit 20 years ago as a greenhouse with a glass roof, which did not allow for sealing in the heat and humidity the dragons needed. As cold-blooded animals native to Indonesia, Komodo dragons thrive in extremely hot and humid climates.
To retain heat and humidity, the zoo replaced the glass roof of the enclosure with a solid roof. A new issue arose then: there was loss of natural light necessary for Komodo dragons to thrive.
The design team, led by the architect Dennis Poon, installed 13 specially engineered, customizable tubular daylights to maintain the vivid, true colors of the enclosures with unmatched thermal performance—keeping the Komodo dragon climate conditions sealed in tight—and external weather out.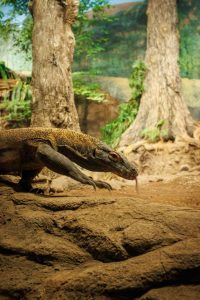 Another point of concern was to obscure the lights from visitors' view. Because of their customizability, the lights were fit to the desired size, and could be successfully hidden away from sight. Kevin Murphy, animal curator at the Woodland Park Zoo said: "In my experience, animals react positively to a natural photoperiod. So, we needed a design strategy that would allow us to close off the glass roof, while still allowing natural light into the space and maintaining sufficient insulation. What you see in the new space is what we set out to do. We didn't have to increase the space or build a whole new exhibit. We found a solution that checked off every box, and I think the dragons will benefit tremendously from it."