The renovated Space Needle, a 184-m (605-ft) tall, multilevel tower in Seattle, Washington, features the world's first revolving glass floor. Thanks to a $100-million private investment, the interiors of the 1962 World's Fair structure have been completely reimagined. With 196 percent more glass than before, including the use of 10 varieties, designers have created an immersive adventure.
Perhaps the most dramatic feature is The Loupe, a revolving glass floor. Visitors can walk, stand, or sit on The Loupe suspended 152 m (500 ft) above the city, taking in never-before-seen views of the Space Needle's architecture and elevators. A 360-degree view of the surrounding cityscape is enhanced as the floor slowly rotates once every 45 minutes.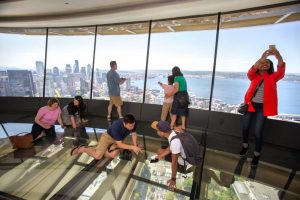 Along with the installation of The Loupe floor, architects have replaced partial glass walls with new high-tech panels. At the 158-m (520-ft) level, glass doors and floor-to-ceiling seamless glass panels deliver unobstructed views of the Pacific Northwest's beauty.
"The original designers of the Space Needle dreamed big, and we continued their vision with this renovation. With glass walls, glass barriers, glass benches, and even glass floors, visitors can feel like they are floating over the city," said Karen Olson, CMO, Space Needle.
Seattle-based architectural firm Olson Kundig, Front, Fives Lund, Arup, and Magnusson Klemencic Associates (MKA) were on the project team.
The outer observation deck has also been updated. The open-air glass panels of the outer observation deck dip out at a slight 14-degree angle and replace previous "wire" caging and partial walls. With neither walls nor seams—or "mullions"—between each glass panel, and nothing but open sky above, uninhibited views are guaranteed. Positioned against the glass panels along the edge of the outer observation deck, 24 inclined glass benches allow guests to lean back and look up.
A new grand staircase now connects the upper and lower levels via an open circular stairway that is suspended and cantilevered out from the Space Needle's core, showing no visually apparent supporting structure. At the base of the curved new stairway is a glass-floored oculus revealing the Space Needle's superstructure as well as the ascent and descent of elevators and counterweights.