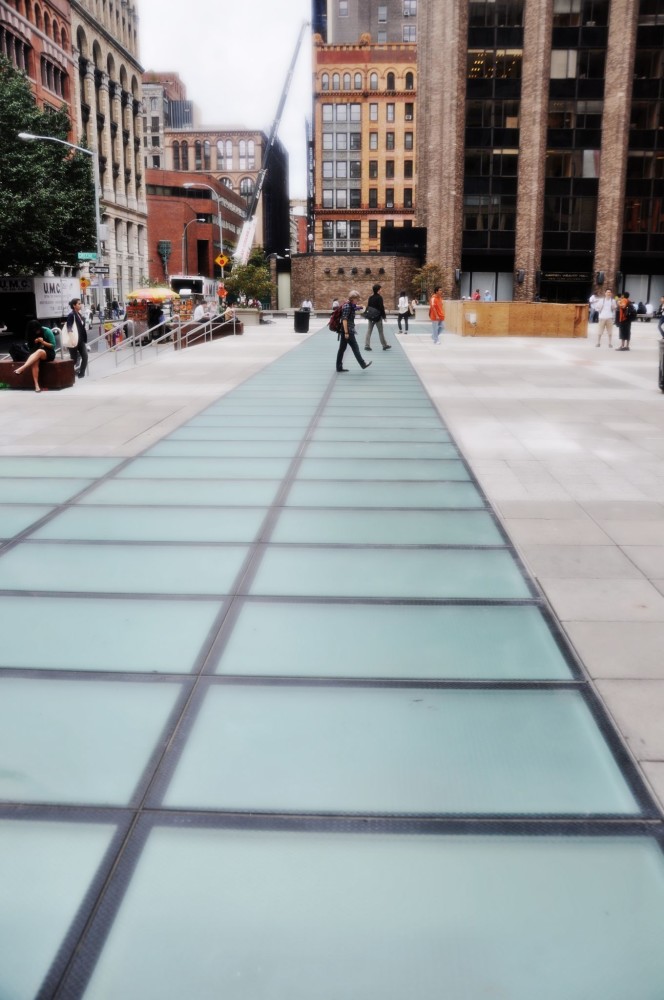 Students at New York University's Stern School of Business can now enjoy natural light in their below-ground classrooms, thanks to a skylight system incorporated into a vast outdoor plaza above.
To bring natural light into certain areas of the 1960s-era school, architects at Perkins+Will took advantage of the facility's position beneath the plaza, designing a system that is part window, part walkway. The solution not only allows natural lighting into corridors, lounge areas, and classrooms, but also creates a unique aesthetic for pedestrians above and observers below.
"The skylight surpassed everyone's expectations," said Matt Cornett, project architect for Perkins+Will. "When one enters the space, the impact and presence of the skylights is immediately apparent. The once-dark corridors are now overflowing with natural light—an unmistakable light that could only come from outside."
Due to the nature of the skylight and its position at the entrance of the building, the city classified it as a roof assembly. As such, it required a one-hour tested assembly. To achieve that, the design team created a durable, insulated, water-resistant skylight system that:
was structural for up to 45 kg per m2 (100 lb per sf);
was made of safety glass;
provided one-hour fire resistance and load capacity; and
allowed natural light, while still providing privacy.
The skylight comprises a proprietary system of walkable glass and steel frames laminated to insulated, fire-resistive glass. Combining the technologies provides a structural load-bearing top glass layer with a fire-rated bottom unit. The steel support structure includes a layer of intumescent paint and expansion joints to meet fire-resistance ratings. The steel structure was fastened to the building, while the glass was structurally glazed to the frame. The top layer of glass also has a raised pattern to provide durable slip resistance in wet and dry conditions.