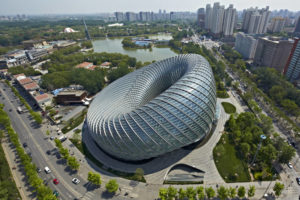 Until June 23, design/construction professionals who use building information modeling (BIM) to accomplish project goals can submit their most-innovative BIM-based projects to Autodesk's AEC Excellence Awards 2017. Successful projects will be those incorporating not only BIM, but also other technological innovations, such as virtual reality (VR), drones, and digital design.
Three tiered prizes are available for each of the competition's four categories:
building;
infrastructure;
construction; and
sustainability.
Entrants may submit up to five projects in total, spanning any of the categories. Prize value (among all winners and including non-monetary prizes) totals $80,000.
Previous years' winners can be viewed here. First-place winners for 2016 included:
 in the infrastructure category, Rambøll Sweco ANS' InterCity Sørli-Brumunddal, a 75-km (46-mi) double railway track in Norway, which relied on BIM to overcome the country's naturally challenging terrain;
in the building category, Beijing Institute of Architecture Design's Phoenix International Media Center, which features a curving shape with complexity only achievable with three-dimensional design; and
in the construction category, Mortenson Construction's U.S. Bank Stadium, whose prompt and cost-effective delivery was dependent on a 'virtual building' process facilitated by BIM.
Winners of this year's competition will be announced at the AEC Excellence Awards Ceremony at Autodesk University Las Vegas in November.