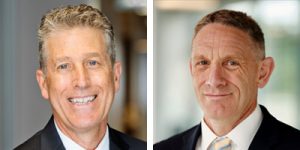 The Simpson Gumpertz & Heger (SGH) board of directors has appointed two new executive positions to lead the firm, effective January 1, 2022.
James Parker will become SGH's chief executive officer (CEO), focusing on the firm's strategic direction and corporate initiatives. Niklas Vigener will take on a new role as chief technical officer (CTO), leading SGH's technical professionals.
As CTO, Vigener will prioritize fostering leadership growth, advancing innovation and research efforts, and promoting integrated engineering solutions.
"Nik and I are honored for the opportunity to continue the many significant accomplishments achieved by Charlie (Russo) during his tenure as CEO," said Parker. "Charlie's passion and dedication have contributed to the firm's success.
Parker and Vigener have enjoyed a successful partnership for several years as SGH's technical group heads, with Parker serving as head of structural engineering and structural mechanics, and Vigener as head of building technology. Both leaders have long-standing careers at SGH and bring diverse technical experiences and award-winning project achievements to their new roles.