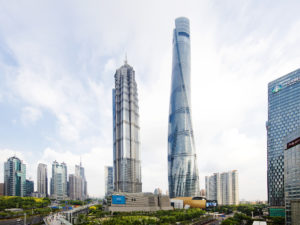 At this month's 15th annual Council on Tall Buildings and Urban Habitat (CTBUH) Awards Symposium in Chicago, CTBUH announced the winners of several awards. Most notably, Shanghai Tower—the tallest building in China—was awarded the title of Best Tall Building Worldwide.
Jury member Antony Wood (executive director of CTBUH) says the building's innovative façade and unique use of atria played a significant role in its selection. In a design aiming to combine tradition and originality, Shanghai Tower plays off shikumen—a traditional housing style blending indoor and outdoor space. It also features multi-story atria placed between its double-skin façade. Further, the design reduces wind loads by 24 percent.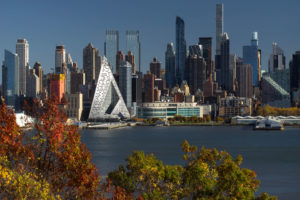 "Shanghai Tower shows the greatest commitment to communal space in a tall building since Commerzbank Tower (Frankfurt, Germany) completed in 1997," says Wood. "It contains the world's first truly 'inhabitable' double-skin façade on a skyscraper, which is not only remarkable for its intended greenery, but its incorporation into the tower's overall ventilation strategy. The sacrifice of valuable floor area to realize this social amenity proves that the aspirations for Shanghai Tower went far beyond mere commercial gain."
The award was accepted by Jianping Gu—general manager of Shanghai Tower Construction and Development—along with several colleagues and the project architect, Gensler. The tower was selected at the end of a year-long process, from among 132 entries from 27 countries. It earned the worldwide title as the best of four regional winners.
The other regional winners were VIA 57 West (Best Tall Building Americas), the White Walls (Best Tall Building Europe), and the Cube (Best Tall Building Middle East and Africa). For more on VIA 57 West, see the August 2016 issue of The Construction Specifier for "Proving its Long-term Mettle" by Catherine Houska.) Several other awards were given out as well, including:
the 2016 Urban Habitat Award, given to Wuhan Tiandi Site A and accepted by Ellen Lou of Skidmore, Owings & Merrill (SOM), for incorporation of low-rise community gathering spaces in a high-rise setting;
the 10 Year Award, given to Hearst Tower and accepted by Louis Nowikas of the Hearst Corporation for the project's substantial influence on environmental and heritage strategies;
the Performance Award, given to TAIPEI 101 for its commitment to energy upgrades;
the Innovation Award, given to SOM's pin-fuse seismic system for advancements in tall building structural stability and resilience in seismic areas;
the Fazlur R. Khan Lifetime Achievement Medal, given to Ron Klemencic of Magnusson Klemencic Associates; and
the Lynn S. Beedle Lifetime Achievement Medal, given to Dr. Cheong Koon Hean of the Housing and Development Board of Singapore.
CTBUH Fellowships were also given to Israel David of David Engineers, Mark Sarkisian of SOM, and Cathy Yang of Shanghai Tower Construction and Development.