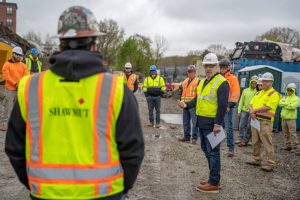 Shawmut Design and Construction hosted its 13th annual Safety Week, focusing on not just physical health and safety, but also mental health and wellness.
The week consisted of 602 events and training sessions held across 112 locations, including Shawmut's jobsites and 11 offices around the country.
The mantra for the week, "Not a mandate, a mindset," underscored the firm's commitment to not only sending everyone home safely, but also improved, to come back even better and more aware. Events ranged from fall protection and electrical safety, to naloxone and substance use disorder training, to mindfulness and meditation.
"Construction is one of the most demanding and dangerous jobs, which is why it's critically important we train and educate everyone on our jobsites and in our network, so they are always mindful of not only their actions, but also those of the people around them," says chief safety officer Shaun Carvalho. "Safety Week provides the opportunity for us all to learn from each other, bettering not only our own approaches to safety, but safety in the industry as a whole."