Using guidelines developed by the Lighting Research Center (LRC) of Rensselaer Polytechnic Institute, the Sacramento Municipal Utility District (SMUD), ACC Care Center, and U.S. Department of Energy (DOE) have collaborated on a lighting retrofit and research project examining the effect of lighting on the melatonin levels of the care center's residents.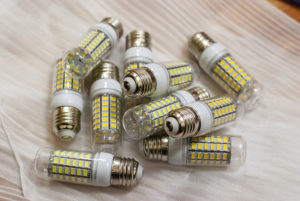 Melatonin, an antioxidant that can encourage cell repair and reduce inflammation, fluctuates within the body in accordance with the sleep/wake cycle, hitting highs at night and lows throughout the day. In hopes of manipulating this fluctuation, the research team replaced the fluorescent lighting installed in certain areas of the ACC Care Center facility with new light-emitting diode (LED) fixtures.
Lighting was updated in:
one corridor;
two resident rooms and bathrooms;
the nurses' station;
the common room; and
the administrator's office.
The update incorporated tunable white light, adjustable to produce different effects. The team attempted to use this adjustability to create lumen output and spectral composition that would suppress melatonin from morning to midday and allow it to increase in the evening and at night.
Results of this attempt appear to be promising. Among the residents studied, three displayed fewer instances of disruptive behavior like yelling and crying, while one experienced a substantial reduction in the need for psychotropic and sleep medications. Center staff also noted residents spent more time in the LED-illuminated corridor—even those whose rooms were located elsewhere in the facility.
"The study is too small to generate unquestionable conclusions. However, the study's results seem to validate many emerging hypotheses about both natural and electric lighting's ability to have vital impacts on healthcare facilities, especially those facilities that serve the needs of the elderly," says David R. Errigo, chair of the National Lighting Bureau (NLB). "To some extent, the more we learn about lighting, the more we realize what we don't yet know, with the key word being 'yet.' The pace of research is accelerating at a rapid rate; new findings seem to be reported weekly. This is an extremely exciting and extraordinarily optimistic time for those of us involved in lighting, as we seek to understand what lighting can do beyond its traditional role as an aid to human vision."