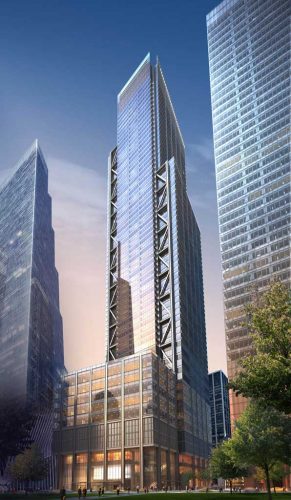 In anticipation of 3 World Trade Center in New York City, which is slated to open in June, project developers from Silverstein Properties released a sneak-peek of what visitors can expect from the new mixed-use building. At 329 m (1079 ft), the firm reports the 80-story skyscraper will be the 5th tallest in the city, featuring the highest private outdoor terrace in lower Manhattan, located on the building's 17th floor.
Designed by Richard Rogers from U.K. firm Rogers Stirk Harbour + Partners, the 80-story development will include 13,935 m2 (150,000 sf) of retail, spread across five floors, as well as 232,257 m2 (2.5 million sf) of office space. Additionally, the building's exterior load-bearing steel frames, which are outside of its façade, allow for column-free interior offices, creating flexible and open-space floor plans.
The main lobby will feature ceiling heights of 19.5 m (64 ft) and include seven entrances—five street-level, one to the retail complex, and the last to the development's direct in-building access to the New York City subway system, as well as trains to New Jersey.
The project is striving to achieve Leadership in Energy and Environmental Design (LEED) Gold certification under the U.S. Green Building Council (USGBC). Environmentally responsible design features include the implementation of high-efficiency cooling/heating systems, the use of paints low in volatile organic compounds, and high-efficiency plumbing systems to reduce building-wide water consumption by at least 30 percent.
To read more, click here.