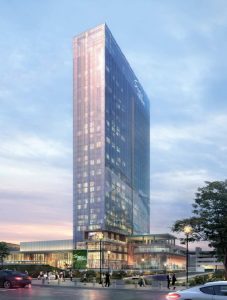 A joint venture led by construction and development firm Skanska and SG Contracting has been selected to build the world's first newly constructed Signia by Hilton hotel in Atlanta, Georgia.
Skanska and SG Contracting are providing preconstruction and construction management services for the $308.25-million project, which will be connected to and serve as the headquarters hotel for the Georgia World Congress Center (GWCC).
Located on the northwest corner of the Georgia World Congress Center Authority campus, the hotel will overlook Mercedes-Benz Stadium and connect to GWCC by a walkway. The hotel, designed by Gensler, is set to open in early 2024.
"The Signia by Hilton will further elevate Atlanta's international presence and position as a major host of civic, cultural, and commercial events," said Scott Cannon, executive vice-president for Skanska USA building's Georgia and South Carolina operations.
Signia by Hilton is a new upscale brand from Hilton Worldwide Holdings Inc. The 113,806-m2 (1.2 million-sf) hotel will be built to achieve the Leadership in Energy and Environmental Design (LEED) Gold certification and include:
40 stories;
975 guest rooms featuring contemporary designs and state-of-the-art technology;
a lobby featuring locally inspired architecture, landscaping, and a contemporary design aesthetic;
6968 m2 (75,000 sf) of meeting and event space; and
parking, a spa, fitness facilities with a 620-m2 (6670-sf) pool deck, an outdoor event lawn and deck, a market, two chef-driven restaurants, and three destination bars.
"Having called Atlanta 'home' for many years, we are inspired to work on the biggest hotel project to break ground in our city in decades," said Sachin Shailendra, president of SG Contracting.