Skanska completes new ASHRAE global HQ with net-zero retrofit design
by sadia_badhon | March 30, 2021 6:30 am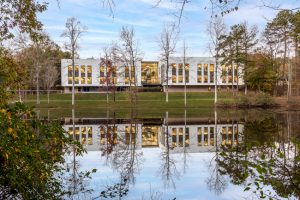 Skanska[2] has completed the renovation of American Society of Heating, Refrigerating and Air-Conditioning Engineers[3]' (ASHRAE's) new global headquarters in Peachtree Corners, Georgia.
The 6197-m2 (66,700-sf) office building was renovated and retrofitted using innovative technologies and sustainable materials to reduce energy use, water consumption, and carbon footprint.
The project demonstrates how a three-story 1970s era structure can be transformed into a high-performing net-zero-ready facility in a cost-effective way that can be replicated, Skanska said in a press release.
"We were delighted to deliver this highly sustainable building that exceeds environmental standards and caters to ASHRAE's unique mission," said Kevin Bell, vice-president of operations for Skanska. "A great deal of thought and consideration went into the design and execution of the renovation. We were able to complete the project during the pandemic without having to shut down because of the safety measures we put in place."
Examples of technical features include:
Radiant ceiling panel system used for heating and cooling, and dedicated outdoor air system for air ventilation with enthalpy heat recovery;
Overhead fresh air distribution system augmented with reversible ceiling fans in open office areas and displacement distribution in the learning center;
Six water source-heat pumps (WSHPs), four on the basement level and two on upper level atrium;
Demand control ventilation (DVC) which will be used for high occupancy spaces in the meeting and learning center;
Onsite electric vehicle charging stations;
Rooftop and ground mounted photovoltaic (PV) solar energy system; and
Eighteen new skylights and reconfigured window/wall ratio.
The net-zero-energy ready design exceeds ASHRAE's own energy and indoor environmental standards to achieve a high-performing and environmentally sustainable building. The building is pursuing Leadership in Energy and Environmental Design (LEED) and the International Living Future Institute's (ILFI) net-zero certifications.
Endnotes:
[Image]: https://www.constructionspecifier.com/wp-content/uploads/2021/03/Opener-25.jpg
Skanska: https://www.skanska.com/
American Society of Heating, Refrigerating and Air-Conditioning Engineers: https://www.ashrae.org/
Source URL: https://www.constructionspecifier.com/skanska-completes-new-ashrae-global-hq-with-net-zero-retrofit-design/
---