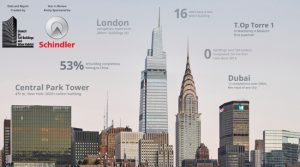 For many people, 2020 will be remembered as the year that nothing went to plan. According to the Council on Tall Buildings and Urban Habitat (CTBUH), the same can be said for the tall building industry.
As the global pandemic took hold in the first quarter, numerous projects around the world, at various stages, ground to a halt as restrictions on assembly came into force. It is therefore not surprising that 2020 yielded 106 completions of buildings 200 m (565 ft) and taller, a 20 percent decline from 133 in 2019, and nearing a level last seen in 2014, when 105 such buildings were constructed, a CTBUH report said.
This is the second year in a row in which the completion figure declined. In 2019, the reasons for this were varied, though the efforts of China to curtail its debt, combined with public policy statements against needless production of exceedingly tall buildings constituted a strong factor that has persisted into 2020.
The tallest building to complete in 2020 was the Central Park Tower in New York City, at 472 m (1549 ft). This is the first time in five years in which the tallest completed building was not in China, and the first time since 2014, when One World Trade Center was completed, that the tallest building of the year was in the United States.
This is also the first year since 2014 in which not even one building taller than 500 m (1640 ft) was completed.
Top 10
Here are the top 10 tallest buildings completed in 2020:
Central Park Tower, New York City, 472 m (1550 ft);
One Vanderbilt, New York City, 427 m (1401 ft);
Nanning China Resources Tower, Nanning, China, 403 m (1321 ft);
Guiyang International Financial Center T1, Guiyang, China, 401 m (1316 ft);
Shum Yip Upperhills Tower 1, Shenzhen, China, 388 m (1273 ft);
Regis Chicago in Chicago, 363 m (1191 ft);
Neva Towers 2, Moscow, Russia, 345 m (1132 ft);
Heartland 66 Office Tower, Wuhan, China, 339 m (1112 ft);
Parc1 Tower I, Seoul, South Korea, 338 m (1109 ft); and
Hengqin International Finance Center in Zhuhai, China, 338 m (1108 ft).