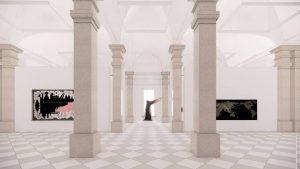 The Smithsonian American Art Museum (SAAM) in Washington, D.C., has announced its plan to revitalize its permanent collection galleries and renew its key public spaces, to provide a more impactful and inclusive visitor experience.
This will be the first comprehensive renovation of the museum's exhibition and interpretation spaces since 2006, which was when the National Historic Landmarks (NHLs) building was last refurbished. The museum will work with Selldorf Architects to design the galleries which will showcase newly acquired work, foreground new voices, and add interpretation strategies to present a more inclusive narrative of American art.
The firm's new plans include the renovation of 1,858 m2 (20,000 sf) of gallery space, creating larger and uninterrupted expanses of wall for the display of art, while maintaining the integrity of the historic fabric of the building. The redesign project will invite essential conversations around inclusion and diversity, reflecting the daily work of art organizations and public discourse. The firm has expertise in cultural and art-related projects, having designed museums, galleries, artist studios, and collector homes. Selldorf Architects began creating the concept and design master plan in 2020 to highlight the grandeur of the historical architecture, and creating new display spaces, including a dedicated gallery for time-based media.
The project will be done in several phases, while the museum's main building remains open to the public. The first phase of the project encompasses the galleries for modern and contemporary art on the third floor—which closed temporarily in 2021 and are expected to reopen in September.
The redesign of the galleries and the installation and interpretive plan is funded entirely through private support. The museum has raised more than $9 million to date for the project, with early contributions from members of the museum's advisory board, the Henry Luce Foundation and the Terra Foundation for American Art.