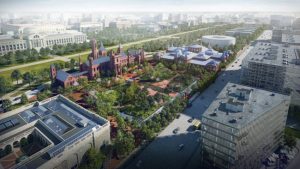 The Smithsonian, one of the world's largest museum and research complex located in Washington, D.C., has decided to scale down its futuristic design plans by Bjarke Ingles Group (BIG) for the 7 ha (17 acre) around its administration building known as the Castle, reports The Washington Post.
The news comes six years after the $2-billion original plans were revealed. A new Smithsonian administration has abandoned the "eye-popping" details of the plan, instead choosing to go for a dramatically downsized version, The Washington Post reports.
The initial blueprint included a major overhaul of the Smithsonian's south campus. The master plan was anticipated to take 20 to 30 years to complete, with construction beginning this year.
"The plan featured new National Mall-facing entrances for the National Museum of African Art and Arthur M. Sackler Gallery (both housed in the underground Quadrangle building)," as per Artnet. "The James Renwick-designed Castle, home to the Smithsonian visitor center, would get an underground expansion with dining facilities, retail shops, and restrooms—as well as seismic protection in the form of a shock-absorbing dish—and there would also be subterranean galleries for the Hirshhorn Museum and Sculpture Garden."
After many revised plans by BIG, including "scrapping its controversial plan to eliminate the existing Enid A. Haupt Garden, which serves as the underground Quadrangle's roof, the plan received final approval in 2018," reports Artnet. However, with the Smithsonian's new leadership in 2019, the museum is deciding to go for a more modest plan, "focused instead on renovating the structures that already exist, including the Castle and the adjacent Arts and Industries Building. Both buildings are National Historic Landmarks; the latter has been largely closed since 2004, but underwent a $55 million exterior renovation in recent years," as per Artnet.