Smithsonian's Hirshhorn to undergo its largest revitalization
by arslan_ahmed | November 21, 2022 6:24 pm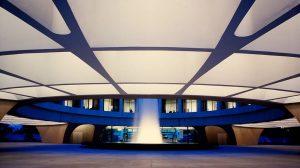 The Smithsonian Institution's Hirshhorn Museum and Sculpture Garden, located in the National Mall in Washington, D.C., is undergoing its largest revitalization so far, with an expansion in the exhibition space to make it receptive to dramatic increases in attendance and upgrade its sustainability.
The museum has selected Skidmore, Owings & Merrill, and Selldorf Architects (SOM | Selldorf) to develop a modernization plan for the museum's interior and plaza. The work will upgrade galleries and public spaces to accommodate larger audiences, as well as address the aging infrastructure, including fine art storage, vertical transportation, and storm water management. The federal contract was awarded following a competitive process by Smithsonian Facilities, in consultation with the Hirshhorn. SOM | Selldorf will submit a visioning document in 2023 of their concept design, which will be subject to a public consultation process.
The three-phase upgrade's first project has already begun and is expected to be complete by the end of this year. This phase will replace the museum roof and pre-cast panels in-kind to improve thermal performance and provide new structural attachments.
The second project, the revitalization of the Hirshhorn's Sculpture Garden, led by the Japanese artist-architect Hiroshi Sugimoto, will begin in spring 2023. Sugimoto leads his design team of New Material Research Laboratory Co. Ltd. in Tokyo, in association with Yun Architecture; Quinn Evans Architects, architect of record; and Rhodeside & Harwell Inc., landscape architect.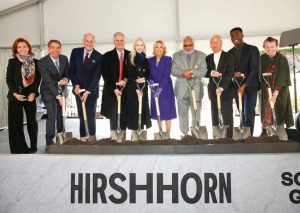 The Sculpture Garden's redesign expands the Hirshhorn's "front door" on the National Mall to increase visitation by 300 percent and introduce three distinct showcases for modern sculpture, time-based and performance art, and large-scale commissions.
Sugimoto's plan will also reopen the underground passage designed as part of the museum's original plan by SOM's partner, architect Gordon Bunshaft, to reconnect the National Mall through the Sculpture Garden with the Hirshhorn Museum and plaza. A groundbreaking ceremony was held on Nov. 16 to signal the start of this second project.
While some interventions will require spaces to close temporarily during construction, Hirshhorn's programming will run throughout.
"We are thrilled to be working together on the revitalization of the Hirshhorn Museum," says Chris Cooper, FAIA, partner at SOM, and Annabelle Selldorf, FAIA, principal at Selldorf Architects, in a joint statement. "Ensuring the building is better able to accommodate the museum's ambitious programs, while serving a larger and more diverse audience, is of critical importance. And we need to be able to do so while making the building more sustainable."
Endnotes:
[Image]: https://www.constructionspecifier.com/wp-content/uploads/2022/11/AA_SmithsonianRevitalization.jpg
[Image]: https://www.constructionspecifier.com/wp-content/uploads/2022/11/AA_SmithsonianRevitalization_2.jpg
Source URL: https://www.constructionspecifier.com/smithsonians-hirshhorn-to-undergo-its-largest-revitalization/
---