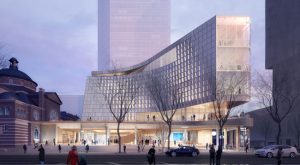 Designs have been revealed for a new technologically advanced library in the heart of Uptown Charlotte, North Carolina.
Designed by Snøhetta in collaboration with Clark Nexsen, Charlotte Mecklenburg Library aims to reconceive how the library connects to people and everyday life with the new 10,684-m2 (115,000-sf) space.
Rising five stories, the building anchors the corner with a translucent prow cantilevering out over the sidewalk, opening itself up to the street. At street level, the façade is glazed in a transparent band of glass that wraps the tapered corner.
A copper soffit frames the new main entrance. Within, there is an open lobby space. At the rear, a new midblock plaza activates additional sides of the building. Above the glass podium, the library pulls back to reveal the historic McGlohon Theatre's western face, previously hidden in a narrow alley.
The sloped wall on one side of the façade is clad in ceramic panels inspired by North Carolina's history of earthenware and artisanry. Evoking a screen, or a patterned textile, the façade is perforated to modulate light conditions within.
Within the library, an atrium opens to the uppermost level. As visitors trace the spiraling wooden stair upward, the building offers views out to the city and access to fresh air through the outdoor terrace spaces nested on the second and fifth floors.