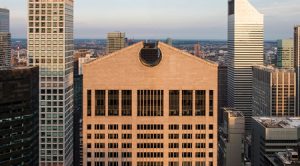 Earlier this month, the ownership team of 550 Madison in New York announced a new design for the landmark destination. The revised renovation plans will reinforce a preservation-driven rehabilitation of the tower.
In July, 550 Madison was designated as an individual landmark by the NYC Landmarks Preservation Commission (LPC). The ownership team, Olayan Group with development partners RXR Realty and Chelsfield, have worked with architect Snøhetta to preserve the iconic high-rise while providing modern upgrades and revitalizing the surrounding public space.
Snøhetta's design updates will retain the tower's distinguished architectural features and undo past renovations that compromised the original design intent. The tower's exterior will remain 94 percent unchanged. The upper portions of the existing four-story annex, altered glass roof, and side street enclosures added during the 1990s will be removed to create an expansive public garden.