SOM designs 'smart building' for Chicago's Fulton Market
by brittney_cutler | April 25, 2022 4:22 pm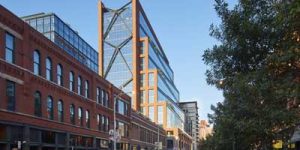 The recently completed 800 Fulton Market, a 99 m (326 ft) tall mixed-use office tower, features a range of smart building systems to promote wellness, sustainability, and energy efficiency.
The project was designed by Skidmore, Owings & Merrill (SOM) and constructed by Lendlease for Thor Equities and QuadReal in collaboration with Omni Ecosystems, dbHMS, Engage Civil, VDA, Schuler Shook, Ava Grey Designs, CDC, and Teligan.
To best support tenants and maintain the building effectively, Thor engaged Buildings IOT, a building network and management system that runs on a cloud-based infrastructure, to deliver machine learning insights to the property team for resolution and observation. The platform's technology creates an unparalleled experience for tenants and their employees through monitoring spaces and circulating fresh air throughout the building. In addition, a centralized tenant mobile app houses tenant access control and offers employees the ability to reserve amenities in the building. Through extensive analysis of the building's lifecycle and eco-focused design, the building presents an embodied carbon footprint that is 10 percent lower than the target goal for the year 2030.
The 19-story design features a facade of brick, glass, and structural bracing. The building is distinguished by its external steel X-braced frames. The frames are engineered to withstand Chicago's harsh winters and strong winds, contracting in cooler weather, and expanding in warmer temperatures. Together with an offset core made of glass suspended along the north side of the building, this structural system enables large, open floor plates and flexible, light-filled workspaces.
Inside, the main lobby is defined by a cantilevered staircase and mezzanine, creating layered spaces of activity. The material approach, which uses exposed concrete, wood, and red brick, mimics the tower's exterior.
The building also includes pandemic-responsive design features, including seven landscaped terraces designed for indoor/outdoor workspaces. The project is Leadership in Energy and Environmental Design (LEED) Platinum and targets WELL Building Standard (WELL) certification.
"We set out to design a building that would feel like it had always been part of Fulton Market's historic, industrial character, but also recognized the pressures and concerns of the new vibrant neighborhood," says Brian Lee, SOM consulting design partner. "This sensitivity informed everything from our material choices to the gracefully stepped form, in conversation with both its immediate context as well as Chicago's famous skyline."
Endnotes:
[Image]: https://www.constructionspecifier.com/wp-content/uploads/2022/04/BC_FultonMarket-F.jpg
Source URL: https://www.constructionspecifier.com/som-designs-smart-building-for-chicagos-fulton-market/
---