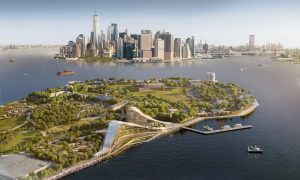 In partnership with Stony Brook University (SBU), Skidmore, Owings & Merrill (SOM) will create a new, "beyond zero" climate solutions center on Governors Island in New York Harbor to address the climate crisis.
The New York Climate Exchange (The Exchange) will be a first-of-its-kind international center for developing and deploying dynamic solutions to the global climate crisis, while acting as a regional hub for the rapidly evolving green economy. It is being described as "beyond zero" as it aims to achieve net-positive sustainability.
It will be 37,161 m2 (400,000 sf) of green-designed building space, including research labs, classroom space, exhibits, greenhouses, mitigation technologies, and housing facilities.
As the lead architect on Stony Brook's team, SOM has spent several months developing designs for a new kind of campus; one that not only sets the stage for a post-carbon world, but also creates a compelling new public realm for all New Yorkers.
The design and operations of The Exchange—conceived by SOM, in collaboration with Mathews Nielsen Landscape Architects, Buro Happold, and Langan Engineering—will serve as a model for sustainability by deploying energy-positive design strategies, including mass timber construction, on-site solar power generation, and integration of existing buildings to achieve a net-zero energy campus.
Complementing the natural landscape of Governors Island and the urban landscape of New York City, the design weaves new architecture into the island's beloved park to create a living laboratory for research, education, and public enjoyment. The Exchange will showcase sustainability as one of the first buildings in New York City to meet Living Building Challenge standards, and as one of the first sites in the country to achieve True Zero Waste certification. It will also meet 100 percent of its non-potable water demand with rainwater and treated wastewater; while running entirely on electricity generated on-site—creating enough energy to serve the city's power grid. Further, it will exhibit resiliency in its design by including new buildings raised to the Design Flood Elevation (DFE) of more than 5.5 m (18 ft), built without basements, and living shorelines.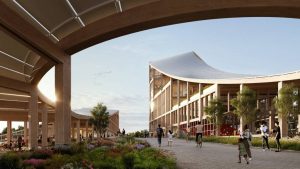 In addition to convening the world's leaders and climate experts, The Exchange will host green job training and skills-building programs for local residents to help them launch successful careers, and partner with local institutions such as the Pratt Institute, Pace University, New York University (NYU), the City University of New York, SUNY Maritime College, Brookhaven National Labs, and IBM, on addressing the social and practical challenges created by climate change—including research that becomes commercially viable and ideas that lead to immediate action on the local and global levels.
SBU president, Maurie McInnis, commented that the creation of this global center, backed by Stony Brook University's climate leadership, will bring together the siloed efforts of various world leaders, who often operate independently of experts and field workforce in the green industry.
"Our design for this new campus embodies the stewardship necessary to solve the climate crisis by weaving sinuous mass timber pavilions through the rolling landscape of the park and reusing the historic building fabric of Governors Island. Together, these spaces will cultivate advances in climate research and pilot new technologies that can be deployed across the city, and eventually the world," says Colin Koop, SOM design partner.