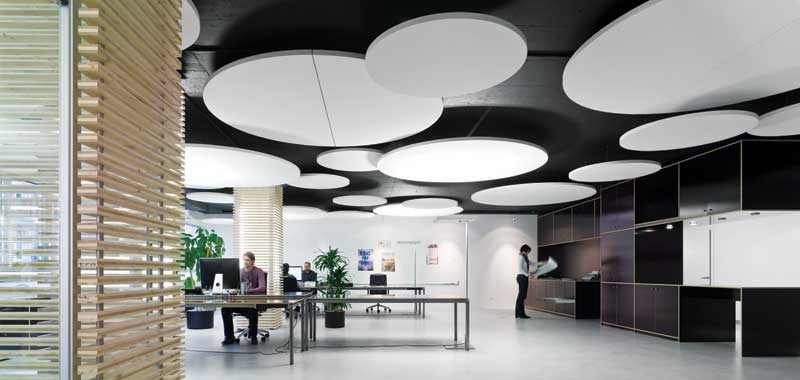 by Robert L. Marshall
The open-office concept has become increasingly popular in today's workplace. There are many advantages to this approach, including increased opportunities for collaboration, greater space efficiency, and potential for an interactive energy that appeals to many current employees as well as prospective talent.
However, there are also challenges inherent in the open office plan. A number of workplace satisfaction studies—such as the "2013 U.S. Workplace Survey" conducted by internationally renowned architecture, design, and planning firm, Gensler, and the U.S. General Services Administration's (GSA's) 2011 "Sound Matters" report—have found workers tend to like the more modern open-office design as a whole, but background noise and lack of privacy consistently get low marks.(Visit www.gensler.com/uploads/documents/2013_US_Workplace_Survey_07_15_2013.pdf and www.gsa.gov/portal/mediaId/172515/fileName/GSA_Sound_Matters_(Dec_2011)_508, respectively).
Poor sound management can have a very negative impact on both worker satisfaction and employee retention. Office productivity can drop off significantly when employees are able to clearly hear and understand nearby conversations. This translates into lost dollars, whether from lost hours of work or from the large investment needed to recruit and train new talent to replace employees that may have left for quieter shores.
Product innovation has resulted in a large and still-growing array of acoustic options architects and specifiers can use to create quieter, more sound-efficient spaces. Sound-absorbing ceiling and wall panels, acoustical insulation, and sound masking are just some of the tools available. Depending on the project budget and goals, there are a multitude of approaches, but no one product or system will solve all things on its own.
Creating a good acoustic environment takes a careful examination of the specific characteristics of the space. Any office has its own unique qualities and challenges, and what works in one corner may not work so well in another. An informed design employs a variety of techniques where appropriate to help create a pleasant, focused work environment.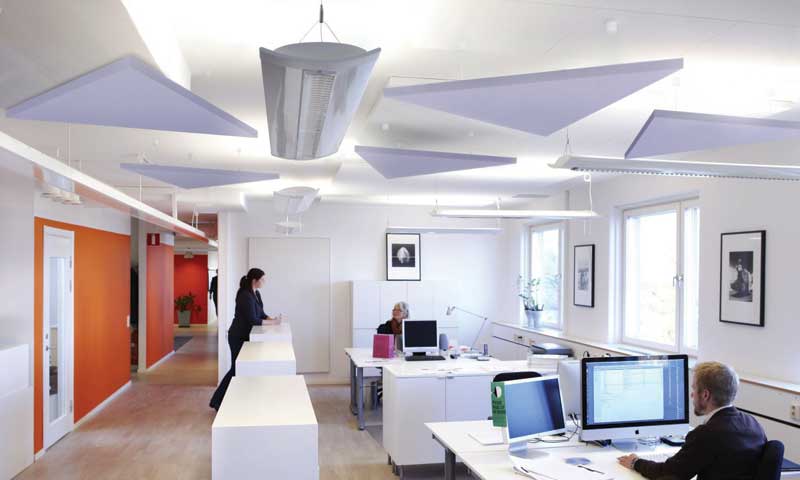 The rule of three
Managing acoustics in an open-office environment takes a multifaceted approach using an integrated suite of different products and solutions. There are three major techniques—collectively known as the ABC Rule—to keep in mind with respect to acoustic design:
Absorb
One can specify ceiling, floor, and wall products that absorb sound waves, rather than allow them to ricochet around the space. It is important to look for high noise reduction co-efficient (NRC) ratings—an NRC of '0' indicates perfect reflection, while an NRC of '1' indicates perfect absorption.
Block
Products with high sound transmission co-efficient (STC) ratings and high ceiling attenuation class (CAC) ratings can prevent sound from passing through them. This helps prevent noise from one room from passing into another. STC rates how well a building partition attenuates airborne sound. A rating of 25 indicates conversation can be heard clearly through a wall, whereas ratings between 35 and 40 are at a level of privacy and anything above 60 is essentially soundproof. CAC measures a product's ability to block sound. A rating above 35 is considered above average performance.
Cover
Using sound masking technology can further break up sound and allow employees to focus.