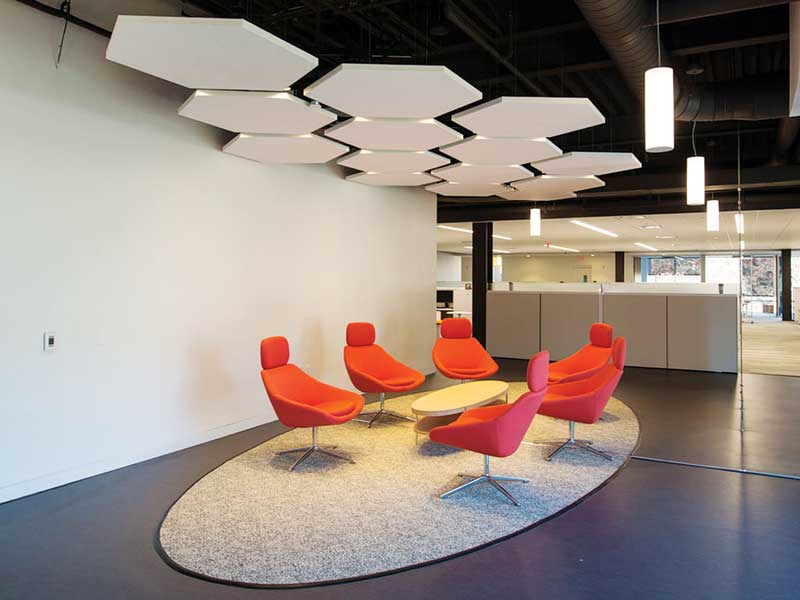 Right-sized solutions
When it comes to acoustic design, the most important thing architects and owners can do is educate themselves on the needs of the space and work on a multifaceted strategy to achieve the best results possible. While a major part of any sound management strategy, a ceiling is not a monolithic structure made up of a single product. It can comprise multiple materials and products to achieve optimal performance. Further, different products and solutions can be used on the ceiling without sacrificing its uniform look.
As an example, most ceiling panels can be covered in a uniform high-performance laminate. The same laminate face can be applied to different ceiling products, so designers can use different types of panels where appropriate without sacrificing esthetics. To someone looking up at the ceiling, it would be impossible to tell the difference between the different types of panels used.
Before tackling a design, it is very important for architects and owners to have an appreciation of how important good sound design is to the effectiveness of an office space. Good acoustics do not just make employee productivity better—rather, they make it significantly better. This creates a case for spending more attention in design and budgeting to make sure acoustics is given its proper due. Owners want their employees to be as effective as possible, and a little sound investment can go a long way toward creating a productive work environment.
 PROBLEM-SOLVING: SMALL CONFERENCE ROOM
Issue: Even with sound-absorbing ceiling panels with a good noise reduction co-efficient (NRC) rating, the small meeting room off the main office seems to echo and it is hard to have conversations.
Cause: The ceiling may be doing its job absorbing sound, but with walls very close together, sound waves are bouncing back and forth between the walls.
Solution: Some sound-absorbing wall panels could be employed to help better control the reflected sound in the room.
 PROBLEM-SOLVING: OPEN OFFICE WORKSTATION
Issue: A number of employee workstations are located just below a noisy air-handling unit (AHU). The sound is a constant disruption for those working nearby.
Cause: Even though sound-absorbing fiberglass ceiling panels were used in the space, they do not stop the noise from the HVAC unit about the ceiling from pouring through to the office below.
Solution: Swapping out a number of panels below the AHU with higher-performance sound-blocking panels with a high ceiling attenuation class (CAC) rating will keep the sound above the ceiling and away from the workers below. The same face material can be used on the new panels to create a perfect match with the surrounding ceiling.
Robert L. Marshall is the technical services manager for CertainTeed Ceilings and a lifelong participant in the commercial ceiling industry. The product of one of world's first acoustic ceiling contracting businesses (a company founded by his family in 1927), he has more than 35 years of experience in contracting, distribution, and manufacturing of such assemblies. Marshall can be contacted via e-mail at robert.l.marshall@saint-gobain.com.