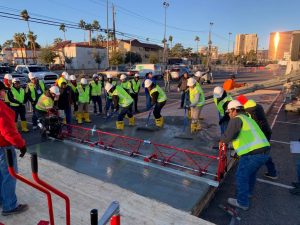 by John W. Nehasil, FACI, Bryan M. Birdwell, and Jerry A. Holland, FACI
Many of the largest retailers have been specifying, or soon will be specifying, certified individuals on new construction projects. It is worthwhile for owners and specifiers on projects of all types to follow their lead.
Good quality control can result in significant cost and time savings. Therefore, it is in every owner's interest to promote quality and require contractors who maintain the highest industry standards that are confirmed by certification, such as the ones offered by the American Concrete Institute (ACI).
ACI offers nearly 30 certification programs across three practice areas:
testing programs focus on performing and reporting the results of concrete field/laboratory tests (i.e. concrete, aggregate, cement, and masonry testing);
inspection programs detail how to inspect various concrete installations and construction practices (i.e. general concrete construction and transportation-related structure inspection); and
construction/specialist programs cover a range of concrete construction practices (i.e. concrete quality management, tilt-up concrete construction, and anchor installation).
There are currently more than 100,000 ACI-certified individuals throughout approximately 100 countries. ACI provides online and app-based resources enabling specifiers to quickly verify the status of ACI-certified individuals using simple search functions, including by an individual's name or certification identification number, or by program area (an option that yields the total number of ACI-certified individuals in an area).
ACI also offers sample language for specifications and contracts (to be used as a guide only). For example language, see "Concrete Floor Finishing."
CONCRETE FLOOR FINISHING
The following sample specification language is excerpted from "Section 03 3560 – Concrete Floor Finishing:"

1.01 Quality Assurance

A. Interior Slab-on-Ground and Slab on Metal Deck Installer: Construction of interior slabs shall be performed by Installer capable of achieving high quality control in finished product as measured in terms of surface flatness and levelness, uniformity in texture, smoothness, and appearance of hard steel troweled surfaces, precision in construction of joints, and minimization of slab shrinkage, plastic cracking, and edge finishing swale. Engage Installer, fully experienced in ways, means, methods and materials of slab-on-ground and suspended slab concrete construction, capable of producing high quality finished product for this project, and as acceptable to Owner's representative.

B. Perform Work in accordance with standards referenced.

C. American Concrete Institute (ACI) Certifications: Floor contractor finishing crew shall have a minimum number of concrete finishers with the following current certifications. Certifications will be verified using ACI Cert app.

1. ACI Specialty Commercial-Industrial Flatwork Finisher & Technician: One.

2. ACI Advanced Concrete Flatwork Finisher or Concrete Flatwork Finisher: Three.