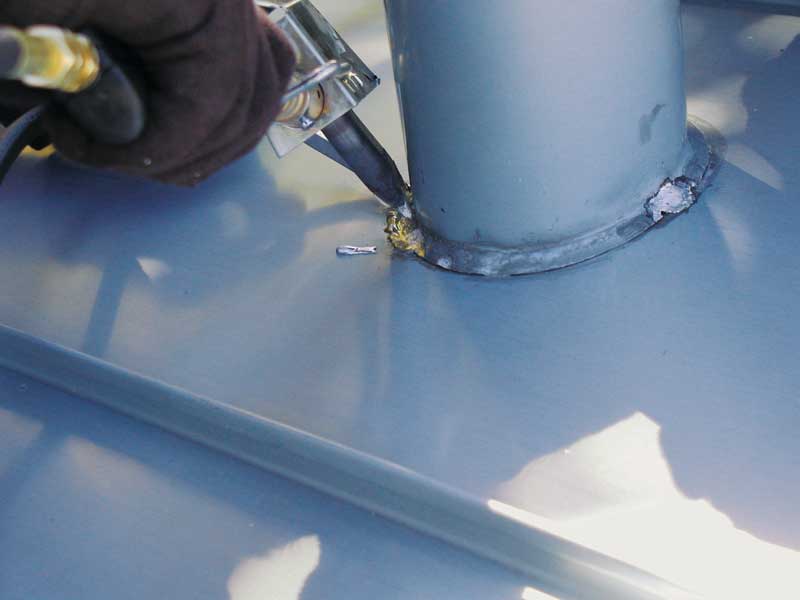 Quality assurance
Specifying architectural zinc can be difficult. Two European producers have dominated the architectural zinc market in Europe for more than 40 years and in the United States for about half of that. With a limited knowledge of zinc in the American market, dedicated technical services and support for architects during the design and construction phases is critical. Zinc-specific training for contractors should be a specification requirement. Prior to the bid, specifiers should carefully qualify each zinc rolling mill that offers a unique combination of:
material quality;
flatness;
strip thickness and width;
customer service;
technical support;
finish color;
availability;
texture;
panel profile; and
application system.
Specifying manufacturers can offer a high level of service and can be especially beneficial to the architect after the installation begins.
Panel fabricator/system suppliers
With only a limited number of distinguishing features between zinc rolling mills (i.e. zinc manufacturers) and resellers (i.e. those who may purchase zinc strip from secondary mills), 'rebrand zinc' may make tracking the quality more difficult. Any metal roof system fabricators who offer zinc strip as a metal option for their profiles or systems should be considered 'system suppliers' and not zinc manufacturers (i.e. rolling mills that produce semi-finished sheet and coil).
The architectural metal panel market has numerous metal distributors and fabrication companies. Some offer zinc profiles and should have fabrication equipment fitted with zinc-appropriate tooling. Use of rounded-edge (bullnose) bending equipment with a radius (at least 1.5 x the material thickness) that will not fracture or micro-crack the zinc should be noted in the specification.
Roofing contractors
Installers with verifiable zinc roofing experience and craftspeople that have received zinc training should be a specification priority. Quality-minded contractors typically understand they need the proper tools and equipment to execute 'zinc-friendly' profiles and details, yet they still may be missing some of zinc's finer points. Requiring a minimum two-day attendance to a zinc manufacturer's roofing workshop for installation crews (ideally the foreman and two or three journeymen) and the project managers can help ensure installation quality.
Zinc is easier to apply in warm temperatures. Therefore, any extended cold-weather installations below 0 C (32 F) may require provisions for temporary heat. Zinc becomes less malleable in colder temperatures, making field bending more difficult when the metal temperature falls below 10 C (48 F). Requiring and enforcing contractor quality submittals—including zinc training, previously completed project references, detailed shop drawings (an indicator of architectural zinc knowledge), and crafted zinc detail mockups—require specification consideration.
Engineering
Large-scale testing is generally not available for wind, water, and fire resistance in most zinc roof applications. Architectural zinc alloy is an inorganic metal and therefore non-combustible (alloy melting point is 420 C [786 F]). Steep-slope zinc roof systems are typically dry-joint and are not intended for waterproof applications—therefore, water penetration testing may not
be appropriate.
High wind resistance is likely the most common hazard a roof covering must resist. While minimal zinc roof wind uplift testing has been completed, specifying engineering calculation requirements that meet code and additional project load conditions can be easy and effective. Prepared by a registered engineer of the project state (with registration stamp), this specification requirement can be an economical alternative to costly full-scale testing. As an added piece of the shop drawing submittal, engineering calculations should provide specific direction regarding fastening patterns, clip spacing, and added density at the roof perimeter and corners.
Material testing, environmental standards, approvals, and certifications
Zinc roofing does not follow many of the modern metal roofing references typically cited. ASTM B69-13 is the material standard for the United States. UL has limited testing from zinc roof system providers. Sheet Metal and Air Conditioning Contractors' National Association (SMACNA) guideline details are useful, but they do not have extensive information on zinc. The National Roofing Contractors Association (NRCA) has upgraded its metal roofing technical reference, but mostly details target commodity painted steel rather than custom-crafted metals. As the construction industry moves toward more transparency and concern for environmental, social, and health issues, specification writers may want to evaluate their zinc manufacturers according to Environmental Product Declarations (EPD) complying to ASTM International Organization for Standardization (ISO)14025, Technical Report–Environmental Labels and Declarations–Type III Environmental Declarations and EN 15804, Sustainability of Construction Works–Environmental Product Declarations: Core Rules for the Product Category of Construction Products. Cradle to Cradle certifications are also available from a few zinc mills. One should consult a preferred zinc rolling mill for additional quality references.
Quality assurance: Warranty and guarantee
The best quality assurance for long-term performance is great design properly executed by the contractor. Design and specification review by an experienced zinc representative is critical. The project manual can require one or more limited warranty/guaranty coverages for the building owner (Figure 3).
Typical 'finish' warranties are not applicable for natural weathering metals like zinc since the preweathered aesthetic will change as the patina develops. The contractor guarantee is often the most valuable because poor workmanship will have greater consequences. Architects and owners are conditioned to rely on weathertightness warranty coverage, which can limit competition, raise the initial cost, and overshadow quality fabricators that cannot offer 'big company' warranties. Simply substituting zinc in standard 'painted metal' detailing may be problematic. One should consult a zinc manufacturer and regional fabricator for recommendations.
Conclusion
Building a 100-year zinc roof is a process that does not have to be difficult or time-consuming. Communication is the first and most important step. Zinc can be a long-lasting solution when the architect utilizes experienced and knowledgeable resources to design and specify a roof that can endure a century.

Steve Shull, CSI, CDT, LEED AP 2.0, is a technical sales manager at RHEINZINK America, Inc. and is responsible for promoting the proper use of titanium-zinc alloy for exterior building applications in 14 Midwestern states. For the past 12 years, Steve has been working with architects, spec writers, contractors, and metal fabricators/distributors open to learning more about the technical, economic, and aesthetic merits of architectural-grade zinc. Steve's perspective is enhanced by his years of roofing industry experience as a manufacturer's rep and project manager for a commercial roofing, waterproofing, and sheet metal contractor. A long-time advocate for the environment and efficient design solutions, Steve is a graduate of Purdue University with a degree in industrial management. He can be contacted via e-mail at steve.shull@rheinzink.com.