by Gary Madaras, PhD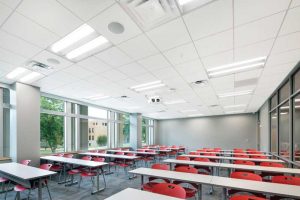 Standards now require high-performance sound absorption overhead inside many building types. Understanding the acoustic requirements within the building standards and translating those correctly into a project's written specification is only the first step. One should also understand other potential impacts on the building design to ensure the occupied building sounds good overall when completed.
Section 11.5.4. of the new American National Standards Institute/Green Building Initiative (ANSI/GBI 01-2019), Green Globes Assessment Protocol for Commercial Buildings, contains sound absorption requirements for various rooms in office buildings, schools, and healthcare facilities. There are two compliance paths: one being minimum ceiling noise reduction coefficient (NRC) and the other is maximum reverberation time (RT). Patient care areas in healthcare facilities and resident care areas in senior living facilities are required to have ceilings with a minimum NRC of 0.90, or if a portion of the absorption is provided on the walls and floor, a maximum RT of 0.50 seconds. In this example, writing the project specification is straightforward. The specified ceiling panel should have an NRC of no less than 0.90. This ensures compliance with this section of the standard.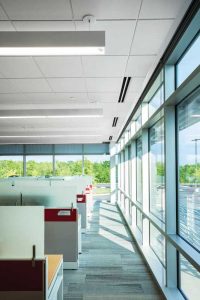 There can be, however, other potential impacts on the building design and compliance with other sections of the standard. Section 11.5.1.2 requires the minimum sound transmission class (STC) rating of the floor/ceiling assembly to be 50. The design and specification of the floor slab, floor finishes, underlayments, and high NRC ceiling system must comply with the STC-50 requirement. Meeting the absorption requirement in 11.5.4 does not stand alone. It is related to meeting the floor-to-floor, airborne, noise isolation requirement as well, and one should not compromise the other. As project specifications are amended to comply with the high NRC requirements, there are other building design impacts that should be considered.
 Review of acoustic ceiling panel
Modular acoustic ceilings comprise of a metal suspension grid—ceiling panels made from a porous and fibrous material, such as stone wool, fiberglass, or mineral fiber—and various building systems elements, such as light fixtures, air terminals, sprinklers, and speakers.
The ceiling panels are made of lightweight materials that are typically less than 5 kg/m2 (1 psf) and are fibrous and porous to permit the airborne sound energy to enter the panels and dissipate due to conversion to heat energy. This process decreases noise and reverberation, making speech more intelligible in enclosed rooms like classrooms and creating privacy, comfort, and freedom from distractions in large open spaces. In most everyday spaces, such as schools, healthcare facilities, offices, and restaurants, the higher the amount of sound absorption, the better.
A ceiling panel's ability to absorb sound is indicated by NRC, an acoustics metric that averages the measured absorption coefficients at the 250, 500, 1000, and 2000 hertz (Hz) octave bands. NRC can be categorized as high-performance when is it 0.90 or higher. Many of the standards, guidelines, and rating systems require a minimum ceiling absorption of NRC 0.90. If the absorption is not provided by a contiguous acoustic ceiling, the alternatives should offer an equivalent amount of sound absorption.