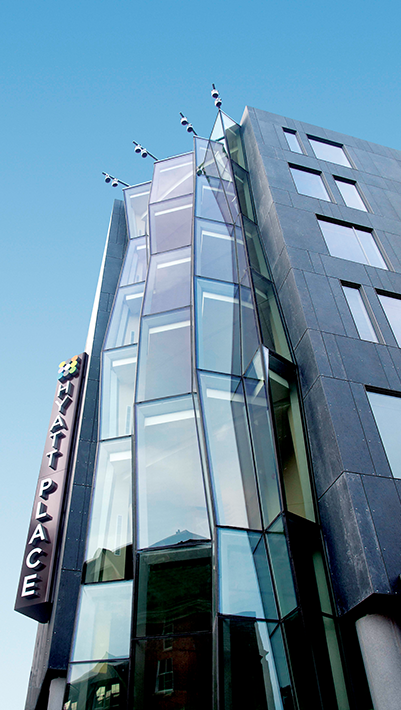 by Brian Harrington, CSI
Custom curtain wall assemblies provide an excellent way to create a true architectural signature on a building. These systems are most often used to make a key statement at the entrance or podium level, and to convey the design language of the building.
The 'investment' made in them is as much about the firm's design reputation, as it is about actual project budget. For this reason, it is important to design, budget, and specify custom systems in a way guaranteeing the best chances of survival beyond value engineering and budgeting rounds.
A typical value engineering process is designed to balance product function with cost—basically to make certain all product alternatives have been considered, while managing budgets and meeting architectural intent. The best protection against losing signature design elements to budget cuts is to engage in a full design-assistance stage upfront. This stage fully documents the options, tradeoffs, and development process undertaken to produce the final system design.
The most significant difference in specifying a custom curtain wall versus off-the-shelf systems is the time needed to:
understand the design elements requiring a custom system;
accurately research the options and qualified suppliers for custom systems; and
create construction documents that accurately convey the project-specific requirements.
To illustrate an efficient process, this article uses the creation of the 'Crinkle Wall' at the new Hyatt Place in Portland, Maine. (The project was completed in March 2014, with a ribbon-cutting in May.)
Partnering with design and manufacturing teams
It was clear from the start the Crinkle Wall would not be achieved with a standard, off-the-shelf curtain wall. The design included extreme mullion angles, both left and right, and in and out, with minimal sightlines at slab levels, which could not be achieved using typical shear block construction.
"The expression we were aiming for was that of pleats, or folds, like you'd see in fabric or clothing," explained Tim Hart, one of the founding members of the architectural firm Canal 5 Studio.
An architectural sketch and rendering was completed to illustrate the intent, and a team was assembled to work through challenges posed by the wall's unique requirements. These included design, coordination, installation, and budget. Situated on a tight city lot, even a project-specific installation process/schedule needed to be considered up-front.
To consider all perspectives, the initial team consisted of architect, construction manager, and custom curtain wall designer/fabricator. Participation and buy-in from the owner/developer was perhaps the most important component, as he shared in the vision for the curtain wall, to differentiate the property. Once the basic system design and assembly strategy was developed, installers were added to the team to share their viewpoints on how to manage logistics.
This type of partnership is the definition of the design assistance approach. Just as the geometric and aesthetic requirements are communicated up-front, it is advisable to share budget criteria at this stage to help quickly filter possible design approaches, and rule competing options in or out. While pricing consultants and services may be a good fit for off-the-shelf system comparison, custom design requires a collaborative, bottom-up approach between designers and product developers to get to true representative system costs.
It is also important to understand a design assistance stage requires its own schedule within the overall project schedule in order to anticipate product lead times and keep them on track.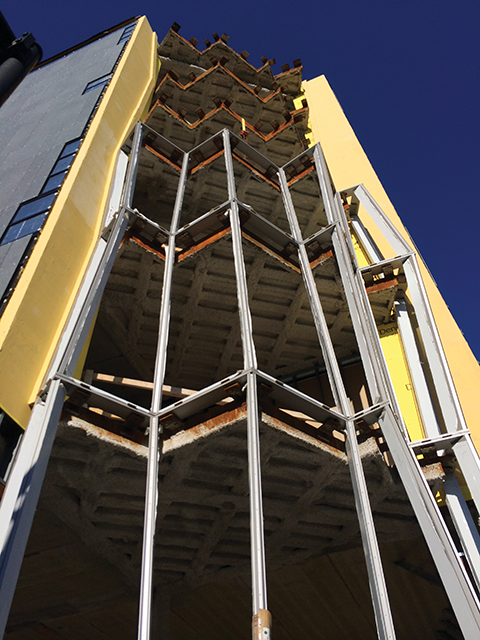 Identifying key criteria to meet design intent
The best way to truly manage project budgets with custom curtain walls is for the architectural team to determine the project's key design criteria—specifically, which items are negotiable, and which are not. In other words, there needs to be agreement on what is a 'must-have' and what is a 'nice-to-have.'
The outside supplier members of the design assistance team can use this information to advise the architectural team about how each item impacts overall price and availability. The Crinkle Wall, for example, is a 'true' curtain wall by design. This means it hangs on the building outside of the slab, providing a façade that is not interrupted at slab levels by closure covers, or even spandrel glass.
Therefore, a non-negotiable related to system design was that since the joinery between horizontal and vertical mullions would be visible within guest rooms, shear block constructionisible fasteners would not be allowed. A 'hybrid' approach was developed to create a split horizontal mullion that could hide fasteners by keeping them all inside the system.
Since the assembly was designed with the entire construction and installation team efforts in mind, the split-mullion hybrid approach served another important function: It allowed installers to shop-assemble horizontal 'ladder sections' of curtain wall that were one-story tall, and could be hung as a complete unit. This approach allowed the installer to significantly shorten installation time on the tight construction site.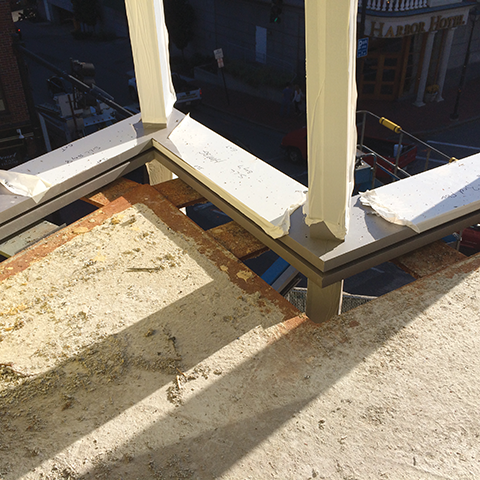 Determining pricing 'levers' and their impact on target project budgets
All architectural design comes with trade-offs. A strong understanding of material options and fabrication limitations can help greatly in keeping within budget targets. For instance, the more exotic the glass make-up becomes, the fewer suppliers there are from which to choose, and the pricing generally becomes higher.
With the Crinkle Wall, a good understanding of glass fabrication requirements and criteria was key to understanding and managing this cost element. First, the design dictated each insulated glass unit (IGU) was a unique trapezoidal shape, with offset edges on specific edges, to make silicone joints at consistent widths.
Next, all but two lites in the original design were within dimensions glass fabricators consider to be 'standard' block sizes. These two largest lites were only a few square feet into the 'oversized' category, so to avoid the extra charges (which can be as much as 1.5 times the cost of standard square foot charges), the lites were able to be easily resized without impacting the overall aesthetic.
Writing the custom curtain wall specification
In order to accurately capture the unique attributes of a one-of-a-kind curtain wall, the specifier should be part of the design assistance team from the start. It is clear through the design assistance process a standard specification cannot easily be used for a custom curtain wall application.
However, the design assistance process yields most of the raw materials needed to write the construction documentation. The custom system manufacturer should have a base specification that can be modified with this project-specific information, to create a specification that accurately reflects an up-to-the-minute understanding of how the wall should be built.
Two areas that should be heavily considered, and championed by the specifier in both the design assistance and specification writing phases, are the requirements for mockups and performance testing. Mockups are great to consider for proof-of-concept, but require significantly more scheduling time, since any extruded parts have their own die-and-extrusion schedules, not to mention small-run fabrication and assembly processes.
Likewise, performance testing ranges from in-place air and water tests to full laboratory tests. The size, location, and number of penetrations from windows and doors can help guide the level of testing the team deems appropriate. Mockup and testing budgets must also be considered as part of the entire project budget.
It is important to note the final custom curtain wall specification will be focused on a sole-supplier, or just a handful of capable suppliers—those that partnered on the development of the system. It goes without saying careful vetting and selection of capable suppliers must be done as a first step in the system's development.
A key to cost-containment success on the Crinkle Wall was a collaborative process that included ongoing discussions and reporting of cost impacts, as well as numerous budget stages to confirm the direction the project was moving in along the way.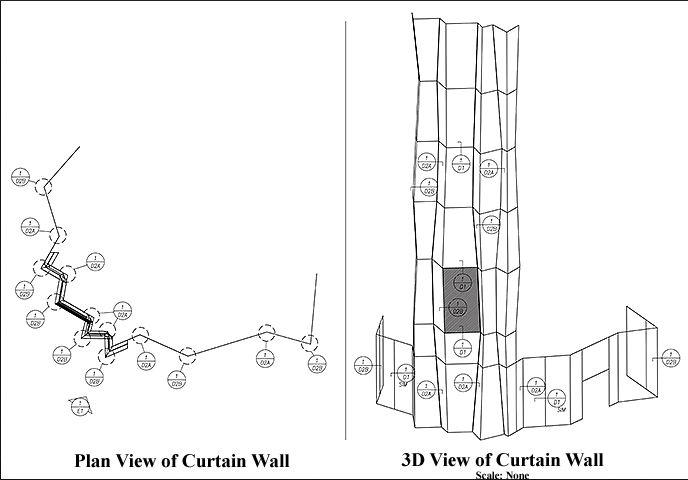 Coordinating with surrounding trades
One of the final considerations with the development of the custom curtain wall specification is how it may impact the specifications of surrounding materials and trades, including the building engineer, along with suppliers of structural steel, concrete, claddings, HVAC/mechanical, lighting, electrical/automation systems. The development of custom curtain wall includes engineering assumptions and requirements that, in turn, place requirements on surrounding structures. The custom system specification must therefore be written first in order to inform the specified requirements of surrounding materials and structures. The custom curtain wall engineer and building engineer should also be part of the design team, whether as a fully present member in development meetings, or as part of the manufacturer/supplier's team. (It is a good idea to begin this coordination during early design assistance meetings.)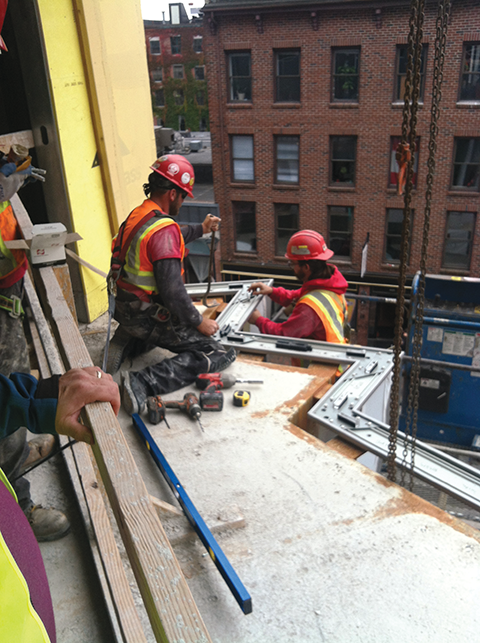 Unsurprisingly, the slab edge on the Crinkle Wall was unique at each floor. Each level had a custom-built steel structure at the curb edge that mimicked the exact angles of the wall, allowing for correct placement of anchor shelf brackets. This structure was then filled with concrete to complete the unique slab at each floor. The architect and curtain wall designer collaborated on slab edge drawings for the contract documents, and for early release to the steel supplier to build from. Coordination meetings, communications, and 3D model-sharing between design team and all surrounding trades often begin during the design assistance stage, continuing through project execution.
As with structural engineering requirements, the material choices for interfaces between curtain wall and surrounding walls may define the price and quality level of those surrounding materials. It is critical for architectural designers and specifiers to build a working knowledge of the changing relationships between these systems. At times, it can be beneficial to bring members of surrounding trades into the design assistance process to establish a working relationship long before the building
is constructed.
Conclusion
The development of a custom curtain wall and its accompanying specification can only be successfully accomplished with an appropriate amount of time set aside for a comprehensive design assistance process. The selection of a design assistance team to drive this process should be based on its prior experience with custom systems, and its ability to see the development process through to completion.
Pricing and adherence to budget is as important to most projects as the adherence to the design intent. If the project is over-budget, it can be difficult to keep it from being value-engineered to a simpler and cheaper system that may not meet the original design goals. Losing a custom assembly to a typical system in a value engineering stage means more work for the specifier, since a new specification must be developed—often with much less time to do so.
The key to keeping the budget on track is the development of a solid understanding of pricing levers and material options that have the potential to push the project off-track. An integrated design, with thoughtful choices of materials (and even manufacturing and installation approaches), can not only manage the expense of the curtain wall, but sometimes also the overall project cost by shortening the required time onsite and other factors.
A custom curtain wall specification is a true team effort, with suppliers, installers, and even surrounding trades contributing to its success.
Brian Harrington, CSI, is a founding principal at Bellwether Design Technologies, a designer and supplier of custom glazing systems, including curtain wall, skylights, structural glass canopies, and vestibules. He manages the design assistance process for each project in collaboration with the architect, installer, and design team. Harrington has worked in the construction industry for a decade. He can be reached at b.harrington@bellwetherdesigntech.com.