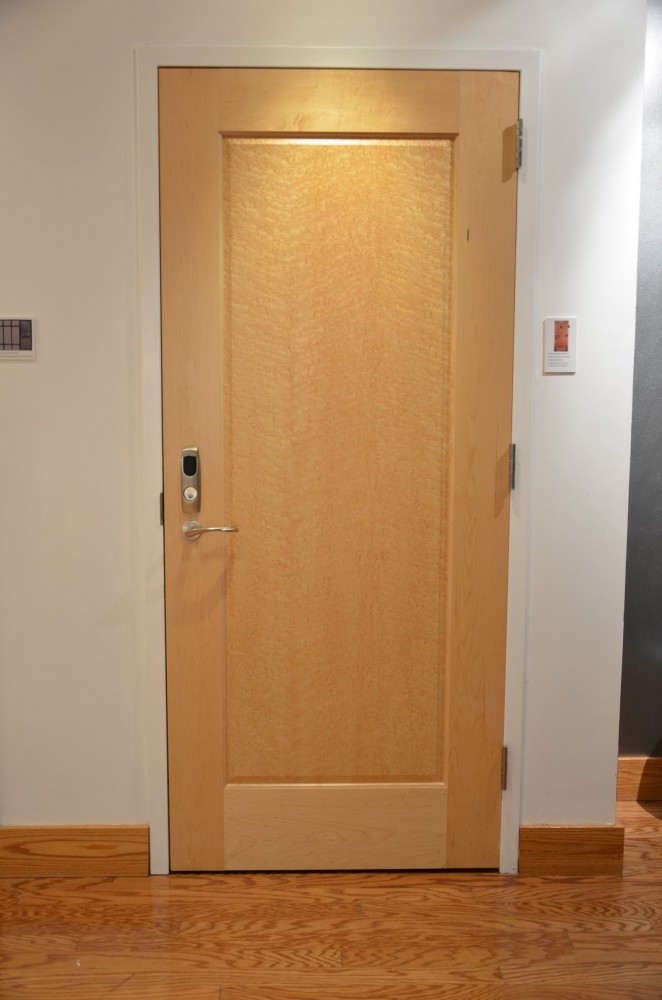 by Marilyn A. Collins, EDAC
In an effort to create a more restorative environment for behavioral health facilities, both design and healthcare professionals are looking to door openings. The shape of hardware, locking devices, and integrated trims can include aesthetic design elements while remaining safe and secure.
There are almost 6000 hospitals in the United States. Of those, approximately 30 percent house an in-patient psychiatric or behavioral health unit—with almost eight percent dedicated to behavioral health. Additionally, there are many specialized clinics and out-patient treatment offices. A project's specific needs may vary widely, from children's units to adult therapeutic environments, but many requirements are common to all types of facilities, including code compliance.
Behavioral health is concerned with the prevention, diagnosis, treatment, and rehabilitation of those exhibiting aggressive or self-destructive behaviors. One of the main goals of behavioral health is to keep patients safe during recovery or rehabilitation. Security and safety are critical challenges as facilities accommodate other occupants—whether family, clinical and professional staff, or environmental services personnel who have access to virtually every area of the facility, and use potentially harmful cleaning agents and/or chemicals.
Built environment and healthcare
The built environment can make a difference in behavioral health facilities. Doorways, doors, hardware, and accessories can be integrated in such a way as to reduce noise levels, increase security, facilitate sight lines, and improve patient safety. Options for sustainable features such as recycled content, health declarations, and certifications ensuring the elimination of volatile organic compounds (VOCs) in doors are becoming standard in the specifications for most healthcare spaces.
Writing a Division 08 specification for a behavioral health unit demands expert product knowledge to capitalize on the opportunities they present to create a restorative environment as well as to avoid the threat they can pose to patients' wellbeing. Questions to consider during specifications include:
Should the door be specified as a single leaf to avoid flush bolts that could represent a ligature point?
Would the use of a continuous hinge be preferred to swing clear hinges?
In addition to protecting against security risks from the outside, behavioral health openings are also designed to lessen the potential of patients using some portion of the opening to inflict self-harm. This is readily apparent in the shape and form of these products—many hardware items, and some specialized doors, look different from those used in standard openings. Such products address potential threats to patients, and are designed to mitigate these risks.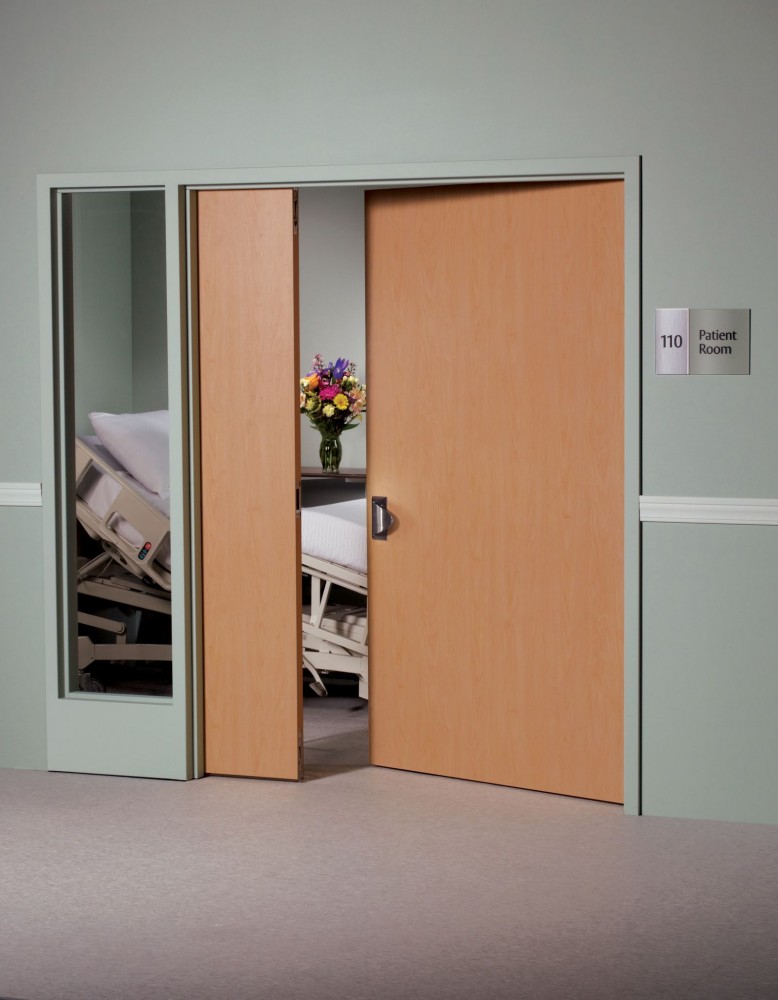 In North America, there are no design standards for door and hardware products used in a behavioral health environment. Product manufacturers often research overseas standards, consult with behavioral health facility staff, or conduct observational research to determine door and hardware designs. However, once a product is created it can be sent for review to agencies such as the New York State Office of Mental Health (OMH) or the National Association of Psychiatric Health Systems (NAPHS). These agencies carefully scrutinize the product, and then issue guidance recommending whether a product is suited for use in high-, medium-, or low-risk areas.
Healthcare organizations and specifiers can consult these reviews to determine if the products they have in place or plan to use have earned a seal of approval to match the risk level of each opening. Without such reviews, specifiers may select products not optimal for the facility's function. In some cases, facility staff must make aftermarket product choices to provide a safe opening addressing a specific level of risk.
Alternatives
Patients placed in a high-risk area are at an elevated danger of inducing self-harm; they might look at an opening for potential ligature points. The products used on the opening should therefore minimize these points. A standard door lever should not be specified for these locations.
Alternative hardware trim has been designed to perform the same function of a lever without the catch points, sharp edge, and large protruding profile. Openings that overcome attempts at barricading may also be required in this environment.
Various alternatives to openings in healthcare facilities are available for high-, medium-, and low-risk openings.

High-risk
There are door and hardware alternatives for high-risk openings accepted by New York's OMH, which is the standard followed by most of the United States.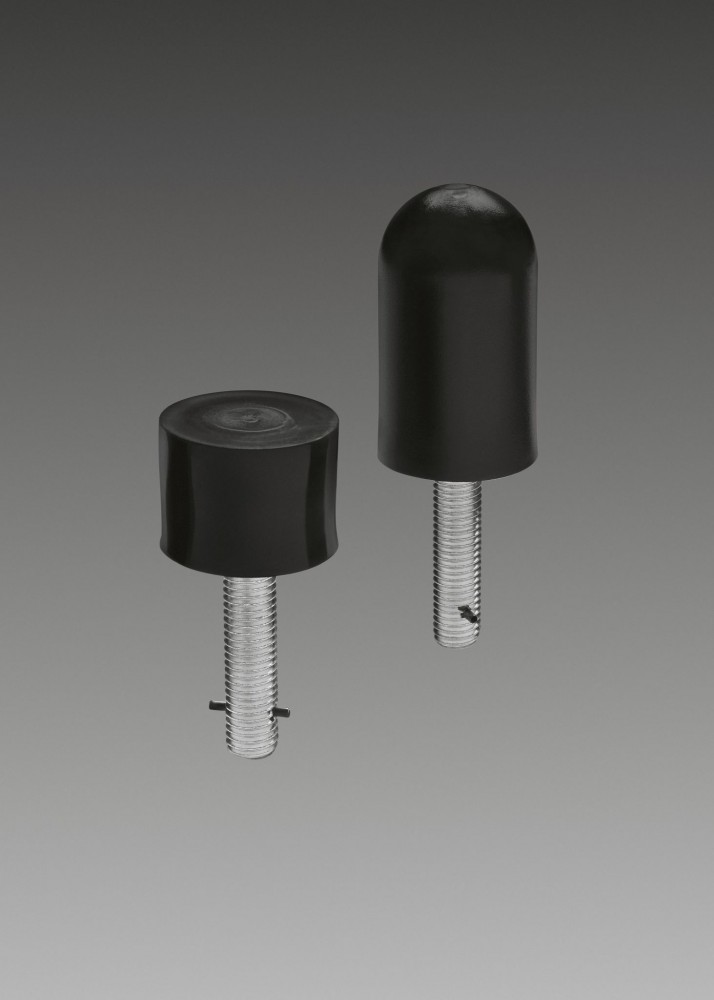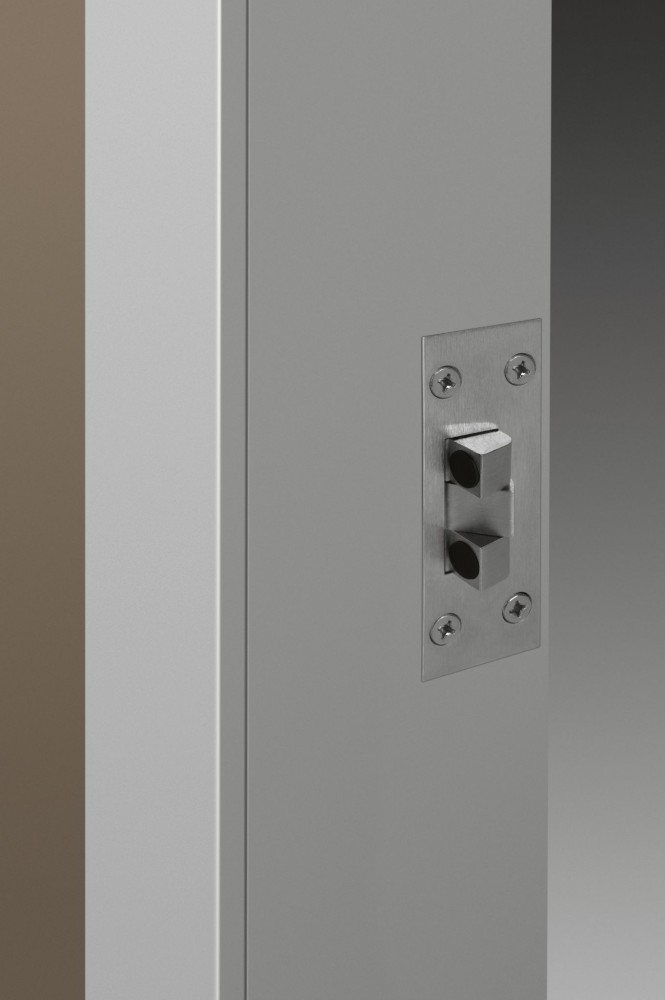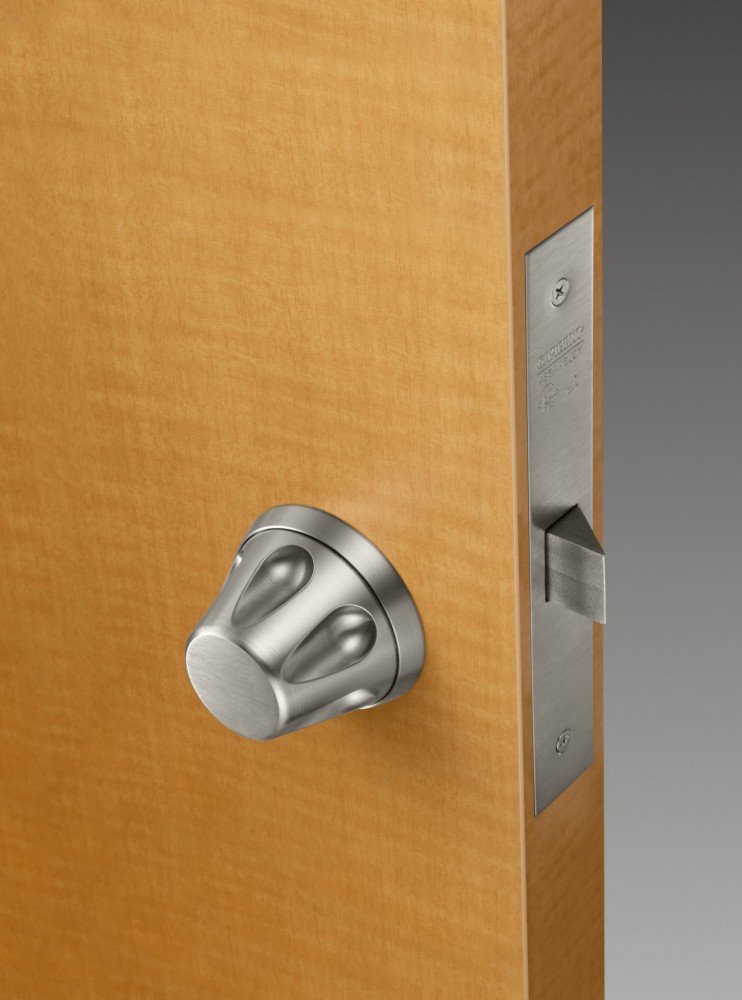 Integrated trim
This type of device integrates the door lever with the escutcheon to create a safe, low-profile mechanism for opening the door that is also Americans with Disabilities Act (ADA)-compliant. The tapered surface is free of catch points, and works with mortise locks so it can withstand abusive conditions.
Recessed flush pull
A flush pull recessed into the door with concealed fasteners will prevent patient tampering. Also, the smooth flush design is free of catch- and pinch-points.
Hinges with hospital tips
A hinge's knuckle or cap can be tapered with smooth-angled surfaces, called 'hospital tips.' This tapering eliminates catch-points found on traditional hinges.
Emergency door stops
An emergency latch release allows doors to swing open in the opposite direction, thwarting barricade efforts. The latch releases with a touch of the finger. A second touch of the lever returns the latch to its original position. This device allows center-hung or 3.2-mm (1/8-in.) inset doors to be opened in both directions without damaging the frame; it can be used to convert double-acting doors hung on center pivots to single-acting doors.
Heavy-duty door stops and wall stops
Molded rubber bumpers mounted into the floor or wall without exposed fasteners reduces costly wall and door damage caused by doors slammed open. Wall stops with concealed mounting resists patient tampering.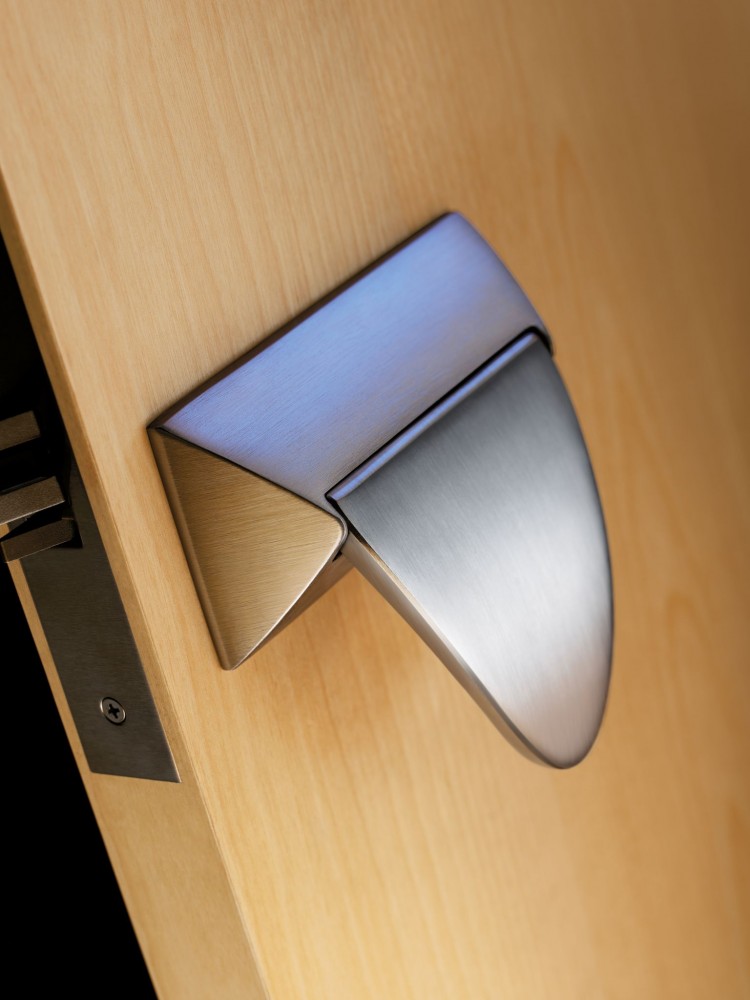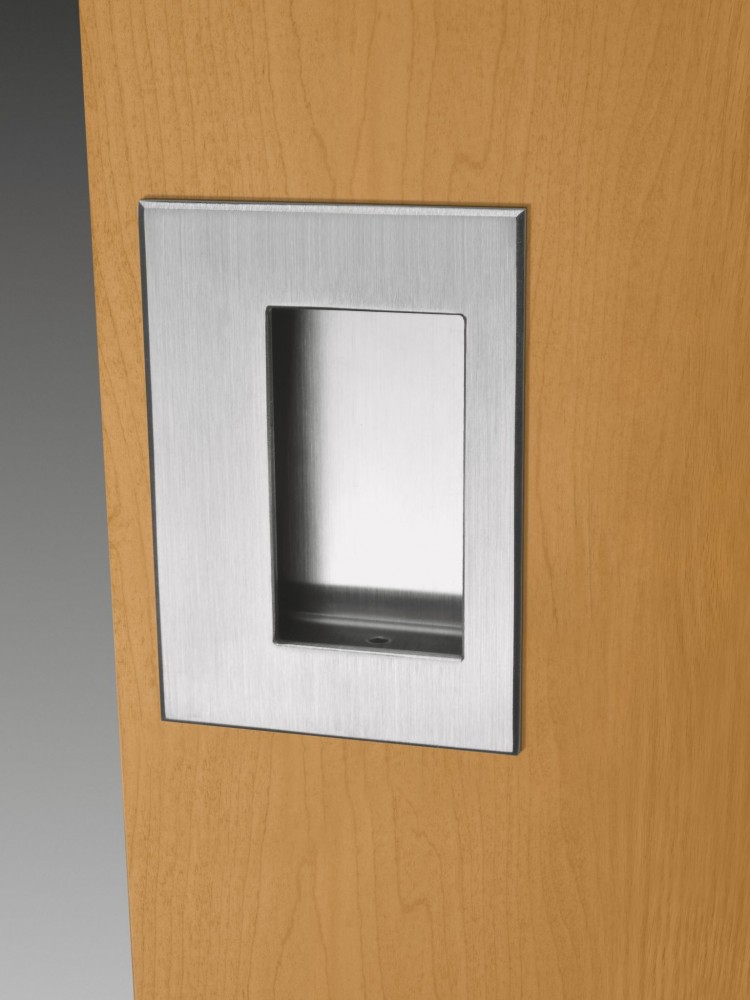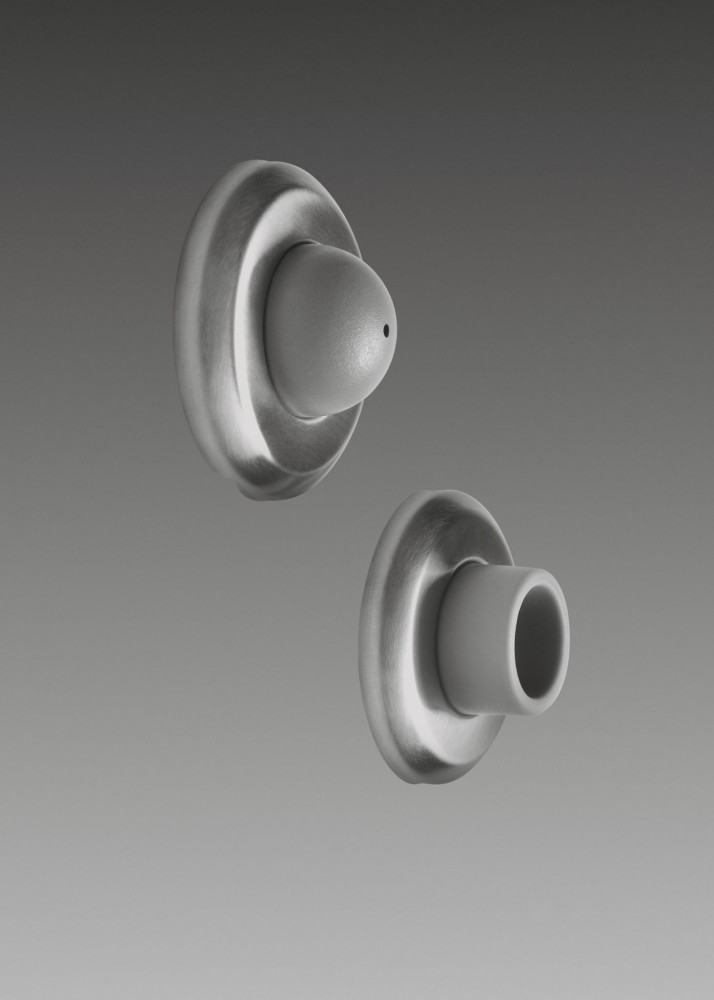 Patient room access door
Essentially a door within a door, the main unit of a patient room access door has the functionality of a standard in-swing patient room door. The inner door can open to the corridor giving authorized personnel quick access to the patient's room. The ligature-resistant design is a key feature of the construction.
Roller latch with strike
For use only on non-fire-rated interior openings such as toilet rooms, bathrooms, shower rooms, and closets, roller latches with strikes are safe for en-suite bathroom doors and delivers patient privacy without locking the door.
Medium- and low-risk
A wider range of doors and hardware are available to meet the opening needs of medium- and low-risk environments. Similar to those used in high-risk areas, these devices often feature sleek curves that reduce catch points, but have protrusions or larger profiles making them less-than-ideal for at-risk patients. These types of products may be used with caution on medium- and low-risk openings.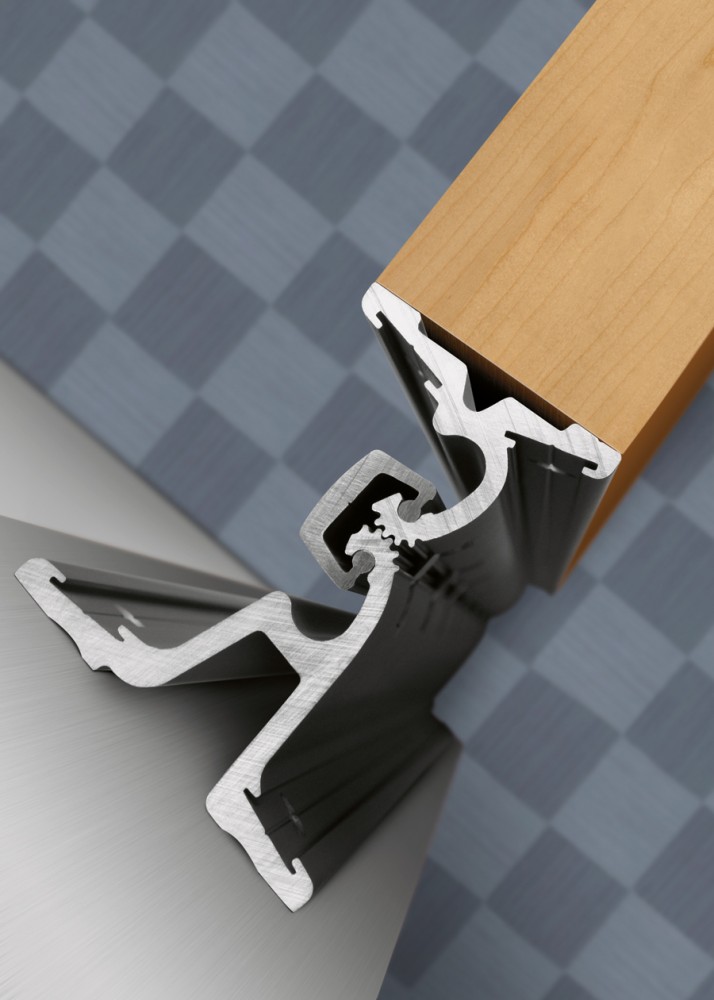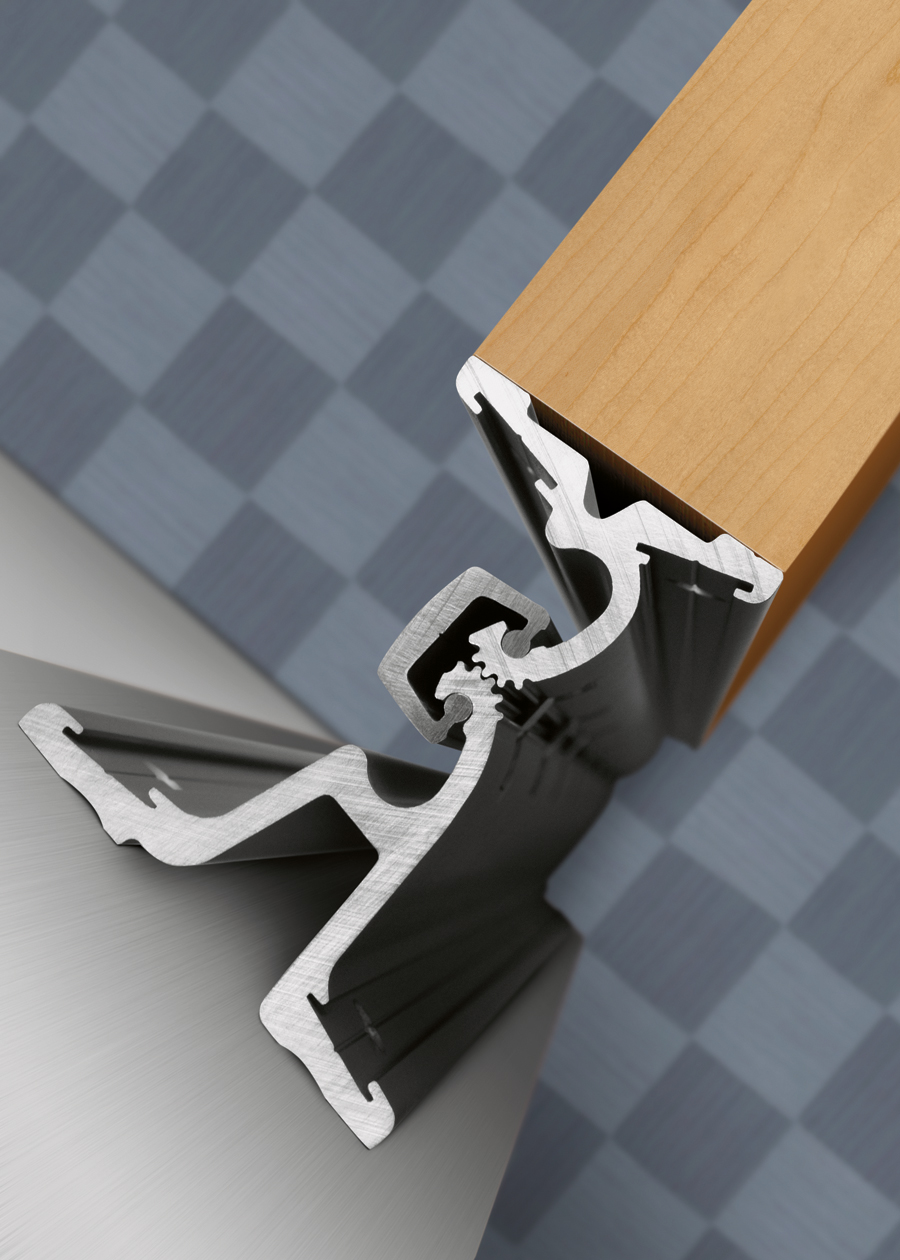 Detention knobs
Detention knobs comprise overlapping knob and rose working with a mortise lock. The sloped surfaces throughout the knob minimize risks and can be used on many opening types.
Lever and push/pull trim
Lever trim devices function identically to normal levers, but they are designed with sloped surfaces and an overlapping rose. Similar in nature to a standard lever (including ADA-compliant), uses a standard mortise lock prep. This trim also retrofits easily on existing openings. Recent generations of push/pull trim products feature curves and slopes, compared with the earlier boxy and sharp-edged versions. Doors with this trim can be opened with a push or pull of a paddle that replaces a standard lever.
The paddle shape and location creates an easy target for door activation without the use of hands. This feature, along with multiple mounting orientations, makes push/pull devices popular on many openings, including patient room doors.
Double swing hinges
The need for wide opening doors make double-swing hinges ideal for many healthcare openings. A 100-degree swing design allows the door to swing wide in either direction to allow access for equipment and gurneys. An emergency release stop provides quick access in an urgent situation. These continuous geared hinges provide proper alignment and weight distribution that extend the door's life. They are available with sloped hospital tips.
Thermal-fused doors
Behavioral health environments experience a lot of abuse from patients, facility personnel, and equipment. Rugged thermal fused doors are a natural fit in this environment. Edge banding on the tops and bottoms of the door seals out moisture, preventing damage from the rigorous cleaning in healthcare settings. This also adds protection against chipping.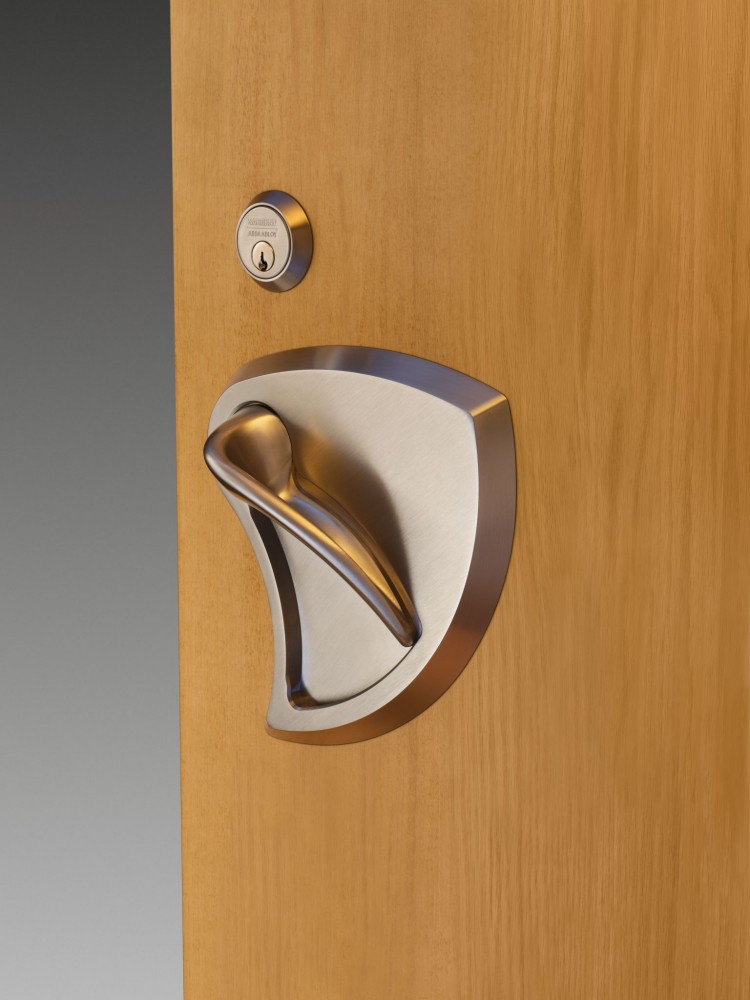 Specifying integrated trim, push-pull trims, and other door hardware for high-, medium-, or low-risk areas directly aligns with patient safety and can eliminate or reduce potential ligature points. Products recommended by organizations such as the New York State OMH or NAPHS are good choices for this demanding environment. Various products designed for behavioral health applications, such as patient rooms, are also well suited for other areas in the healthcare environment such as for pharmacy, dock doors, kitchen entrances, and linen storage.
More options}
Other options to consider for openings in a behavioral health setting include sustainability attributes and security of pharmaceutical storage areas. A facility looking to attain a green building certification can turn to Division 08 openings for assistance in categories such as building envelope thermal performance, material composition, and indoor environmental quality.
Specifying doors that are certified by the GreenGuard Environmental Institute ensures volatile organic compounds (VOC) are not present. For projects following the U.S. Green Building Council (USGBC) rating program, selecting doors with high recycled content, agrifiber cores, and Forest Stewardship Council (FSC)-certified products, can also contribute to Leadership in Energy and Environmental Design (LEED) credits.
Securing isolated doorways, such as those on pharmaceutical storage cabinets, carts, and closets can be accomplished with wireless electronic access control devices providing real-time notifications whenever a cabinet or closet door is opened.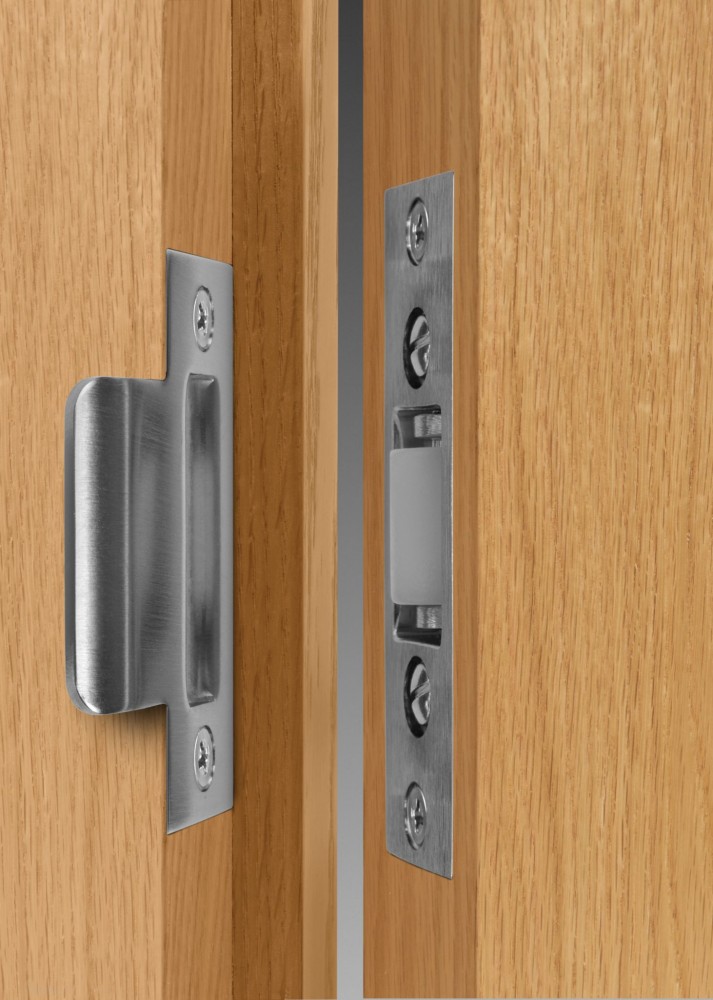 Healing environments have made quite a transition, from custodial, long-term facilities to spaces that seek to restore clients and patients to community in the short to medium term. Therefore, specifying doors contributing to noise reduction, such as wood doors, is one way to shape the building with healing in mind. Reducing noise by incorporating wood creates a more home-like feel to a facility and allows treatment to be provided in surroundings mirroring the community patients return to. Door openings can be specified with sound transmission class (STC) ratings tested to the required ASTM standards, including:
ASTM E90, Standard Test Method for Laboratory Measurement of Airborne Sound Transmission Loss of Building Partitions and Elements;
ASTM E1332-90, Standard Classification for Determination of Outdoor-Indoor Transmission Class; and
ASTM E413, Classification for Rating Sound Insulation.
Conclusion
Since today's healthcare facilities—including behavioral health units—have a décor suggesting hospitality rather than hospital, specifiers will want to choose doors and hardware adding to the building aesthetic without detracting from safety and security. Seasoned specifiers recognize there is beauty in the balance of form and function. A coordinated design, complementary finishes, and the right products in the right places can ensure compliance with National Fire Protection Association (NFPA) requirements and other building codes, and contribute to a healthier, more sustainable space—from the exterior to the interior of a facility.
Whether it is an outpatient or inpatient facility, a dementia unit, or a Department of Veterans Affairs (VA) medical center, the myriad choices for electronic locking, high-security cylinders, auto operators, integrated trims, wood and hollow metal or specialty door afford specifiers, architects, facility managers, and clinicians the range of options for an optimum healing place.
Marilyn A. Collins, EDAC, is director of business development for healthcare at Assa Abloy Door Security Solutions and has served healthcare and other end user markets for more than 20 years. She emphasizes evidence-based design in life safety, security, and access control solutions for the complete range of door openings. Collins is trained in evidence based design and is active in industry groups including Healthcare Executives, Buildings Vip, The Center for Health Design, FierceHealthcare, Society for the Advancement of Gerontological Environments (SAGE), and the Door and Hardware Institute (DHI). She can be contacted at marilyn.collins@assaabloy.com.