by Bob Glendenning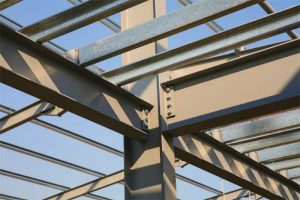 Passive fire-protection coatings, or intumescent coatings, have been designed to buy time for building occupants—and the steel-framed structures themselves—during a fire. Applied to structural steel, the coatings react chemically in fire, forming a char that expands with heat exposure, much like the reaction taking place when lighting a black snake firework (Figure 1). The coatings swell to approximately 50 times their dry film thickness (DFT), to a maximum of 50 mm (2 in.), thereby providing a thick layer of insulation 'char' that reduces the rate of heat transfer to the structural steel.
Slowing the rate of heat transfer is important, as structural steel under load can quickly lose strength in a fire. Exposure to high heat for a specific period can cause the steel to eventually reach its critical failure temperature. At this state, the steel could start to collapse, possibly bringing down large building sections or even the entire structure.
Intumescent coatings help building owners avoid such catastrophic losses by providing fire resistance while responders work to contain a fire. They offer a theoretical amount of time the coated steel can resist fire before reaching its critical failure temperature, as proven within a furnace per criteria found in various test standards such as:
the American National Standards Institute/Underwriters Laboratories (ANSI/UL) 263, Standard for Fire Tests of Building Construction and Materials;
ASTM E119, Standard Test Methods for Fire Tests of Building Construction and Materials;
International Organization for Standardization (ISO) 834, Fire-Resistance Tests – Elements of Building Construction; and
British Standard (BS) 476, Fire Tests on Building Materials and Structures (Figure 2).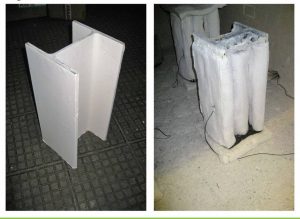 This time period or fire-resistance rating is based on the applied thickness of the coatings. The thickness is determined by the size, weight, and heat exposure of each structural steel member.
In order to assist engineers, architects, and other building professionals achieve a specified fire-resistance rating, ANSI/UL 263 and ASTM E119 list the required coating thicknesses for structural steel members from large to small. However, the specifications do not include every possible size, leaving data gaps especially for very small and large steel sections. This presents challenges for specifying proper coating DFTs.
Dangers of using extrapolated data
To ensure safety as well as compliance with building codes, specifiers must stipulate the appropriate coating thickness to apply to steel sections of various sizes. However, the thickness can be difficult to determine when a particular-sized steel section is not listed in the ANSI/UL 263 or ASTM E119 dataset.
Small, lightweight steel sections need a higher film thickness to achieve the desired protection compared to larger, heavier assemblies. However, as noted above, the heat exposure of each structural steel member also influences the coating thickness required to achieve a specified fire-resistance rating. The thickness is most accurately based on the steel weight (per lineal foot)/fire exposed steel perimeter (W/D) ratio of the steel section (i.e. the ratio of the section's weight [W] to the total square area in contact with fire [D]). The D value is an important variable, as some steel sections are fully exposed to fire, while others are protected on one or more faces due to their orientation and mounting.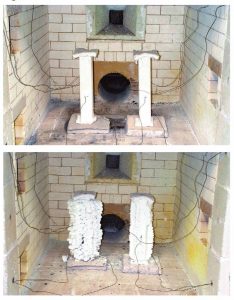 When UL data is not available for a particular structural steel section, some coatings suppliers make recommendations based on extrapolated data. However, UL has said extrapolated DFT data is outside the scope of its intumescent coating certification program. This noncompliant data is considered unsafe for the following two reasons:
The extrapolated data might underestimate the required coating thickness, resulting in a steel section with insufficient coating DFT to achieve the desired fire resistance. These kind of sections are likely to reach their critical failure temperatures sooner than other properly coated areas.
Conversely, the extrapolated data might overestimate the required coating thickness, thereby causing the steel section to have a higher coating DFT than needed. In this case, the weight of the expanded char could cause the coating to delaminate and fall off, exposing the steel directly to fire without any protection in place.
Given these potential hazards, it is advisable for specifiers to work with a coatings supplier to find a safe, workable alternative and not rely on extrapolated data when encountering structural steel section sizes outside of UL's listing.
Why does data extrapolation happen?
Building fire-resistance ratings are expressed in half-hour increments from one to three hours. In the United States, one- and two-hour ratings are common. The specified rating for a building depends on multiple factors, including building codes, type of construction, owner preferences, and insurance regulations.
When designing buildings, engineers and architects must comply with fire-resistance codes defined in ANSI/UL 263 and ASTM E119, as well as any requirements set forth by local municipalities, state governments, building owners, and insurance firms, while minimizing costs. Therefore, lightweight steel sections are usually employed. However, design professionals might not realize some sections are smaller than those tested and listed in ANSI/UL 263 and ASTM E119. Due to lack of data, such sections will not have a defined DFT for applying intumescent coatings to achieve the required fire-resistance rating. In such cases, the parties involved may unwisely consider extrapolating data to determine the appropriate thickness.