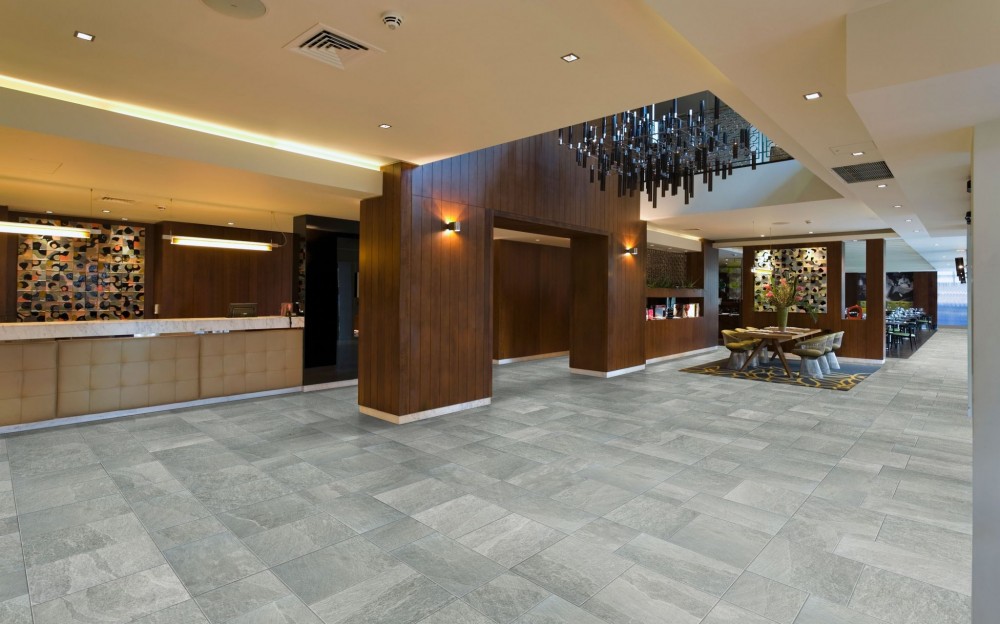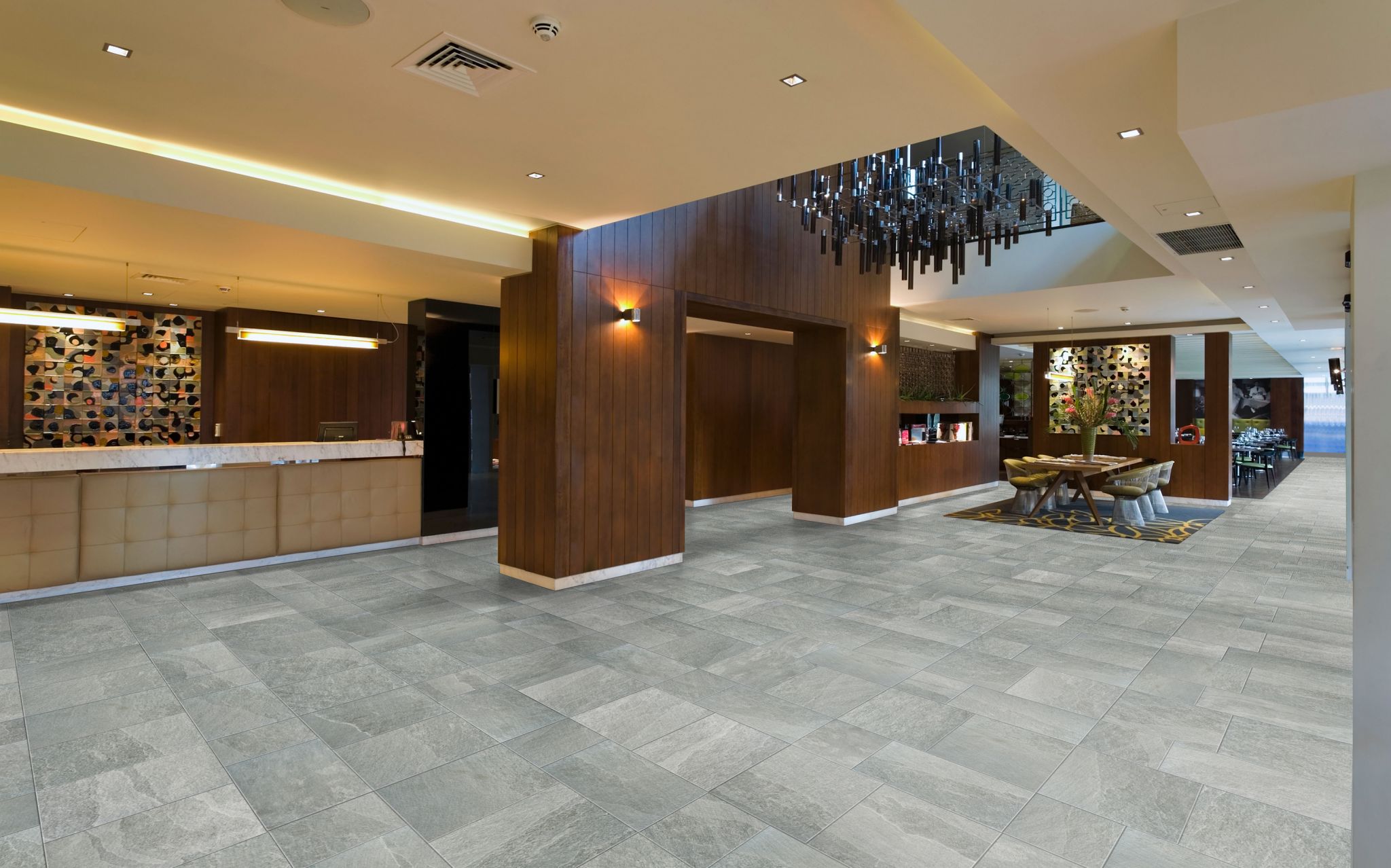 by Donato Pompo, CTC, CSI, CDT, MBA
In one way or another, all tile and stone assemblies move. Whether due to thermal or moisture movement, shrinkage, freezing, or dynamic structural movements, tile and stone installations are subjected to them all. To ensure a long-lasting installation, architects must specify the requirements for movement joint design and placement, along with the correct type of sealant for filling those joints.
A 'movement joint' is a general term used for all types of joints seen in construction materials that control and allow movement. Most commonly, they are known as 'expansion' or 'control' joints, but there are various categories. Generally, they contain an appropriate pliable sealant for the intended application, which is often referred to as a 'soft' joint.
Movement joints allow for the material in which they are placed to move without restraint; they control where the movement manifests to avoid random cracking in finish materials. An example would be the joints or separations in a concrete sidewalk. If there were no movement joints in the concrete sidewalk, then it would crack at a random point as it is subjected to shrinkage during curing, or to expansion when it is exposed to moisture (and then contraction again as it dries). Rising temperatures cause expansion, lowering temperatures cause contraction, and wet freezing conditions cause both, as the temperature drops and the moisture freezes.
There are other types of structural movement from the ground or its foundation that can cause various kinds of movement in the form of deflection. These stresses, and the resulting deformations, are compounded by adjacent materials that have a different coefficient of movement properties—the differentials can lead to serious problems, particularly over time as the respective materials go through various degrees and combinations of cycles from wet to dry or hot to cold, and so forth. Movement joints are also designed to isolate different materials from each other so they do not affect adjacent materials.
More often than not, when there is a tile (e.g. ceramic, porcelain, stone, or glass) failure, a contributing factor is the lack of properly installed movement joints. In some cases, the failure could have been avoided, or damage limited, if there had been proper movement joints. Just like concrete sidewalks, slabs, and bridges, tile and stone need to have movement joints to control the anticipated movements within a structure and the various climatic conditions it will be subjected to throughout the years.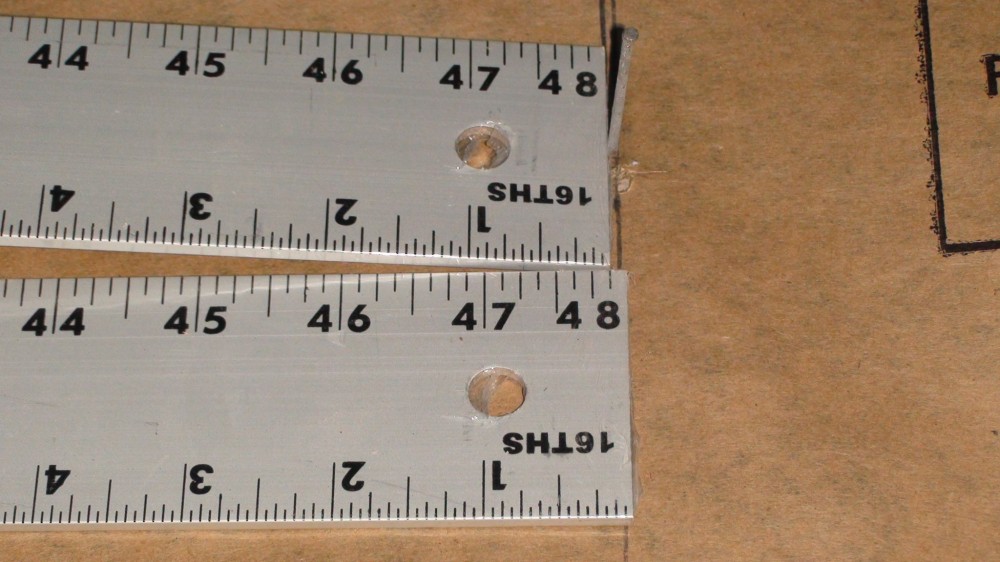 Troubles with tile and stone
This author has seen tile floors that did not have adequate movement joints—where a portion of the floor was tented (i.e. debonded and raised) several inches off its substrate during the heat of the day, but was lying flat at night when it cooled down. For a good example of how small horizontal movements can result in exponentially larger vertical movements, one can take a 1219-mm (48-in.) metal ruler and lay it on a horizontal surface. When one end of the ruler is restrained and the other end moved toward the center 3.2 mm (1/8 in.), there is a 51-mm (2-in.) rise at its apex. In effect, this is what happens to tile floors when they tent. They are constrained at their perimeters with no movement relief, the tile is typically insufficiently bonded, and it expands for one reason or another.
Well-bonded tile floors tend to crack to relieve the stress rather than lose their hold. Properly placed movement joints allow the tile to move and control where the movement manifests (i.e. within the joint where the tile is not restrained).
Tile and stone installers may have practiced their trade and honed their skills, but they are not engineers. In other words, while installers have some responsibility in ensuring movement joints are included in the tilework, it is ultimately up to the architect to specify the appropriate design, materials, and locations.
The Tile Council of North America (TCNA) provides general movement joint guidelines for tile and stone applications in its TCNA Handbook for Ceramic, Glass, and Stone Tile Installation, listed under Detail EJ171, "Movement Joint Guidelines for Ceramic, Glass, and Stone." TCNA states:
because of the limitless conditions and structural systems on which tile can be installed, the architect or designer shall show the specific locations and details of movement joints on project drawings.
There are industry standards that help design the appropriate movement joint layout and design for the intended application:
ASTM C1193, Standard Guide for the Use of Joint Sealants, which provides guidelines on how to use and install sealant joints; and
ASTM C1472, Standard Guide for Calculating Movement and Other Effects When Establishing Sealant Joint Width, for determining appropriate movement joint width relative to the intended application and conditions.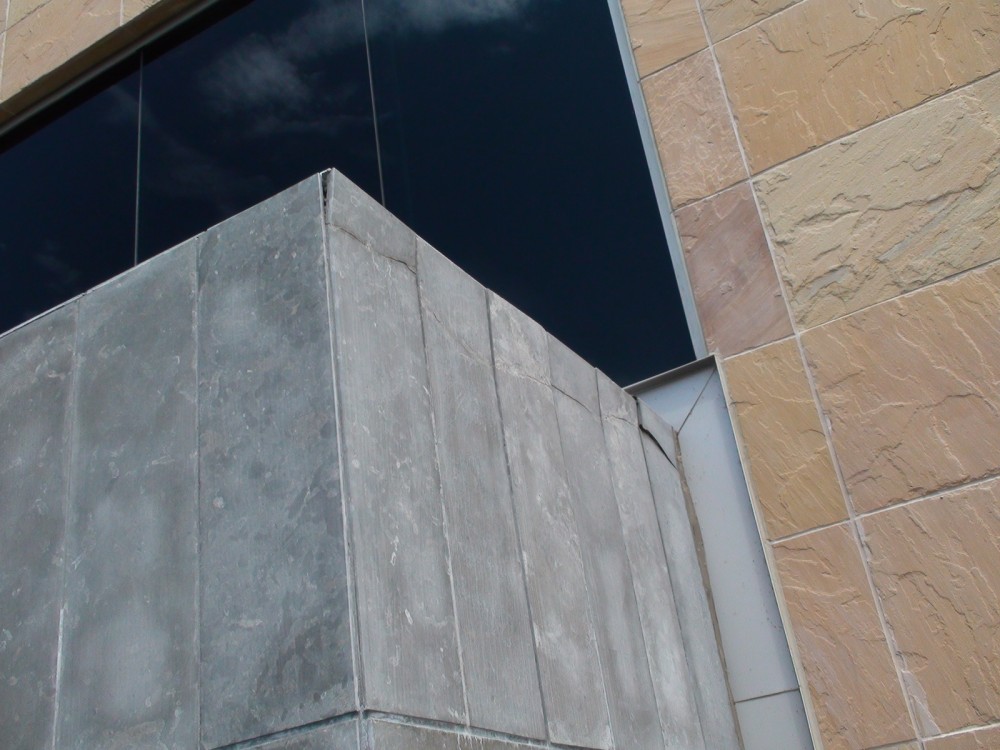 Ensuring adequate design
The appropriate design of a movement joint is based on the tile assembly's configuration and substrate type. The substrate must be structurally sound, meet relevant code requirements, and not exceed maximum deflection limitations (ranging from L/360 to L/720, depending on the material and the application). The general rule is these movement joints should be placed at the perimeters of tile and stone installations, at all transitions of planes or different materials, and within the field of tile.
Tiles at perimeters of rooms should have movement joints. Inside and outside vertical joints on framed walls should have movement joints and not be hard-grouted (as they so commonly are, alas). Bathtub or shower receptor to wall transitions should have a movement joint. In wet areas, movement joints are important not only to control movement, but also to act as a water-stop at those transitions, providing another layer of protection.
TCNA states movement joints for interior applications should be placed at least every 6.1 to 7.6 m (20 to 25 ft) in each direction unless the tilework is exposed to direct sunlight or moisture, which would then require the movement joints placed at least every 2.4 to 3.7 m (8 to 12 ft) in each direction. For exterior applications, movement joints should be placed at least every 2.4 to 3.7 m in each direction.
TCNA recommends the movement joint width be a minimum of 9.5 mm (3/8 in.) wide for exterior applications when the field movement joints are 2.4 m on center (oc), but recommends a minimum of 12.7 mm (1/2 in.) wide joints for exterior applications when the field movement joints are 3.7 m oc. TCNA states:
minimum widths of movement joints must be increased 1.6 mm (1/16 in.) for each 9.44 C (15 F) tile surface temperature change greater than 37.8 C (100 F) between summer high and winter low.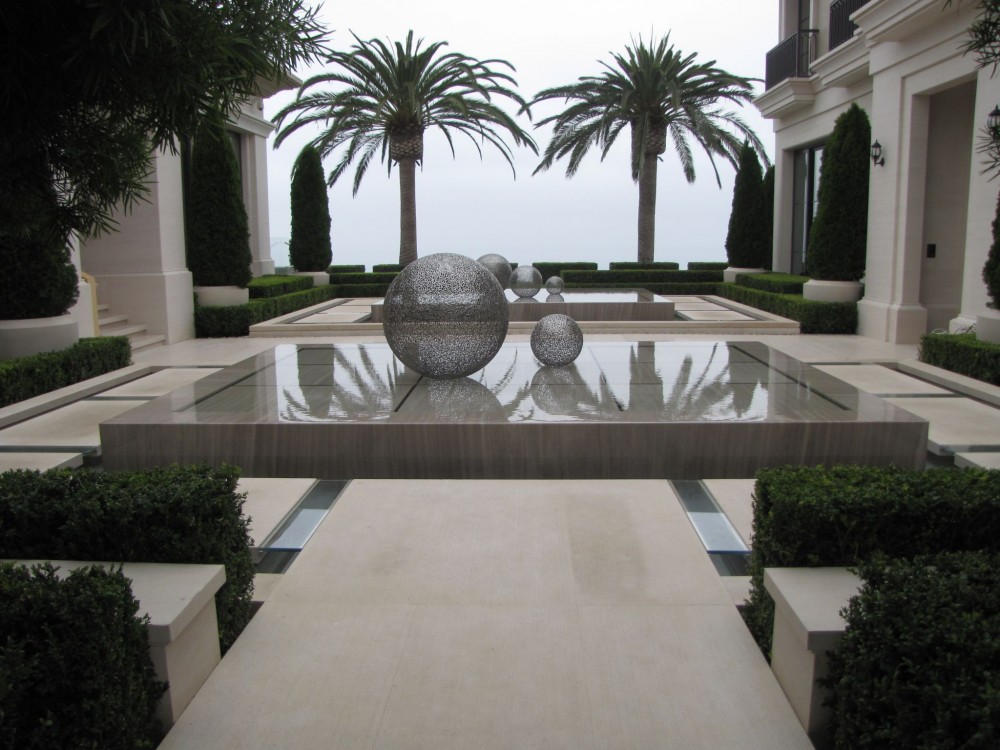 The aforementioned ASTM C1472 is valuable because it provides the coefficient of linear thermal movement for different materials, along with the temperature range of various geographic areas and mathematical formulas to determine the required joint widths for the respective conditions.
To what degree the respective substrate needs movement joints depends on the standards the substrate must meet. For instance, a plaster substrate per ASTM C1063, Standard Specification for Installation of Lathing and Furring to Receive Interior and Exterior Portland Cement-based Plaster, requires control joints installed in walls to delineate areas not more than 13.4 m2 (144 sf). The distance between control joints shall not exceed 5.5 m (18 ft) in either direction or a length-to-width ratio of 2.5 to 1.
Concrete also has standards that vary depending on its structure, thickness, and design mix.
Detail EJ171 states all underlying movement joints in the substrate need to continue through the tile assembly. Typically, this means that in addition to honoring the substrate movement joints, the tile assembly needs additional movement joints within its assembly.
If there is a mortar bed over the substrate, then the movement joint has to be continuous through it to the tile surface, which is considered an expansion joint. If the tile is being bonded to the substrate, then the movement joints not continuing up from a substrate movement joint are generic movement joints. These are often the same width as the grout joints if it was designed to work at that width. The movement joint widths within the tilework should never be narrower than the substrate joint on which it is placed.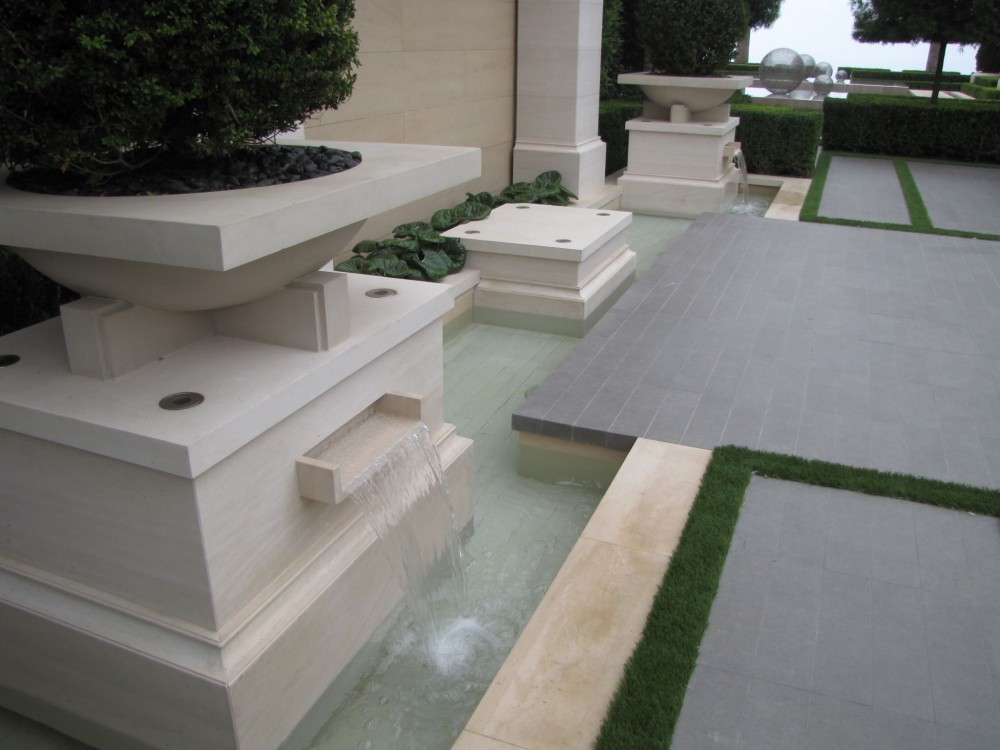 Crack-isolation membranes
Some manufacturers of products meeting American National Standards Institute (ANSI) A118.12, Specification for Crack-isolation Membranes for Thin-set Ceramic Tile and Dimension Stone Installations, allow their membrane to cover non-structural movement joints (i.e. those that move horizontally, but not vertically) such as saw-cut or cold control joints. However, TCNA does not recommend this.
Structural expansion joints can never be covered with membranes as the vertical displacement cannot be mitigated with a crack-isolation membrane. (The membrane manufacturers require movement joints be installed within the tile assembly, and some allow those joints to not line up exactly over the substrate joints.)
Each manufacturer of crack-isolation membranes may have different recommendations and limitations, so it is always important to follow the accompanying instructions. Some membranes are made of a bitumen material that is incompatible with certain types of sealants used to fill the movement joints.
TCNA's Detail F125, "Partial- and Full-crack Isolation Membrane," provide guidelines for isolating non-structural cracks with an ANSI A118.12 product. It is important to note this detail for both ceramic tile and stone applications recommends a movement joint be placed at one or both ends of the tile bridging the underlying crack, as recommended by the membrane manufacturer.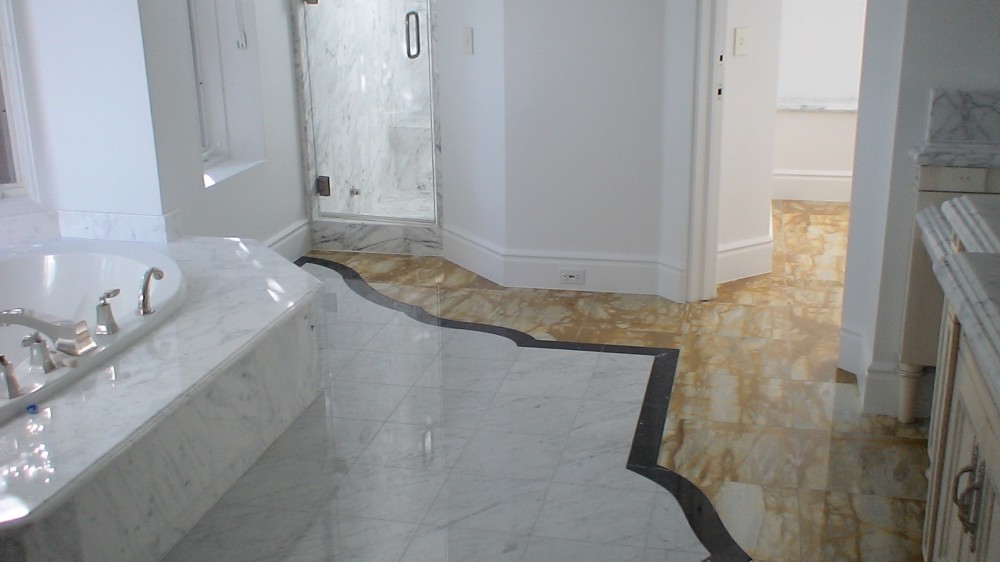 Types of movement joints
The different types of movement joints are shown in the TCNA Handbook in the EJ171 section. Expansion joints are normally considered structural joints that can possibly move vertically. They are found in concrete substrates to isolate one portion of the slab from the other, and in mortar beds as either an extension of the concrete expansion joint or just to isolate one portion of the mortar bed from the other.
A cold joint is the dividing point where two adjacent concrete pours were placed at different times. These weak points are more likely to develop cracks and have to be treated as a movement joint.
Construction or contraction joints are saw-cut concrete control joints that must also be treated as movement joints. The concrete is saw-cut at this predetermined spot, making it a weak point where the concrete will crack (rather than having it crack at a random location). There are also various types of perimeter movement joints, which are found at restraining walls or transition points from one plane to another that are all more likely to be subjected to some type of movement. Tile must be allowed to move to avoid damages.
Sealant considerations
Not only is the design of the movement joints important to a tile installation's success, but so is the type of sealant or caulking used to fill those joints. TCNA EJ171 states a product meeting ASTM C920, Standard Specification for Elastomeric Joint Sealants, must be used to fill movement joints of all types. Such sealants include high-quality silicone, urethanes, and polysulfide materials. These types of sealants are normally rated as highly weather-resistant with high elongation properties, and high adhesion characteristics that come with 20-year commercial warranties. Too often, one finds installers using some type of acrylic, latex, or siliconized sealant, because they are easier to work with, but these sealants have low performance values and basically no warranty.
Various sealants have different physical properties and performance capabilities. TCNA and the referenced ASTM standards provide guidelines and nomenclature for designating the appropriate type, grade, class, and use for the intended application. For instance, some sealants are not suitable for foot or vehicle traffic, so one must specify "Use T" for those applications.
A traffic sealant should have a Shore A hardness of 35 or greater, which is critical because otherwise the surface could be dangerous to those who wear high heels. (Found on data sheets, Shore A is a physical property of all sealants; it indicates how hard it is in terms of resistance to penetrations or point loads.) High heels will penetrate a softer sealant and can cause a tripping hazard.
There are sealants with fire or acoustical ratings that are required for certain applications; some cannot be used in a submerged application, while others cannot be subjected to certain chemicals. Not all ASTM C920 sealants are compatible with natural stone and could cause the stone to stain. Some sealants require the surfaces to be primed after cleaning the joints and before installation. These are all important concerns to be addressed in the specification to ensure the correct material is used for the intended application.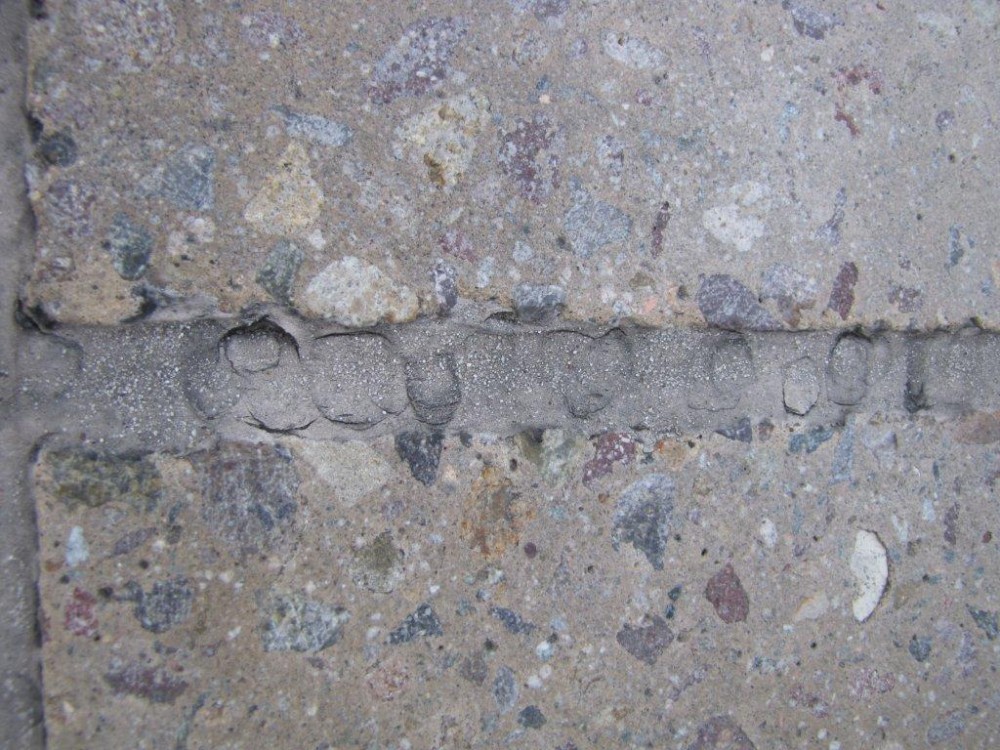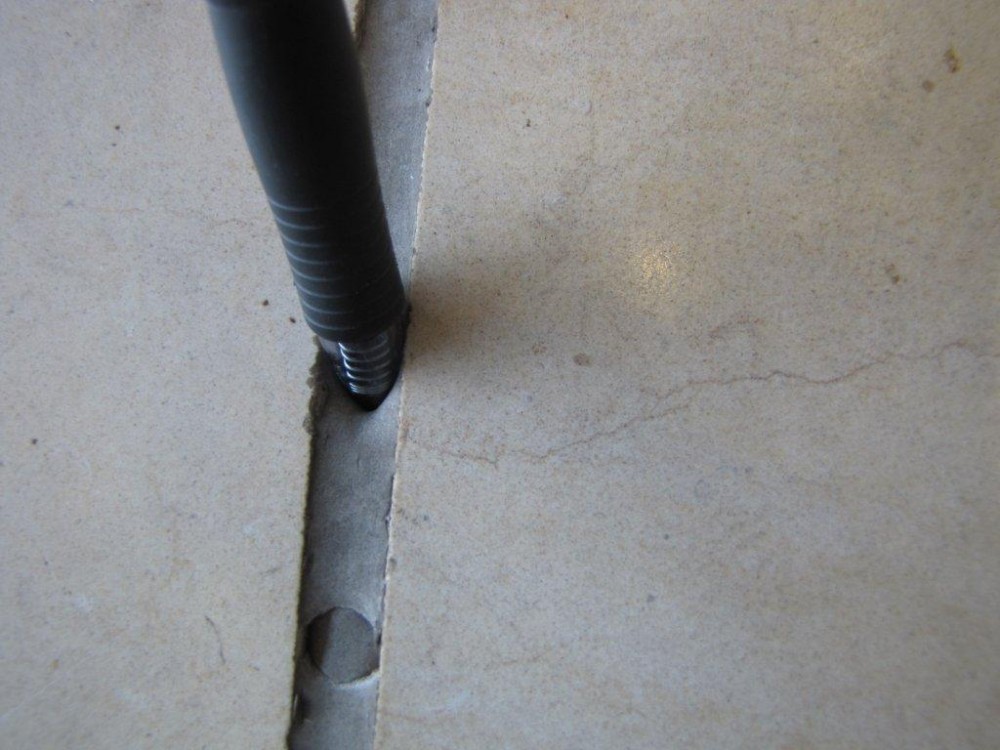 It is important movement joints be properly constructed per industry standards. There are also numerous requirements sealant manufacturers specify in order for their products to perform as advertised. Sealants require only 'two-point contact,' meaning they are only to adhere to the two opposite sides of the movement joint for optimal performance. They are not to bond to the bottom of the joint, otherwise the sealant will not achieve the published elongation characteristics. A bond-breaking polyethylene tape or foam must be inserted into the joint prior to installing the sealant so the sealant will not bond to it.
To ensure the sealant achieves its published elongation characteristics, care must be taken to ensure it is applied neither too thin nor thick into the joint; the foam backer, installed at the prescribed depth, helps with this. The sealant must be at least 6.4 mm (1/4 in.) thick, and the width to depth ratio should be 2:1 for optimal performance. Generally, sealant companies want a minimum 6.4-mm wide joint, but 3-mm (1/8-in.) is acceptable for non-moving joints (e.g. adhered tile applications).
Additionally, movement joints must be completely filled with the appropriate backing below the sealant, so there are no voids to collect moisture. It is generally best to use closed cell foam, but some sealants require open cell to manage the sealants' off-gassing while curing. For thin tiles—such as the 6.4-mm thick mosaics—or some of the newer large 3-mm thin porcelain tile panels, it is more problematic to try to install a bond-breaking tape in the movement joint. It is better to leave it out, since it is an adhered non-moving joint that will not require higher performance.
There are prefabricated movement joints made of metal sides and legs with plastic inserts adhered under the tiles on either side of the movement joint. There are also metal L-shapes that can be installed under the tiles on either side of the movement joint and then filled with the appropriate sealant. On one hand, these provide protection to the tile edges and the plastic inserts are conveniently replaceable; on the other hand, they restrain the tile movement since the metal angles are bonded to the substrate. This may not be a big problem if the tile is bonded well and they are installed frequent enough, but this author has seen cases where the tile was not sufficiently bonded, the movement joints were properly spaced, and the tile tented. Since tile assemblies move one way or the other, movement joints should not restrain movement.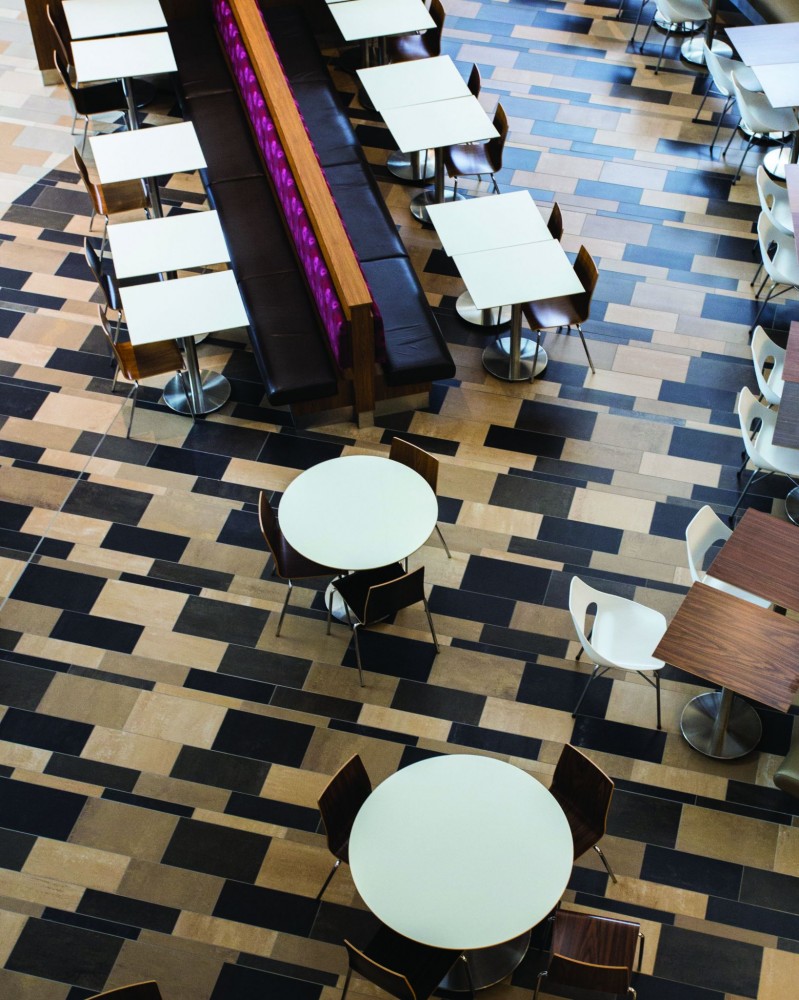 Circumventing aesthetic problems
Too often, movement joints are left out of installations with the common excuse being the owner did not want those 'ugly' joints marring their tiles. (Of course, their absence can cause even uglier failures.) When specifiers take the time to design the movement joints into the installation, they can accentuate features to make joints virtually unnoticeable.
Manufacturers of one-part silicone sealants have a broad range of colors available and on large jobs they will make custom colors to match the grout. Two-part urethane sealants can be mixed on the job by experienced sealant installers and can easily match the color of the tile grout. By placing the movement joints more frequently, they can be made narrower, matching the width of the grout.
For tile patterns with staggered joints, the designer can use the staggered grout joint (referred to as a saw-tooth joints or zipper joints) as a generic movement joint to make it less noticeable. When done well, movements are not noticeable and can enhance the installation features.
Specifying strategies
Architects should write the sealant specification for the tile and stone applications in Division 07 under "Sealants." Still, detailed information should be provided in the Division 04 and 09 sections (for stone and tile), particularly if the tile installer is expected to install the sealant.
The following key points, as related to movement joints in tile or stone assemblies, should be included in the specification:
Part 1?General Requirements
Refer to Division 07 for Movement Joint Sealants.
Call out the key industry standards, which are: ANSI A108.01, Requirements for Movement Joints; TCNA Handbook for Ceramic, Glass, and Stone Tile Installation; Marble Institute of America (MIA) Dimension Stone Design Manual for Expansion Joints; ASTM C1242, Standard Guide for Selection, Design, and Installation of Dimension Stone Attachment Systems; ASTM C1193, Standard Guide for the Use of Joint Sealants; and ASTM C1472, Standard Guide for Calculating Movement and Other Effects When Establishing Sealant Joint Width.
Prepare a specific quality assurance (QA) section to verify performance of the ASTM C920 sealant material and to verify it will be suitable for the intended application. Test sealant for performance per ASTM C719, Standard Test Method for Adhesion and Cohesion of Elastomeric Joint Sealants Under Cyclic Movement. Test the peel adhesion of the sealant per ASTM C794, Standard Test Method for Adhesion-in-peel of Elastomeric Joint Sealants. For stone applications, test for staining per ASTM C1248, Standard Test Method for Staining of Porous Substrate by Joint Sealants.
Require a letter from sealant manufacturer stating its product is suitable for the intended use, and outlining its warranty.
For larger projects, specify a sealant installation company that specializes in installing sealants on a full-time basis.
Require a mockup for approval of sealant color and application.
Part 2?Products
Be sure to write performance specifications. Reference specifications only call out products that meet the minimum requirements—in other words, the least-expensive products with the lowest acceptable level of performance.
Call out ASTM C920 sealants. Identify the application and the respective type, grade, class, and use to the intended application. Require a primer if sealant manufacturer requires it with the sealant. Call out the appropriate polyethylene backer foam. Specify the sealant color is to be approved by the architect or owner from the mockup.
Part 3?Execution
Specify the specific movement joint details, for the respective application, from Detail EJ171 in the TCNA Handbook for Ceramic, Glass and Stone Tiles.
Request installers properly clean and prime movement joints as required by the sealant manufacturer. The movement joints need to be completely open and free from any obstructions.
Specify movement joint layout plans, and types of movement joints and sealants, as referenced in TCNA's Detail EJ171. Tile installers should submit Requests for Interpretation (RFIs) if they are unclear with the requirements.
Specify sealant product installation as per manufacturer's instructions and industry standards. Similarly, products must be mixed following the manufacturers' requirements. Further, temperature limitations must never be exceeded. Shading or heat should be required, and the work protected from weather and other trades.
Specify the required sealant surface profile, such as "flush," "concave," "recessed," or "fillet." Vertical surfaces can be specified to be oriented vertically, horizontally, or at any angle in between so it can control water shedding.
Provide a detailed quality control (QC) plan to be implemented by a third party.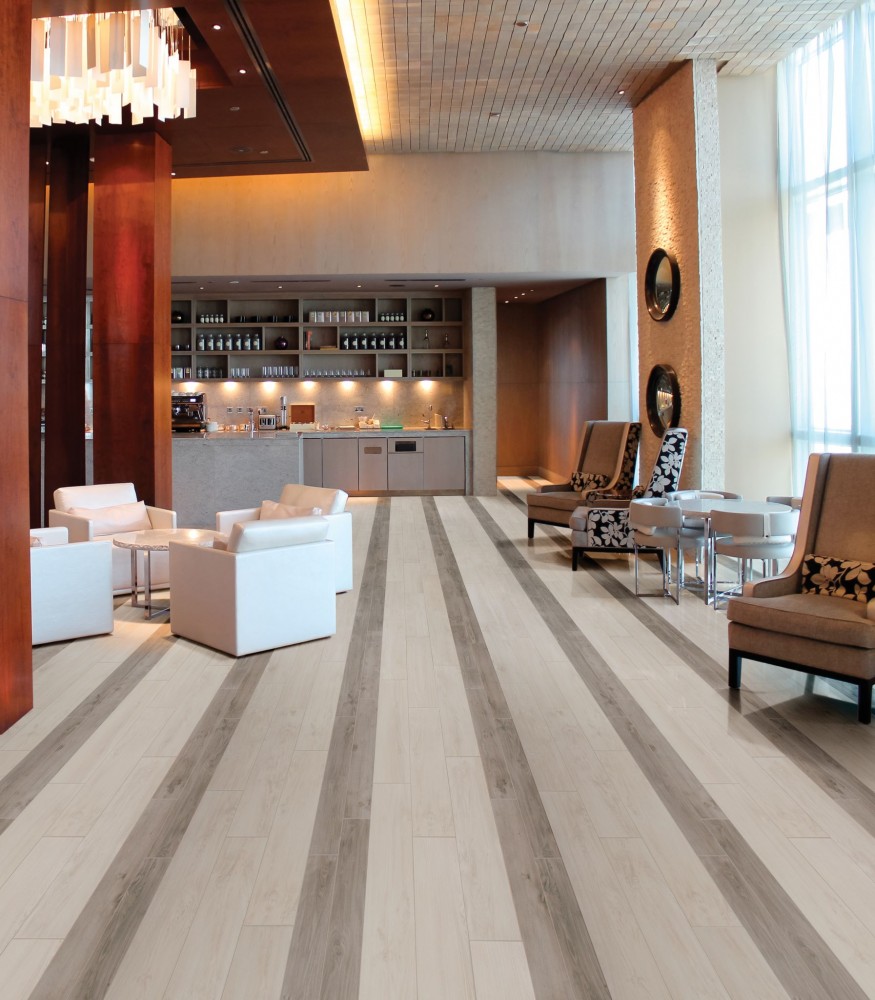 Conclusion
To ensure a long lasting installation, it is critical architects specify and provide the requirements for movement joint design and placement, along with the correct type of sealant or caulking for filling those joints.
In more than three decades, this author has never investigated a tile or stone failure to find all the industry standards and manufacturers' instructions were followed. Further, the failure is never due to one deficiency, but rather many compounding ones.
The industry standards represent years of experience and scientific testing from a consensus group of industry professionals who volunteer their time and efforts to help architects, installers, and owners have successful tile and stone installations. The key to a successful tile and stone installation is to follow industry standards and to write good specifications. CSI's MasterFormat and SectionFormat provide the structure for this. When the resulting construction documentation is used correctly and thoroughly, it limits both the designer's and client's risk and liability in ceramic tile, glass tile, and stone applications.
Donato Pompo, CTC, CSI, CDT, MBA, is the founder of Ceramic Tile and Stone Consultants (CTaSC), and of the University of Ceramic Tile and Stone (UofCTS). He has more than 35 years of experience in the ceramic tile and stone industry from installation to distribution to manufacturing of installation products. Pompo provides services in forensic investigations, quality control (QC) services for products and installation methods, training programs, testing, and onsite quality control inspection services. He received the 2012 Construction Specifier Magazine Article of the Year Award. Pompo can be reached at donato@ctasc.com.