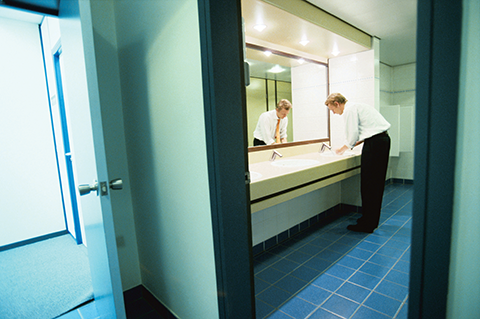 by Steve Connaughton
Of the vast amount of plumbing fixtures and accessories it takes to design a commercial restroom, one may not think sinks would require much attention. But, if sinks are not planned as thoroughly as the other plumbing criteria, designers may find the chosen assembly does not properly meet needs, or code, causing costly replacement or changes.
Although there is a large range of sink materials available, solid-surfacing is among the ideal choices for commercial restroom spaces. However, it is more than specifying the material and color selection—navigating through the wide array of commercial sink options can be challenging. Plumbing design innovations have extended the variety of choices enabling specifiers, designers, and engineers to integrate sinks, backsplashes, and countertops with alternative plumbing solutions that complement current design trends without falling back on an 'institutional' appearance.
In the past, solid-surface sink platforms have successfully integrated faucets and soap-dispensers. However, the newest restroom sink options now incorporate hand-drying. So, while now matching water-efficient and durable electronic faucets and sensor soap dispensers, these newer models pull deck-mounted hand-dryers into the vandal-resistant sink that stand up to high-use commercial applications. This creates a complete platform to accomplish unique design goals.
Design flexibility of the sink platform is further maximized when narrowing the distance between hand-washing and drying—keeping hand hygiene localized to the sink, with smooth transitions flowing between soap dispenser, faucet, and hand-dryer.
Additionally, first impressions count, especially in a restroom. According to one report, 50 percent of those who visit restaurants said they would tell friends and family about a negative experience with an unclean or unsanitary restroom.
Psychologists have long known the importance of first impressions in a user experience. The restroom is, perhaps, often overlooked as the room that delivers the most significant impact for impressions—which is exactly what the multi-function sinks address.
With numerous options to consider, specifying the right solid-surface sink combination can be challenging. Selecting a new sink system—whether a traditional solid surface, or multi-function solid surface—really boils down to five basic differentiators:
restroom traffic;
configuration/size (e.g. single or multi-bowl overall size);
installation and maintenance considerations (e.g. how it is installed and fixed into the countertop);
integral platform (e.g. integrating soap dispenser/faucet/hand dryer); and
accessibility.
Restroom traffic
Ultimately, the deciding factor in specifying the right sink is performance, and identifying restroom traffic is the first step in determining what system will best deliver. Restroom usage can be classified under two basic traffic patterns: high-traffic and low-traffic.
In high-traffic situations (e.g. airports and sports stadiums), vandal-resistant, durable fixtures are a must, whereas low-traffic situations can benefit from a more residential style such as pedestal sinks and gooseneck faucets. However, more information about a specific application is needed to influence the optimal choice.
The combination of faucet, soap, and drying into a single station offers different considerations when considering traffic patterns. Typically, dryers (or paper towels) have been set apart from the sink, which can potentially create congestion in a restroom.
In observational instances, one can see people's behavior as an inconsistent pattern. For example, occupants could be seen leaving a restroom without washing their hands; others may wash, but frustrated by the absence of a full paper-towel dispenser, use their clothes to dry, or shake-off their hands putting water on the floor, potentially creating
a slippery surface.
The new sinks put the tools for proper hygiene in front of the user, making it convenient for hygienic hand-washing to take place. Such considerations, of course, depend on the facility itself. At times, the specifier may consider combining one or two of these new units with a more traditional approach. In other instances, such as executive suites at a stadium, these new models are a perfect solution to accommodate traffic patterns.