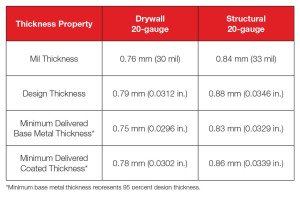 Materials and Manufacture
The steel coil must comply with ASTM A1003, Standard Specification for Steel Sheet, Carbon, Metallic- and Non-metallic-coated for Cold-formed Framing Members, which specifies the mandatory physical properties of the steel sheet used to manufacture the studs. It states material's yield strength must be at least 227.5 MPa (33 ksi). For non-structural steel studs, there is no requirement for elongation (i.e. ductility).
Minimum Steel Thickness Requirements
As per ASTM C645, the minimum base steel thickness for conventional steel studs before the protective coating application is 0.45 mm (17.9 mil), and the minimum thickness of the delivered product to the field, including the thickness of the protective coating, is 0.48 mm (19 mil). Typically, the base metal thickness of non-structural members will range between 0.46 to 0.76 mm (18 to 30 mil).
There is no top-end thickness for studs meeting ASTM C645. However, thicknesses greater than 30 mil are typically considered to be structural members. Therefore, they must meet the minimum requirements of ASTM C955, Standard Specification for Load-bearing Steel Studs, Runners (Tracks), and Bracing, or Bridging for Screw Application of Gypsum Panel Products and Metal Plaster Bases. For example, 20-gauge interior wall partition studs have a thickness of 0.76 mm (30 mil), while 20-gauge structural studs have a minimum thickness of 0.84 mm (33 mil).
Per ASTM C645, for equivalent thickness (EQ) steel studs, the minimum thickness is determined by performance requirements, not by a prescriptive minimum thickness.
Coating requirements
ASTM C645 requires steel stud members to have a protective coating conforming to ASTM A653/A653M, Standard Specification for Steel Sheet, Zinc-coated (Galvanized) or Zinc-Iron Alloy-coated (Galvannealed) by the Hot-dip Process, G40 minimum, or have a protective coating with an equivalent corrosion-resistance. For a new non-structural steel coating, ASTM A1003 also requires stud products must be capable of surviving a minimum of 75 hours in a salt-spray test—ASTM B117, Standard Practice for Operating Salt Spray (Fog) Apparatus—with less than 10 percent coating loss. (This is commonly measured by red rust.)
To explain G40, the 'G' stands for 'hot-dipped galvanized zinc' and the number following it represents the total amount of zinc in ounces per square foot contained on both sides of the sample. For example, a G40 contains 0.4 ounces of zinc per square foot total on both sides. When using a coating other than a G40, ensuring 'equivalent corrosion resistance' means a G40-coated steel sample should be tested side-by-side with the specimens under consideration to ensure equivalent corrosion resistance.
Unlike ASTM C645, ASTM A653 allows one additional coating type to the hot-dipped zinc G40 coating. This other coating is an A40 hot-dipped galvannealed steel, which is used extensively in the automotive industry. This coating has eight to 12 percent zinc-iron alloy in addition to the zinc. Since the automotive industry paints over the galvannealed coating, it is almost always less than the 0.4 ounces per square foot minimum required. Since this coating is not referenced in ASTM C645, it is unacceptable for use.
The newest development in the industry is the advent of equivalent coatings that have further advanced the performance characteristics of non-structural framing. These new EQ coatings are applied pre- and post-production and represent a scientific advancement in protection. They can offer performance characteristics greater than traditional G40 coatings.
Shape or configuration
ASTM C645 requires the stud members have a minimum flange of 31.75 mm (1 ¼ in.) along with a minimum return lip of 4.8 mm (3/16 in.). Tracks must have a minimum flange of 25 mm (1 in.). The specification also contains a table of minimum tolerances.
ASTM C645 refers to American Iron and Steel Institute (AISI) S200-2007, North American Standard for Cold-formed Steel Framing General Provisions, Section A5–Product Identification, for the marking and identification requirements for individual members. The members are required to show the manufacturer's name, log or initials, minimum steel thickness, minimum yield strength (if other than 227.5 MPa [33 ksi]), and minimum coating designation if other than G40. Marking on the members must be at a maximum of 483 mm (96 in.) on-center (oc).
EQ studs
Recently developed technology in the cold-formed framing industry has led to better framing member products. EQ studs have been in the framing industry for almost a decade, and represent approximately 90 percent of the current market. Manufacturers now produce EQ studs with higher yield strength than traditional studs using less steel, which helps support the mission of sustainable construction.
An EQ stud, as defined by both the Steel Framing Industry Association (SFIA) and Steel Stud Manufacturers Association (SSMA) code-compliance certification programs, must:
have a bending moment at least equal to its traditional stud counterpart;
have published composite limiting height tables according to International Code Council Evaluation Service (ICC-ES) Acceptance Criteria (AC) 86-2010, Acceptance Criteria for Cold-formed Steel Framing Members—Interior Non-load-bearing Wall Assemblies;
 have published shear and pullout screw data;
must pass the ASTM C645 screw spin-out performance test; and
meet corrosion protection requirements of ASTM C645.
There are two ways for EQ studs to meet the requirements of ASTM C645. First, they must have a configuration and steel thickness such that the system in which they are implemented will carry the design transverse loads without exceeding the allowable stress of the steel or the allowable design deflection. Manufacturers are expected to supply sufficient data for calculating design performance. EQ studs that can show certified third-party testing in accordance with ICC-ES AC86, and conform to the limiting height tables in ASTM C754, need not meet the minimum thickness limitation set forth in ASTM C645.