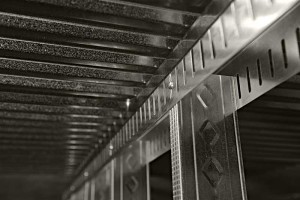 Specifiers must also know if 25 EQ—which is often the minimum thickness listed in the UL assembly—is acceptable. Specifiers will also need to know if the assembly is limited to only 1-hour and/or to only one thickness or manufacturer of gypsum board. Also, is the assembly limited to only certain types of board products (e.g. cement, impact)? If any of these exceptions apply, another fire assembly or manufacturer's product may need to be specified.
For the most appropriate stud specification, product literature and stud sample submissions submitted for approval on the project should comply with the requirements of the fire-rated assemblies shown on the partition schedule. In addition, one must verify through field-testing the proper thickness and profile of stud is being installed per the fire-rated assembly requirements. All products are required to be labeled, so this should be a relatively easy visual inspection.
One recent innovation helping building and design professionals to achieve better fire resistance ratings for wall assemblies is the integration of additional firestop materials into framing members. For commercial and institutional projects, architects and specifiers are now using steel tracks manufactured with a factory-measured dose of intumescent tape materials attached to the track flanges.
Intumescent materials are firestop products that greatly expand from their installed size when exposed to heat or flames and provide a perimeter joint seal for fire, sound, smoke, and air leakage protection. These products are easier for contractors to install than traditional firestop materials. All they have to do is install the track member at the top of the wall, as it includes the intumescent tape. This eliminates the need to return and install intumescent caulking at a later time, eliminating multiple labor and material operations.
New technology in wall design 
A popular recent trend in commercial architecture, design, and construction is the digital design and coordination of projects through the use of building information modeling (BIM) software. BIM is helping architects and specifiers streamline their product selection process by providing detailed 3D models of specific products and allowing them to track the product through the construction process. It is advantageous to use BIM technology for the proper steel stud specification and in wall assembly design.
There are various factors influencing the proper specification and installation of non-structural wall framing. Architects and specifiers must select the proper steel framing members for the application, and follow the requirements of building codes and industry standards to create a design leading to a proper installation. Understanding and staying apprised of codes and standards is the key. Times are changing, and the requirements listed in codes and standards are changing with them.
Michael C. Kerner, FASTM, CSI, CDT, is code development manager for cold-formed steel (CFS) framing manufacturer ClarkDietrich Building Systems. With more than 30 years of industry experience, he chairs ASTM's Committee C11 on Gypsum and Related Building Materials and Systems, and is the first vice chair of the ASTM Committee A05 on Metallic-coated Iron and Steel products. Kerner is an ASTM Award of Merit recipient, and a member of the Construction Specifications Institute (CSI) and the International Code Council (ICC). He can be reached at michael.kerner@clarkdietrich.com.