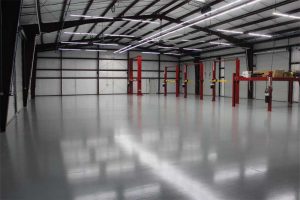 Resinous flooring, also known as fluid-applied or poured-in-place flooring, is common in industrial and commercial environments. Its properties allow for a smooth, non-porous, easily cleanable surface that cannot be achieved with any materials that have grout or seams.
Some flooring chemistries in the United States have existed for more than 15 years, but they are rarely specified relative to their epoxy counterparts. The best practice for a specifier is to partner with a manufacturer. When partnering with a resinous flooring manufacturer, there are endless combinations of system builds that can be customized to achieve the perfect system for the customer. Epoxy still belongs in certain specifications, but urethane cements, MMAs, and polyaspartics all deserve equal consideration based on the project's demands.
Therefore, it is important for one to understand not only the basics on what resinous flooring is, but also the different chemistries and why they each deserve consideration in specifications.
This article appears in The Construction Specifier's Maintaining Resilient Flooring Systems ebook, available in two different formats—digital edition or PDF—here: www.constructionspecifier.com/ebook/iselogik-maintaining-resilient-flooring-systems-e-book.