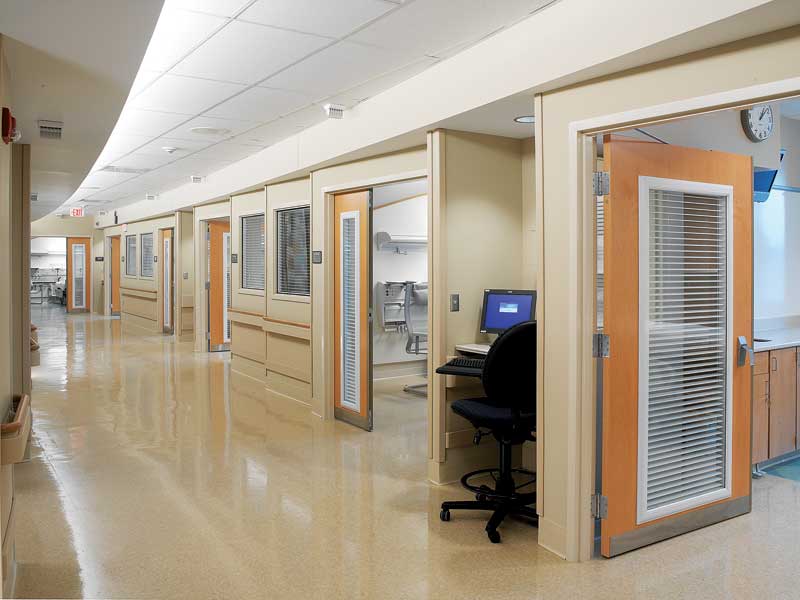 Educational facilities
Studies suggest effective use of daylight improves student performance and accelerates learning. For example, research by the Heschong Mahone Group, found students in classrooms with more natural light scored up to 25 percent higher on standardized testing than students in classrooms with lower-levels of daylight. (For example, see Heschong Mahone Group's 1999 report, "Daylighting 
in Schools: An Investigation into the Relationship Between Daylight and Human Performance.") Further, the effective use of daylight in educational environments has been shown to increase student and teacher attendance, boost achievement rates, reduce fatigue, and improve student health.
For exterior applications, integrated louvers have the advantage over blinds, providing the highest levels of daylight control for optimal thermal efficiencies and LEED contributions. Integrated louvers are more adept at reducing cooling costs in warm weather and heating costs in the cold.
For interior applications, integrated blinds typically gain the advantage in K–12 schools as they are less costly, making them a more palatable option for stringent public educational budgets. Like integrated louvers, they provide adjustable vision and light control required for classrooms, study halls, libraries, and labs.
Residences
For residential construction, both integrated solutions provide shading and privacy control for sunrooms, atriums, windows, and doors. However, the integrated blinds are typically the preferred solution to specify as they are capable of not only tilting, but also lifting—
a characteristic often used in residential applications. Further, they are more suitable for these types of budgets and aesthetics.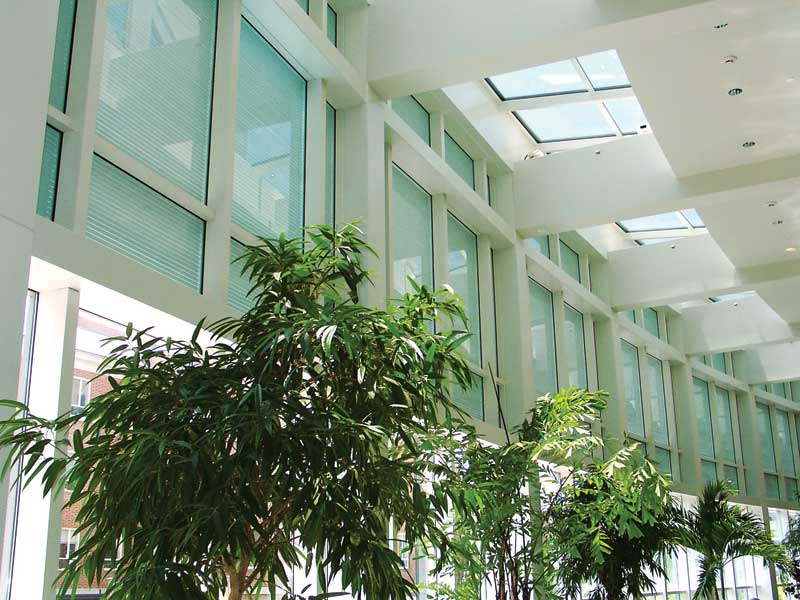 Commercial buildings
Modern office space must provide more than a place to work. A contemporary workspace should consider a healthy environment that translates into higher productivity and lower operating costs. For workplaces, lighting is a critical element for staff. Natural lighting is proven to have positive impacts on moods, productivity, and well-being. Thus, commercial architecture needs to maximize natural lighting while mitigating the impacts of heat and glare.
In this case, integrated louvers deliver significant advantages. They provide the highest levels of daylight and shading control, thereby ensuring optimal thermal efficiencies by reducing heating, cooling, and lighting costs. Their construction ensures superior sound-dampening capabilities for more tranquil working environments. In addition, integrated louvers typically ensure better long-term return on investment (ROI) and come with superior product warranties, which are important considerations for commercial budgets.