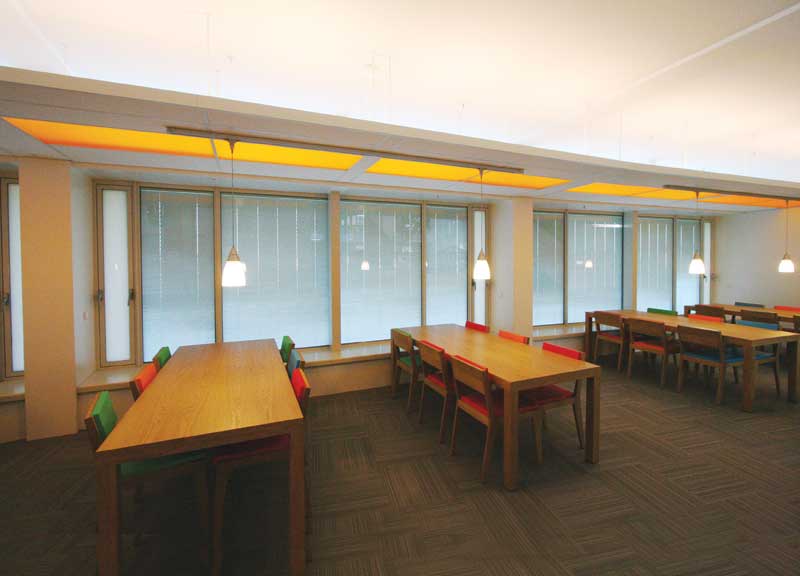 Louvers, blinds, frames, and operators
Louvers specifications need to consider the type, size, and color. They can be installed either horizontally or vertically. If upright, peripheral vision may be affected. Made of rigid, extruded aluminum, louvers are typically available in various blade types (e.g. 6, 9, or 12 mm [1⁄4, 3⁄8, or 1⁄2 in.]) to span different lengths. As well, designers will need to select operators, which can include thumbwheels, crank handles, aluminum knobs, anti-ligature knobs, electrical controls, and computerized-sensor controls. If motorized controls are specified, additional considerations include motor voltage, motor type, and hardware as determined by the manufacturer based on glass opening sizes and number of glass panels per motor.
Blinds specifications need to consider functions such as 'tilt-only' or 'tilt-and-raise.' Designers also need to consider operators, which can typically include top and bottom frontal knobs, wands, anti-ligature knobs, cords, internal or external motors, and removable key operators.
For both integrated louvers and blinds, operator selection must consider frame and glass stop clearances, adjacent walls preventing proper use of the operators, location height of the operator for user reach, and ease of operation.
Specifications for glass frame trim kits should consider application (e.g. doors, windows, sliding doors, and side lites), sizing, material, and colors. It should not be assumed all integrated louvers or blinds are easily installed in frames and stops furnished by other trades. One must verify with the manufacturers for glass pocket depths, as well as clearance and bite requirements.
Accessories
A specification writer must consider various available additions, including:

setting blocks (neoprene, ethylene propylene diene monomer [EPDM], or silicone);

spacers (neoprene, EPDM or silicone);

glazing gaskets (neoprene, EPDM, silicone, or thermoplastic polyolefin [TPO] rubber, molded or extruded to fit glazing channel retaining slot);

glazing tapes and sealants (type, grade, component); and

sealant backing (type, size and density required to control glazing sealant depth, and produce optimal glazing sealant performance to be compatible with glass-unit edge seals).
Conclusion
Integrated louvers competently address all glazing requirements for maximum levels of vision, sound, heat, and light control. This tends to make them ideal for application in hospitals, museums, office buildings, and institutions. They typically feature double-glazing with up to a 63-mm (2 1⁄2-in.) air space that has a sound transmission class (STC) rating on par with drywall and CMU walls.
In exterior applications, the integrated louvers offer complete daylight control and optimal thermal efficiencies. The devices are typically the costlier integrated option at the outset, but tend to be more cost-effective in the long-term as they reduce the need for cleaning, maintenance, and replacement costs.
Jean-François Couturier, Eng., MBA, is president and CEO of Unicel Architectural, which focuses on building envelope solutions that help control sunlight, heat, sound, and visibility. His articles have been published in industry magazines such as Healthcare Building Ideas and Architectural Products magazines. Couturier is the co-author of an industry newsletter called Reflections. He can be reached at via e-mail at unicel@unicelarchitectural.com.
Viviane Chan is the head of business development for Unicel. A long-time building industry professional, Chan has worked with architectural firms around the world to deliver on quality vision and daylight control solutions for leading design projects, particularly in the healthcare sector. She created an accredited American Institute of Architects (AIA) course on daylighting design techniques, and is a frequent contributor to architectural and building products magazines such as USGlass and Architectural Products. Chan can be reached via e-mail at vchan@unicelarchitectural.com.